Tracey Moggeridge tries out some Craft sportswear and reports back!
First impressions
I had three items to try, the Eaze Jersey Hood, the Cool Intensity Singlet, and their Tights, all in XS.  I don't consider myself extra small so I was a little worried that these might not fit, however, they arrived and nicely packaged, overall first impressions were the items looked as they were on their website – always a bonus! I was unsure about the size of the leggings when I pulled them out of the box – they are small….wondering if I'd be able to squeeze my very average 5 foot 4 size 8 legs into them but surprisingly they fit incredibly well. If you open the box and think that they were made for a small child – you will get in them!
They all felt great quality, soft, nicely finished, and the materials were all very different to the standard stuff you tend to find, it was nice to have that extra attention to detail that seemed to be the trademark for Craft sportswear.
Fit and feel
The Eaze Jersey Hood
The Eaze Jersey hood fit is slim but not overly so, it sits slightly higher than I might prefer but that said it didn't rid up or feel too short, i just like a little bit more coverage for my derriere in the ever-changing weather we seem to have ourselves!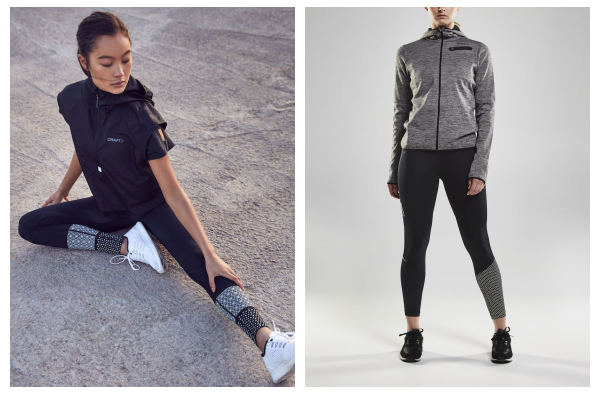 Tights
The tights were very pretty, I loved the lightweight feel of the material, they aren't a firm fit but they don't stretch or feel loose, they stay in place really nicely. What was great was that they aren't solid black, they have a grey lining to the interior which shows through when you wear them so that they don't look solidly black.  A nice change!
Cool intensity singlet
The cool intensity singlet in a blue was a not too body-hugging fit which I personally prefer, and it sits nicely on the shoulders, it's also really lightweight – great for really warm weather.  However I'm a very normal shaped lass, my only problem with this top was the cut around the arms, it didn't look great on me, it's probably made for those with smaller chests and very slim arms, I do work out at the gym and so perhaps I'm slightly bigger than some, I have worn it a few times but it leaves me feeling somewhat chunkier than I actually am.
On the run
I took out the Eaze Jersey Hood Jacket on a 7 mile training run, weather wise it was one of those wind-cuts-right-through-you sort of days, not baltic but pretty chilly with squally showers and proper grumpy.  This lovely lightweight spring hoodie seemed the right choice.  It's soft as anything, and I love the cut out thumb holes, I prefer these to gloves and they take the right amount of chill away from your fingers until they've had a chance to warm up. I didn't feel hot or sweaty whatsoever, I was wearing a base-layer and sometimes two can be one too many, that wasn't the case for this – it was a really comfortable and enjoyable run. I'd definitely buy this – good stuff Craft, a really lovely piece!
The tights I've worn to the gym and out running, they didn't loosen up and stayed put, the waistband is a nice firm fit and not too tight, you can forget you are wearing them which for me is always a sign of a great pair of tights.
The singlet is lovely, however it's pretty see-through, i wouldn't personally feel confident wearing it without something else underneath so it's definitely not for the body conscious, that said it's lovely lightweight material would be great in the summer and it has washed well the few times i've worn it to the gym – I've tended to layer it over other tops in different colours.
The details
The Eaze Jersey Hood has a little pocket on the upper chest, which is a nice touch and will easily contain keys, a bank card etc.  The zipper runs smoothly and the hood itself is just big enough to help if you were to be out walking and found yourself caught short. I don't think this jacket would withstand a downpour but it handled a squally shower just fine.  It also handled the wind beautifully, I really appreciated that, whilst my face sure knew about it, my torso had no hint of the gusts, and I felt warm and snug.
The grey and black combination look nice, clean, a modern look and sporty & feminine but classic this would wear well and stand the trends, I truly did love the soft texture to the material.
The tights have a useful small inner pocket, which is great for that car key or spare change etc, and it's so well hidden that I almost thought they didn't have one.  I also really appreciated the 'huggy' nature of the waistband, they completely stay put even on a run, even with their lightweight feel.
The verdict
The tights and the jacket were definite keepers, they will be a firm favourite, the singlet is great for those slim frames and for anyone looking for a super lightweight singlet.
All are beautifully made and wash well, they have all the right attention to detail in terms of pockets where they should be, support where it's needed, breathability etc. Really lovely stuff Craft, you have a new customer!