This article is really 'one for the ladies', so unless you're interested in gaining an insight into how to choose a running bra then it'll be a bit pointless to read on. If, however, you've spent many a run wishing for a more comfortable bra then this is definitively an article for you.
We've all been there: chafing in the chest area, neck or back pain due to the wrong size or model bra, sore unsupported breast tissue, embarrassing boob droopage, being forcibly flattened, lack of nipple coverage, abundant sweat patches in our cleavage; the issues are endless. If you've succeeded in avoiding these joys then you've had more luck than most in the quest of discovering the perfect sports bra.
Breasts are heavy and supporting this additional weight adequately whilst running has been proven to improve performance, hence the advantages of a professionally fitted sports bra. Being formed of tissue, breasts move independently in a multi-directional manner, and in order to prevent this movement across the three planes (up, down, side to side) causing discomfort, with the potential to lead to long-term damage, it is essential to wear a correctly fitting supportive bra whilst running, regardless of your size. Evidence shows that running in the correct sports bra is just as important for us smaller chested beings as it is for those more blessed in the chest.
Doing your research, reading reviews, learning which features / styles etc work for you, investing some time in a proper fitting service (brands will size differently and you may even discover your running bra size differs to your everyday bra size), trying on a range of bras somewhere that will allow you to test run them on a treadmill will all aid you in finding the right sports bra. This isn't an item of clothing that can be neglected and choice should definitely not be based on which ones are currently on offer, if it's available in your favourite colour, or what your running buddies are wearing. We are all unique with our running bra needs and a properly fitted good quality sports bra will, without a doubt, make a positive impact to you as a runner.
For those who have yet to experience a sports bra fitting I can confirm they are better than many of us may imagine and need not be dreaded. Certainly Ashley, the Brooks Tech Rep at the fabulous Runners Need shop in London Kings Cross, instantly made me feel at ease and was very discrete in the way she conducted the fitting. Two measurements were taken, the rib cage just under the breasts where the bra band sits, the tape measure had to feel quite snug and the measurement was rounded down to the nearest inch before being converted to give my band size. Next the fullest part of my breast was measured and rounded up to the nearest inch, I was able to place the tape measure myself over the top of the bra I was wearing (just make sure you're not wearing padding if you wish to do this) and had Ashley there to check the tape was correctly placed to gain an accurate measurement. The rib cage size was then subtracted from the bust size to provide my cup size. You can learn more about the Brooks measuring system, alongside the fundamentals of fit, solutions to fit challenges and why 'the Brooks collection is the #1 sports bra brand with runners' here.
Once we'd established my size, the fun of trying the bras on began. Brooks offer an extensive selection of sports bras crafted by an expert team of designers and engineers, Runners Need stock the Brooks range, along with many others. Although there were a lot available, through asking about my running and types of sports bras I'd previously tried, Ashley was able to narrow it down to a few suitable styles to meet my running bra needs. It was surprisingly quick and easy to work out the bra that would work for me, it fitted like a glove and due to the softness of material and comfort features instantly felt like the right one. Although you have a good feel of what is right whilst trying bras on, it was really beneficial to have a specialist there to check the fit, make adjustments and / change the size or style when needed.
To ensure I had found the right bra Brooks equipped me with two styles: their new FastForward Crossback and their recently upgraded Fiona to take away and test on the trails. Both bras got a thorough test over many miles of running. Although they'd been comfortable to try on, reluctance to actually run in them kicked in. I'd been a faithful user of a branded running crop top for many months now with minimal issues, prior to that I'd flitted between various running bras having endless bad luck with them due to the discomfort of the clips, wire, shape of them etc. Would Brooks bras succeed in turning me back into a running bra wearer or would I be sticking with my faithful crop tops?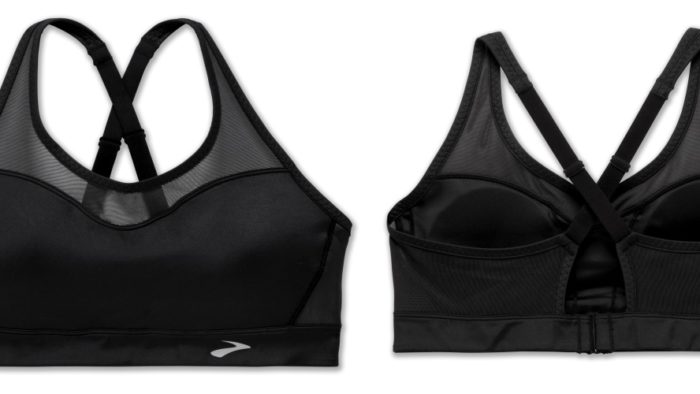 The FastForward Crossback looked stylish, so much so it stood out on the shop display. It was constructed from a combination of materials with cooling mesh sections along the top, into the straps and around the side to aid with staying dry as sweat is able to easily evaporate. The breast section was a thicker soft feeling material with the option of removable pads. With adjustable straps and an adjustable back closure it was easy to achieve a personalised fit that provided the support required as well as staying in place and feeling comfortable to run in. The bra washes extremely well, holding the original feel of the material, staying in shape, keeping its colour and not bobbling. For me the FastForward Crossover is great for short training runs but I start to notice slight discomfort as the miles increase, especially around the band, this is likely to be due to my skin sensitivity and the feel of different materials rather than a product fault.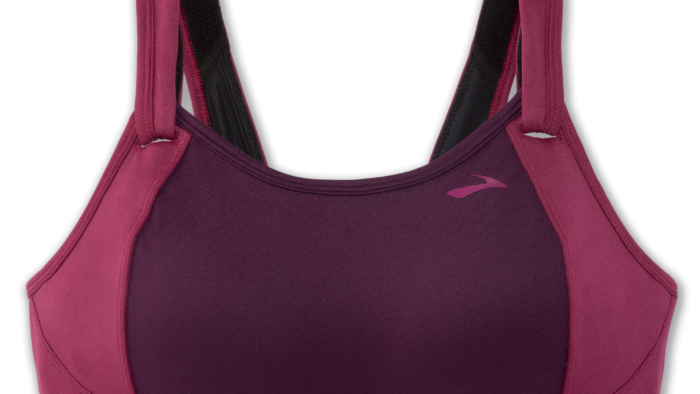 The Fiona was the bra for me, after running an ultra marathon in it I've been converted back to a proper running bra rather than the basic crop tops. The Fiona sports a semi-full breast shape which suited my own shape, in addition the cups are molded but not padded which works well for me as I'd only pull the padding out if it did exist, these features along with the moderate stretch of the material provided a natural looking shape; something that alongside comfort is important to me as a runner. Although not as instantly eye-catching in the style stakes as the FastForward Crossover, the Fiona does look good and the material feels amazingly soft and comfortable on the skin. The material has maintained its softness after several washes, with the bra holding its shape and colour whilst not bobbling or losing any elasticity around the band. The adjustable velcro straps are wide enough to distribute pressure and ensure comfort across the shoulders. Moreover, they stayed in place rather than slip off, which I've found to be an issue with more traditional strap adjusters. Fiona is easy to put on and takeoff due to the functional hook and eye fastening, thicker material around the clasp area prevents rubbing or discomfort and the triple clip reduces any pressure across the back. It is really quick to get used to wearing, hence being able to spend over 12 hours comfortably in it after only trialing it on two training runs.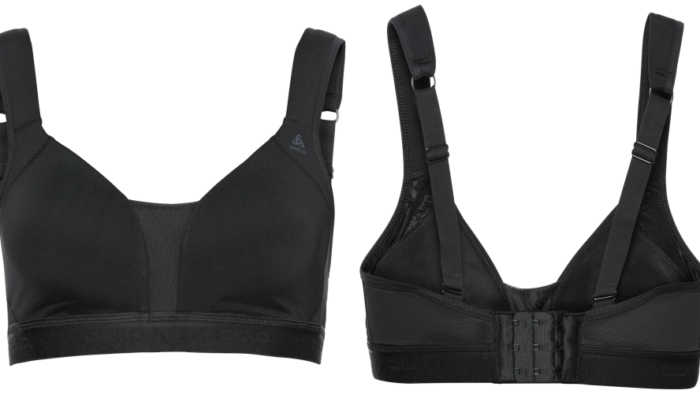 In addition to Brooks I've recently tested The Odlo Comfort High Support Sports Bra. This looks less stylish than some other running bras but definitely makes up for this in functionality. As stated in the name this bra was incredibly comfortable with its silky soft material and full cup. Instead of pointless padding Odlo provide a modesty layer in the cups for full nipple coverage. Due to the ventilated mesh down the centre this bra keeps you feeling dry throughout your run. The straps are adaptable but with a clasp which personally was less comfortable than the velcro adjusters offered by Brooks. However, the wide slightly padded for comfort straps were a real plus point and contributed to feeling like you could stay in this bra all day long. The bra offers versatility as you can opt to wear the straps straight or crossed over, just be sure the clips are in place so you feel secure when running. Another positive feature was the increased width of the classic hook and eye fastening, three clips instead of the standard two prevented any pressure on the back and added to the overall comfort of the bra. The Odlo Comfort High Support Bra provides a full cup which although too much for my bust size and shape, I'd definitely recommend to more fuller busted runners. The quality and comfort would make me strongly consider purchasing a different style by Odlo in the future.
The verdict
It's definitely worth going to get a fitting. This will provide comfort, maximise breast health and improve your running performance. Be willing to try bras you might not have originally considered and judge the bra on how it feels for you and whether the style and features are what you need when running. Opt for a brand that offers a testing service so you can be certain it is the one for you, for example Brooks offer their True Blue Guarantee meaning you can trial run the bra for 30 days before returning it for free if you are not 100% satisfied.