We like to feature brands, companies and events who are going the extra mile for sustainability at Run247. Proviz, who make reflective and light-emitting running gear, has just announced some impressive commitments to limiting its impact on the environment. All its jackets will be made from recycled plastic bottles and it will also reward customers who recycle their old products.
From summer 2019, all inner linings of Proviz jackets will be manufactured from REPREVE®. This is recycled polyester, made from recycled plastic bottles at one of the most advanced Recycling Centres in the USA. Billions of plastic bottles go into landfills every year and REPREVE® is the leading, most trusted, branded performance fibre. REPREVE® transform recycled bottles into an amazing fibre. The process embeds properties like wicking, adaptive warming, cooling and water repellency.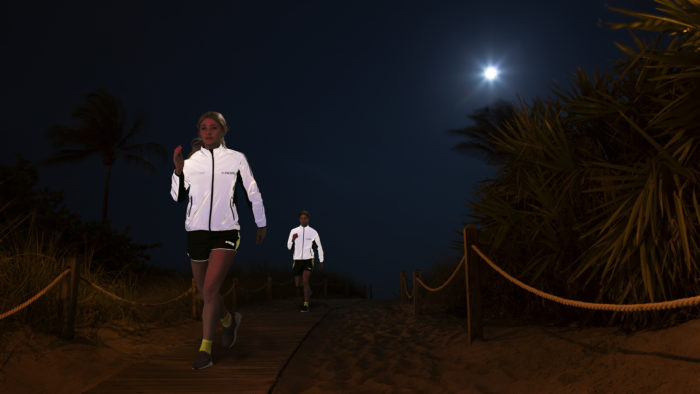 Proviz co-founder Anthony Langly-Smith said: "Growing up in Jersey, the sea has and always will play a huge part in our lives. This has led to a passion for the environment and sustainability. 'The Proviz Project' was set up to ensure all of our operations, products and services are aligned with our own personal values on integrity and ethical importance. From day one, Proviz as a brand has had a focussed mission to help people feel empowered through the products, therefore making a positive difference in their lives, but as the brand has grown it has become increasingly important to harness this growth for the greater good".
Proviz is also encouraging its customers to recycle products that have come to the end of their life by posting it to them to recycle in return for a 20% discount code. These returned products are either recycled as second hand clothes with the charity Newlife or as secondary raw materials for the building industry or textile industry.
Newlife is a charity for disabled children and supports the brand's environmental commitment by enabling them to recycle returned stock to raise much-needed money to help provide essential equipment for disabled children. Newlife has been recycling returned, sample and unsold textile stock for over 25 years, building its reputation as a leader in the field of recovery and recycling.
Proviz also donates end of line stock and samples to Newlife's commercial recycling division where it is fully de-labelled and de-branded and sold directly to the public through their retail stores. Profits generated by the sale of these products help disabled children and their families by providing specialist equipment (wheelchairs, buggies, seats and beds), as well as investing for a better future for children with disabilities supporting medical research into birth defects and campaigning at local and national government level to improve services and access to equipment.
Proviz also has a partnership with World Bicycle Relief. As well as making regular corporate donations, Proviz has set up a system so customers can directly support World Bicycle Relief's work by hitting a button at the checkout to donate 50p. Every time they do so, Proviz matches the contribution. To date, donations from Proviz and its customers have helped to fund almost 60 Buffalo Bicycles to help mobilise students, healthcare workers and entrepreneurs in rural Africa.
For more information, please visit www.provizsports.com.