At last the weather is (sort of) getting warmer as we ease towards summer. We're definitely into shorts territory, but maybe still in the 'take a jacket just in case' region. In celebration of it getting warmer we thought we'd bring you a round up of some super light summer kit which is designed to help keep you cool. Lots of brands are developing their own technologies for wicking, cooling and even not stinking. We take a look at offerings from three brands.
Patagonia
Patagonia's Airchaser Shirt is extremely light, so you barely know you're wearing it. It uses their Capilene Cool fabric to help wick sweat away from your skin. It's even got seams which are strategically taped to stop chafing when wearing a pack. It's a great top for a long day out in the heat. It won't even smell as it's treated with Polygiene (and this also means you can wash it less and save water, energy and therefore your impact on the environment). At £55 it isn't cheap but this is a key bit of kit which will hopefully last you years without deteriorating.
The Patagonia Strider polyester shorts are superlight too (88g) and they're made from 59% recycled material. They're even coated with a DWR repellent finish. They're designed to dry really quickly and they are also treated with Polygiene to reduce stink. Also £55. A premium price for a premium product, which you won't need to replace any time soon.
Odlo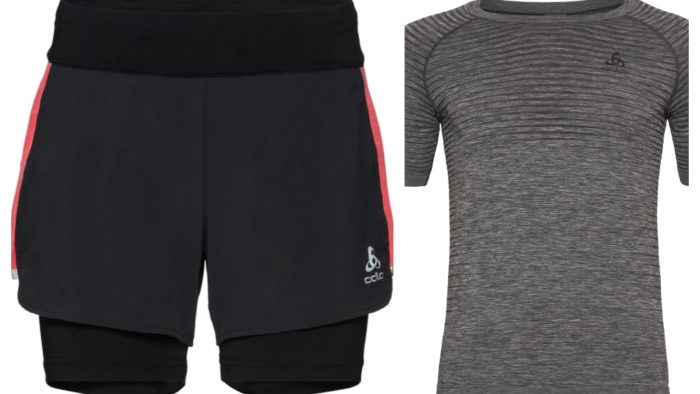 Odlo 2 in 1 Zeroweight Ceramicool shorts are super light and use the Odlo Ceramicool technology, which cools your skin by up to 1%. They are really comfortable, with an inner next-to-skin liner and an outer loose short. They also have a really good back pocket with a zip, which is often a bit lacking in shorts! They're currently on sale at Odlo.com for £35
The Odlo Performance Light Top is designed to keep you cool and dry when it's really hot. They have 'Light' and 'X-Light' for increasing levels of heat, with 'Light' being suitable for pretty much all conditions. Having a long history of producing base layers for a number of high intensity sports, Odlo know what they're doing and they use innovative technology. In this case it's their temperature control system, seamless design and organic body mapping technology which lets the sweat wick away more effectively. It also boasts silver ions, which help kill the bacteria responsible for stink!
dhb
Aeron is a new range from dhb also has an emphasis on being super lightweight, and being dhb the prices are still reasonable.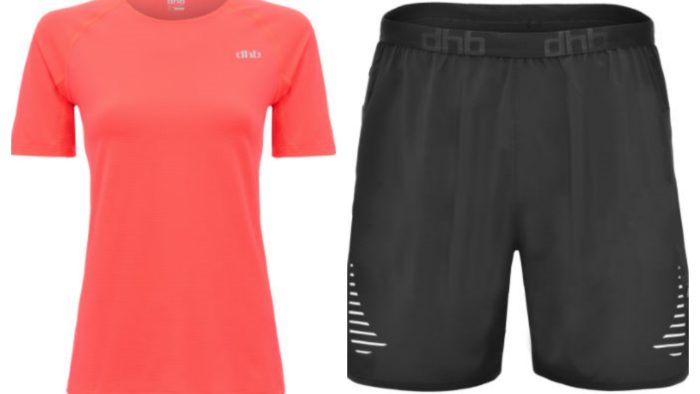 The new dhb Aeron short-sleeved t-shirt feels super lightweight and it has a mesh back for maximum breathability. It's a really comfortable t-shirt to wear and it's especially good if you're wearing a pack and suffer from sweaty back. The quality feels really good but the price is only £22.40
The dhb Aeron liner short comes in men's and women's versions but all are a kind of '2 in 1' short with a long liner. Both the liner and the outer short are made from a really breathable fabric and while some 2 in 1 type shorts can feel like there's a bit too much fabric going on, these don't. The inner short also doesn't ride up, like many similar shorts. All in all they are really comfortable and they also have a great back zip pocket, big enough for a phone. Priced at £32.