If you're determined to keep wearing shorts as the colder weather comes in, or you're one of those 'must wear shorts all year round even when my legs are blue' people, here's Pip Haylett's guide to the best men's shorts out there. 
I have always had a favourite pair of shorts – some Salomon Exo Twinskin shorts from a few years ago, that I loved. In the last 4 years I've gone through 3 pairs – the last pair came to grief when doing a bum slide off Cnict on day 2 of a 5 day race. They completely ripped apart – from old age – as I slid down the hill and I had to tape them up using zinc oxide tape, meant for my feet, that I had in my pack.
So since then I've had to buy some more shorts. I decided to test a few pairs as part of this process.
The most important thing for me is for the shorts to have a pocket that fits a smart phone. I've got an iPhone 7, so any pocket on the shorts has to fit this. The main reason I haven't upgraded to a new phone is that they all seem to be bigger than the iPhone 7 these days, and I'm sure they wouldn't fit in my shorts pocket – so I've stuck with the 7.
The main reason I liked the Salomon shorts was that they had a 'drop in' pocket all the way around the waist band, which as well as other things, fitted my phone. This meant I had easy access to it for photos and map reading when out and about.
So this is the benchmark against which I'm judging these shorts.
Decathlon Kalenji men's marathon shorts
Price: £17.99
https://www.decathlon.co.uk/mens-marathon-shorts-id_8518020.html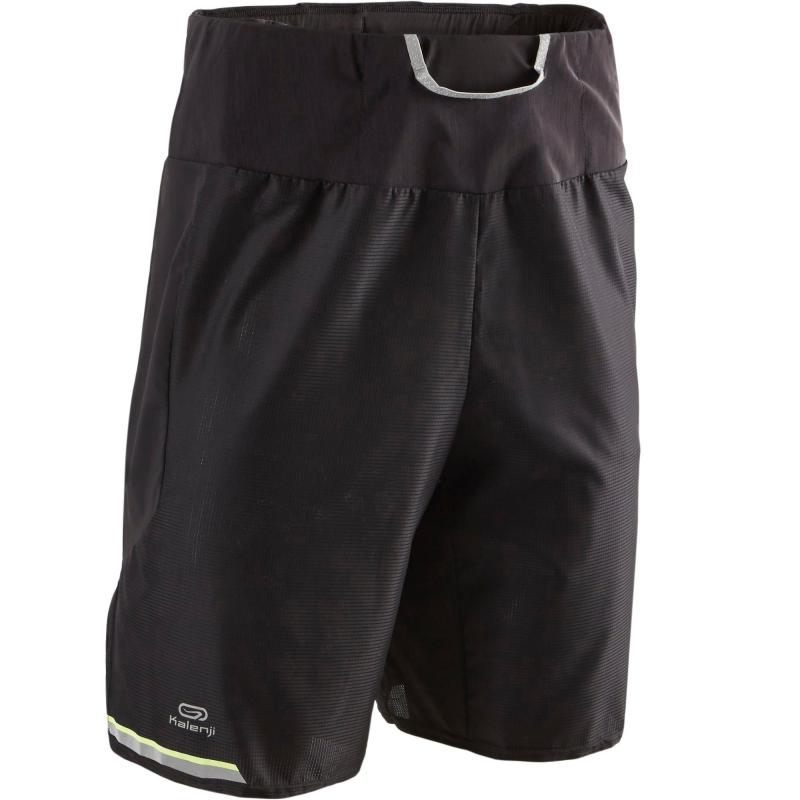 Lightweight and full of pockets, these shorts looked like they were going to be great right from the start. They are designed for hot weather, and the material is thin and with some ventilation 'side openings' these shorts do keep you quite cool when running in warmer weather. They do have a lot of pockets! It took me a while to work them all out – there is a big pocket at the front which does hold a phone – but it also has a big opening in it at the top which makes it hard to secure – and I initially thought that it would fall out all the time. So far it hasn't though. There are pockets for gels or anything else you'd like to out in them around the waist belt, and also pockets down the sides. I used these for water bottles on my last marathon distance run, and they worked well, holding the bottles with limited wobble or other issues. I used 500ml bottles but had to empty some water out so they would fit.
These are long shorts, which I like. The seams are well stitched and don't rub, and despite not having an inner short / built in briefs, they haven't chaffed at all so far and definitely don't ride up. I found the fit quite tight around the bum, meaning that the water bottles don't bounce around at all when in the side pockets, but on me, they are also a bit wide around the quads, almost like a pair of short flares.
These shorts come with a 2 year guarantee, which I think is pretty good.
Pros
• Pockets. Lots of pockets.
• Lightweight and wicking, good for warm weather
• Long shorts which stay down, don't ride up and haven't chafed at all so far
Cons
• No inner shorts / built in briefs, but I knew that before I brought them.
• Phone might fall out of front pocket / no zipped pocket.
Overall – a great training short for warm weather, allowing you to carry 'stuff' (gels, bars and other nutrition) as well as water.
Salomon Agile 2 in 1 shorts
At time of writing on sale at £35 at https://www.cotswoldoutdoor.com/p/salomon-mens-agile-2-in-1-black-short-A2150077.html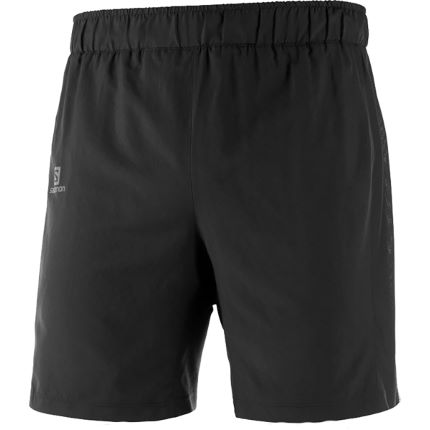 I was initially a bit underwhelmed by these shorts, but they have definitely grown on me. I think it was because they felt really light, like there was nothing to them or they were poor quality. BUT it turns out they are just really light, as well as being comfortable, supportive and practical.
These are a good 'all round' pair of shorts I think. They have a really nice inner short, which is soft and snug, as well as offering some warmth and support to the quads. With an 8 inch leg, they come down to a good level, meaning I feel I can wear them around the shops if my run happens to be going via Greggs, and they have a zip pocket in the back which fits my phone.
The lightness of material means that they dry quickly – indeed they are made from the Salomon Advanced Skin and Active Dry concepts and technology. An elasticated waist band and drawcord means you can keep them in the right place even with a phone in the back pocket. There is also some reflective stripes built into the sides.
Pros
• Lightweight, quick drying and very comfortable
• Good all round shorts for wearing on the trail or in town
Cons
• Only one pocket
Overall – a very comfortable and versatile pair of shorts, great all rounder.
Salomon EXO TWINSKIN shorts
At time of writing £91 in the sale at https://www.salomon.com/en-gb/shop-emea/product/exo-twinskin-short-m-lc10115.html#848=13539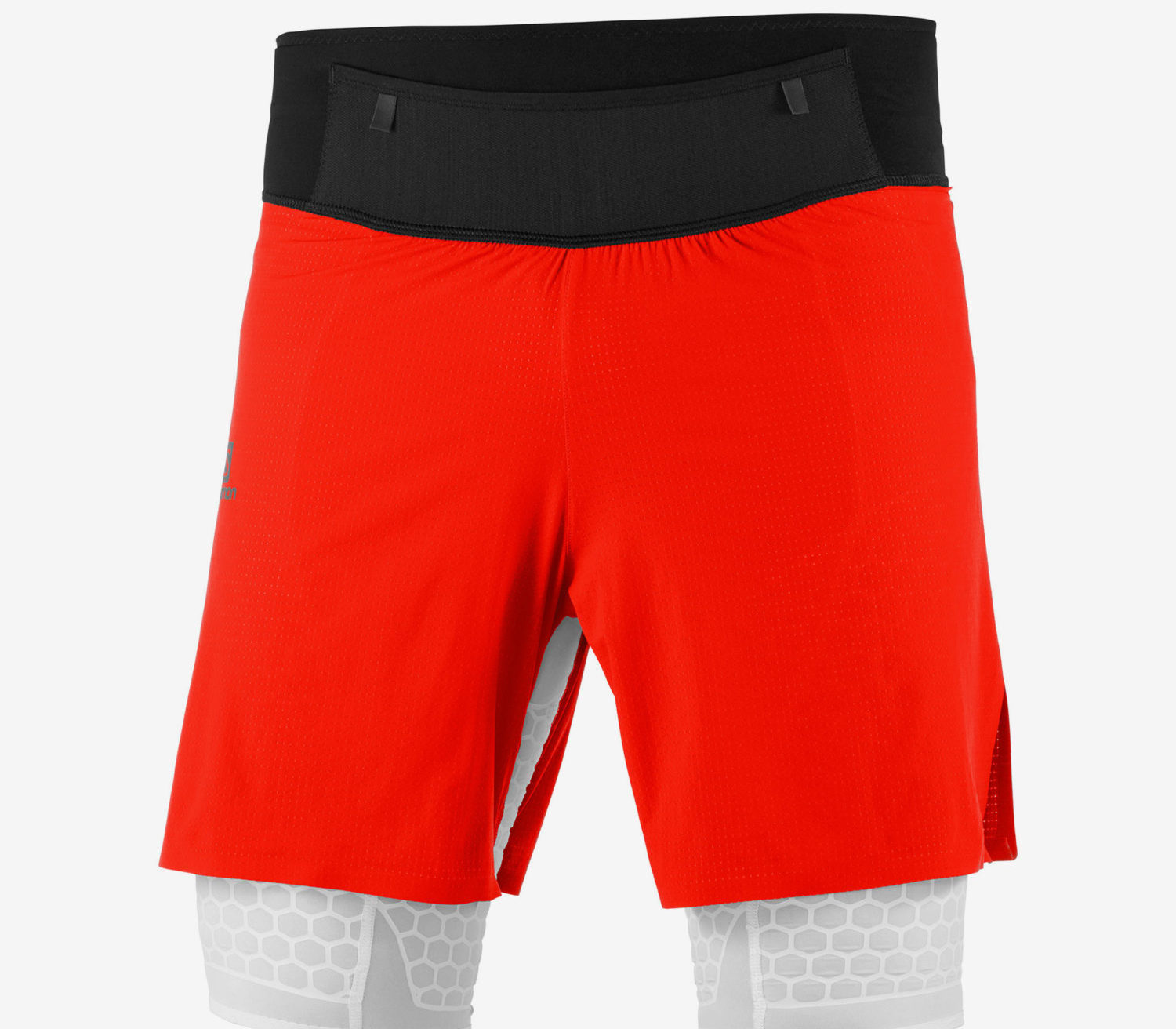 Despite being eye-wateringly expensive, these are good quality shorts, and previous pairs have lasted me years. After my accident on Cnict, I was hoping I could get a direct replacement for the shorts I've loved for years… so I forked out for a new pair of these.
The sizing seems to have changed a bit with this year's version, as the mediums are quite tight all over! I know they are supposed to be snug but compared to the other 'medium' pair I had, these do feel smaller. Also, the front pocket I really loved has been restyled so rather than a waist belt wide drop, it now seems to be a sewn on pocket, which makes it smaller, so it no longer fits my phone. This is somewhat annoying. However, these do now have a zip pocket at the back that the previous version didn't which does fit a phone, so in theory, this is an upgrade.
These are the Salomon top of the range shorts and have an impressive write up on their website. Claiming "37.5® Technology optimizes your body's microclimate, to maintain an ideal core temperature so you perform better, longer. Made from natural materials, fabrics made with 37.5™ Technology dry up to five times faster than similar fabrics, won't irritate your skin, and will never wash out or degrade." I agree with this, they are made of good, solid materials that last well and do dry fast. They also handle odour reduction better than a lot of shorts I've got and can be worn more than once without issue.
These are a bit like tights in their construction – the inner short has an outer layer sewn on, which gives you the look of shorts – but the inner thigh just has the tights bit, which means there is no rubbing or material in between your legs whilst you run. As well as the inner tight bit, there is also an extra inner layer, which provides the support you want if you are not wearing underwear (I do wear underwear with these, but there is an option not to if you'd rather).
Pros
• Brilliant shorts, very well designed and made
• Great support and movement, will be great on any run
Cons
• Front pocket not as big as it was, side pockets no longer a feature
• Very expensive
Overall – Gold standard in endurance shorts as far as I'm concerned. But make sure you get the sizing right.
inov-8 Race Elite 7" short
PriceL £65
https://www.inov-8.com/race-elite-7-inch-mens-running-short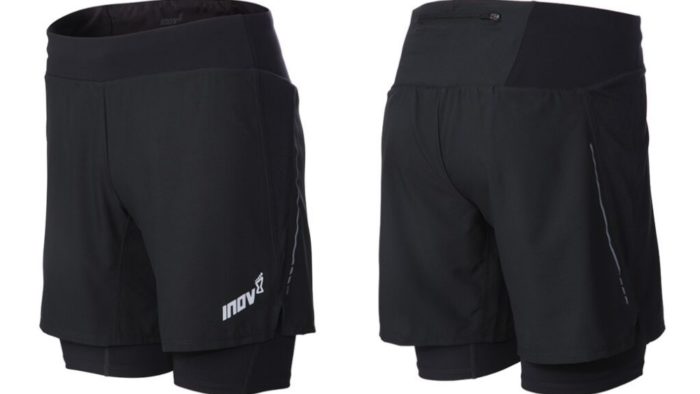 Of all the shorts I bought and wore for this test, so far these are my favourites and the ones I use for 'special' events, longer runs, or just when I want to feel good. They bring together all the qualities of the others I've tested and provide an ideal short solution for any run. Of all the shorts here the fit suits me best, which of course has a lot to do with why I rate them so highly.
They are lightweight, but with a strong and supportive inner short. At 7 inches, they give good quad cover and support where you need it. They are relatively simple in design but look good and they just feel quality.
A zip pocket at the back fits an iPhone 7 snugly, which also has a tether loop for keeping keys extra safe if you forget to zip up. The red elastic draw string provides a nice flash of colour, and they have reflective logos and detailing. I have had a few issues with the zip snagging as I try to do it up, but I think that is just my zipping technique rather than an issue with the shorts. These shorts also seem to have a water-resistant coating which provides some beading in light rain.
Pros
• Comfortable, supportive, soft and well made, these look and feel the business
• High quality for mid-range price
Cons
• Only one pocket – would be nice to have a few extra places to stash things
Overall – My new favourite shorts – could be perfect with some extra storage pockets built in.
Conclusions
I am enjoying wearing all these shorts for running and they all have their own strong points, as far as shorts go. I think the prices are a decent guideline, although it is debatable whether the Salomon EXOs at £91 are 5 times better than the Decathalons at £18.
If you are looking for a good all-rounder at a decent price, you can't go wrong with the Agile 2-in-1 from Salomon. Wanting to spend a lot to keep up with Killian (I have tried and failed) then the Exo Twinskin is a fantastic short, but top of the range comes at a price. The inov-8's provide comfort and support and come in mid-range budget wise, but if pockets are your thing, the Decathlon Marathon shorts are full of them.
Here are a few other options for shorts (including some women's ones).