Do you love running leggings but sometimes feel a bit self-conscious in them? If so, you might be interested in some new products launched this week.
UNBOWND, an innovative clothing, and apparel company aim to reinvent sports apparel by blending supportive shapewear with running leggings.
Their aim: to create garments that aren't see-through, retain their shape and fit after prolonged use, and provide flattering support hiding all manner of lumps and bumps. Sounds pretty good!
Available through Indiegogo there are two different styles – high and ultra high waisted – and three designs – classic black, geometric and plum. They promise exceptional comfort and support.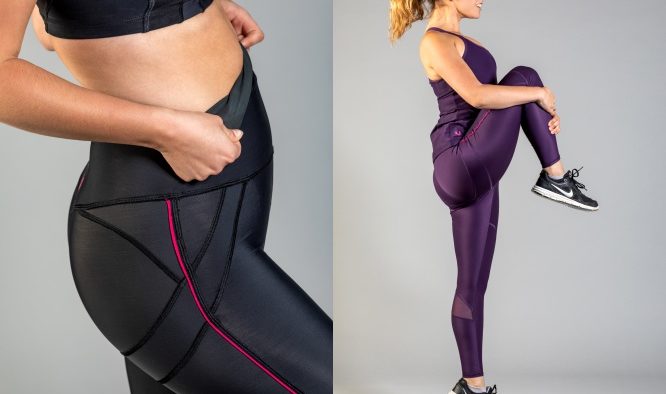 Shape-Fit is made with UNBOWND's high-performance Swift-Dri fabrics which are fast-drying, anti-bacterial, and UV resistant (SPF 50+). Shape-Fit also offers shapewear support including stomach smoothing power panels, core, and posture support, along with booty, thigh, and total leg smoothing. Shape-Fit is also made from collagen and moisturising-infused material to keep skin feeling fantastic.
Laura Rattray, creative visionary at UNBOWND said:
"Most shapewear focuses on being super compressive, but as a woman, I don't want to hide my curves. I want to embrace them. So I designed a completely reinvented legging, using a pattern that would target support areas, using the contours of the female body to embrace curves, while still smoothing, and still being amazingly comfortable."
In addition to Shape-Fit there are a number of add-on items, including a crop top and a vest top, both available in the same colour options as the leggings.
Oscar Ryndziewicz, CEO of UNBOWND, said:
"We wanted to design activewear that is both comfortable and supportive for the modern woman, Shape-Fit is the result of what we hope is the next-generation of legging that'll empower women all over the world to feel incredible and unstoppable."
Unbownd's Shape-Fit are available from Indiegogo from £48.