There are many issues we runners love to talk about – stomach issues, knee pain, chafing, blisters, you name it. But one thing that tends to go under the radar is the tricky subject of your running kit stink!
Honking, stinking, humming, call it what you like, we all have particular bits of kit which just never seems to be able to shake its funk. Stand on any start line and you can guarantee that somewhere within your nose's range will be somebody whose malodorousness will make you sprint off way too quickly.
I have particular bits of kit which I know never quite smell right and when I run in them. They smell fine fresh from the wash but after 20 minutes of a run I find myself thinking 'what's that smell? Oh, it's me'. And those bits of kit tend to go in the bin sooner or later even though they're still perfectly good, except for their stink. Likewise I have other kit which I know I can get a few days out of without the hint of a honk. Why is this?
The simple answer is that our sweat contains bacteria and some fabrics react with these bacteria to make your running kit stink. Material like cotton, which absorbs sweat and locks it into the fibres, doesn't tend to hum too much, whereas technical fabric, which has different shaped fibres designed to wick the sweat away, can do! We've all got free race t-shirts which didn't last long before before we relegated them to the charity shop bag.
And unless you wash your kit at 60 – 70 degrees, which we don't tend to do, you won't kill the bacteria. Then you put the kit on again, you get warm and damp, and, you guessed it – bacteria thrive in those conditions! So you experience a multiplier effect every time you wear it, or put it in a bag or locker. To make matters worse certain materials like lycra is bacteria's best friend. They feed on fats and oils, which is what the elastene in lycra is coated in, to keep it springy!
But the stinking is only half of the story. More stinking means more washing, more washing uses more energy and more water, and more washing means the garment deteriorates more quickly. So what if you could get away with a lot less washing and not pay the pongy price?
Step forward Polygiene. Polygiene started out in the healthcare sector, using their silver ion treatment to guard against bacteria and keep things sterile. Nowadays they apply the technology to  garments, footwear and gear to keep it hygienic and stink-free. Polygiene (consisting of silver chloride produced from recycled silver) is applied to material during the production process and this creates a permanent effect on the product for its lifetime. Polygiene sits within the fabric and attacks the bacteria. Therefore you can wear it and wear it, and it won't stink. Or as Polygiene puts it  very succinctly: 'wear more, wash less'.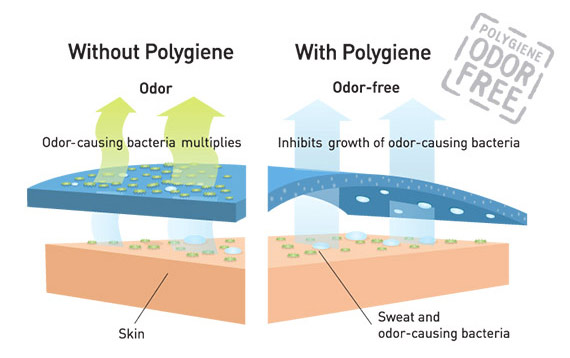 Their research has shown that 2/3 of the environmental impact of apparel actually comes from consumer use, so the production process isn't the most harmful environmental aspect, as you would expect. Washing it less is the easiest way to reduce its environmental footprint. And it'll make it last longer. And you spend less time hanging washing up and you have to cart around less kit when you're travelling or run-commuting.
You might have seen Polygiene labels on running tops or shorts. They work with many brands like Montane, Patagonia, dhb, Mountain Equipment, 2XU and Rab. They are just launching the first backpack with Polygiene in a collaboration with Montane. This makes so much sense as you sweat and sweat into your pack all year round – your back is one of the sweatiest parts of your body – and how often do you wash your pack? Odour-free backpacks seem like a really sensible innovation.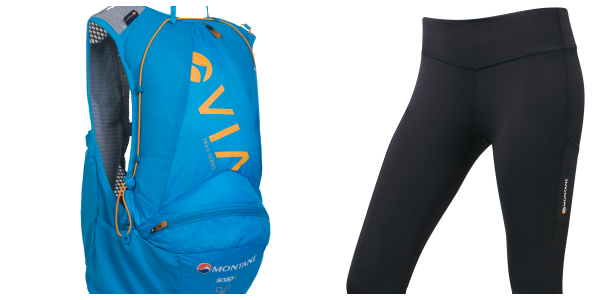 We've tested out a Montane Polygiene treated pack (the VIA Snap 4 version) for a couple of months and done A LOT of sweating into it. It honestly doesn't whiff at all. Not only that, the mesh on the back is very breathable, which is very nice to have in the summer. It's a fantastic pack as it's women's specific (they also do a similar men's version) and it fits narrow frames really well. It also has a whole host of useful pockets and you can fit a deceptive amount of stuff in it. It's perfect for days out in the hills. What's more, I feel like the mesh on the back of the pack is unlikely to deteriorate as quickly as others have. As somebody who's spent a lot of money on packs before, only to have to Duct tape the mesh on the back within a year, I value this. If you're a trail runner you use your pack probably more than any other kit and you need one that's build to last.
We see lots of innovation in the world of apparel, to make kit faster, lighter, to compress our muscles, to keep us warm or cool, but Polygiene seems like a truly useful innovation to reduce stink and reduce your environmental footprint at the same time. It's certainly something I'm going to look out for when I buy kit from now on.