Outdoor specialists Merrell have recently launched their Rubato model. Aimed at the cushioned, zero drop market the Rubato trail shoe is out now. We had the chance to take a look at a pair and see what they are like in the wild.
Merrell say: "For those looking for a zero-drop max-cushion trail running shoe, this speedster with comfy and light FloatPro Foam™ will last for miles and miles – even on the most rugged runs".
FEATURES
• Jacquard and TPU upper 
• Traditional lace closure 
• Internal bootie for locked-in fit 
• External rear strap locks in the heel 
• Breathable mesh lining 
• EVA foam insole with 100% recycled top sheet 
• Removable EVA insole 
• FLEXconnect® dual-directional flex-grooves in the midsole for enhanced ground connection 
• FloatPro Foam™ midsole for a lightweight ride that lasts 
• Vibram® MegaGrip® for the best combination of traction and durability on wet or dry surfaces 
• Vegan-friendly 
• Stack height (heel/toe): 31.5/31.5mm; Drop: 0mm; Lug: 4mm 
• Weight: 1lb 5oz / 590g (full pair)
RUN247 say: Before you google it, Jacquard is a type of fabric production where the pattern or texture is woven in rather than printed or embroidered. So there you have it, you're welcome and I did have to google it.
The Merrell Rubato is a zero drop, highly cushioned trail shoe. The shoe is very comfortable as you would expect from such a deep midsole. Stability on level ground is pretty good for a high stacked shoe as the midsole is not too mushy. Too soft a midsole can lead to rolling over and potential injury and not something you need to be thinking about as you hurtle downhill.
The toe box is comfy and roomy, slightly squared across the toe area which fits well. The toe area is robust and should provide adequate toe protection from painful stubbing issues.
Merrell highlight the FLEXconnect® dual-directional flex-grooves in the midsole, this looks like an aggressive grip for better traction when going uphill and downhill. You can see the dual-directional feature in the orientation of the vertical edges on the lugs on the outer sole. The squared off edges allowing the sole to bite better into the terrain. The Vibram outsole is tacky to offer good grip. Grip on wet rocks, roots and mud and indeed, the recent snow was confidence inspiring.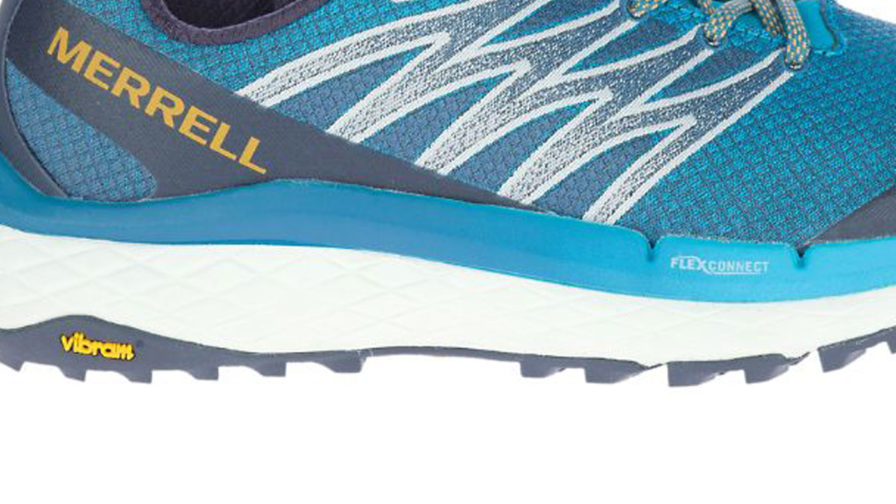 The flex-grooves and the Vibram® MegaGrip® allows effective braking when descending and the slightly elongated rear midsole adding extra cushioning at the heel.
Overall the Rubato is a really well made solid trail shoe and should stand up to some off road punishment. Priced at £125 they are hitting a typical price point in the market for specialist shoes. To be fair you don't need to be off road to get the best from the Rubato's. They work well on road too. At this price point there are very few bad shoes and the Rubato's are well worth a good look.
Find out more at their website HERE.