We have been fortunate enough to try out a lot of models of On shoes over the last few years and we've found that when we wear them people ask questions about them. So we thought we'd address some of those in this review of their latest version of their Cloudsurfer shoe.
Can the soles pop? Now I thought this was a fairly odd question but I guess if you grew up in the late 80s/early 90s with the Reebok Pump trainer, you might be confused. The answer is no anyway, the clouds are basically tough rubber lugs, they're not filled with air. Though the On strapline of 'running on clouds' might make you think of air, they're actually talking about rubber clouds, not little fluffy clouds.
'Do you run in them or are they just for fashion?'. This was a question I was actually asked in a running shop! While it's undeniable that On make beautiful looking trainers, they are very much designed for running. They're Swiss and they can't help it if they create stylish, clean designs and I have long since given up considering how fashionable I look when I leave the house.
Do they feel bouncy? Sadly you can't just bounce along in them; running effort it still required. It actually feels like a completely natural running motion. The clouds are designed to collapse as you land, absorbing the shock, and then ping back as you take off again, giving you some energy return.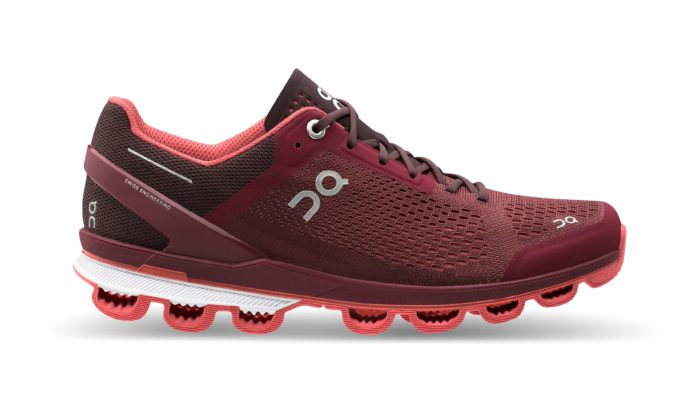 The spec
This is a neutral road shoe, with a 6mm drop and it weighs in at 265g for a women's size 6 and 330g for a men's 7.5. This is the fourth version of the Cloudsurfer and the key changes from previous versions are:  an extra layer of EVA foam on the soles, to add more cushioning and make them more durable; the On Speedboard, which works with your foot to encourage a natural rolling motion; two additional clouds on the forefoot, for increased contact area; and a new 'external injected TPU heel counter' to keep your heel firmly in place and increase stability.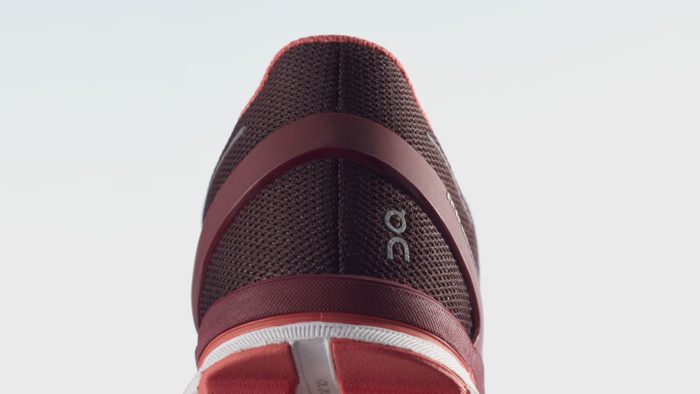 Performance
It's a very comfy shoe right from the off. Your foot is in a light and soft cocoon of a squishy insole, a cushioned collar around the ankle, stretchy upper and a thin and soft 'barely there' tongue. Despite being a very comfy shoe, it does have a decent amount of structure when you run, although it still feels very light.
The clouds feel slightly more robust than in previous versions of this shoe. They've certainly kept on developing the Cloudtec technology and where in previous versions they might have lost a bit of their spring over time, I haven't found that with this version so far.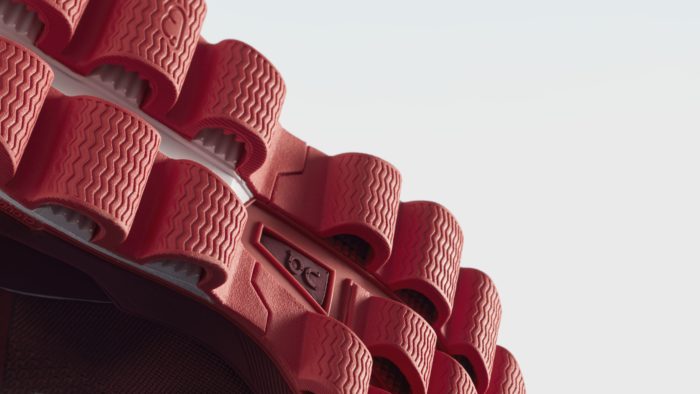 While you might think that running in the Cloudsurfer might feel like a pretty different experience to a regular shoe with a regular sole, it really doesn't. It's a very natural feeling, which doesn't take any getting used to. You also don't feel as though your foot is higher off the ground, like some 'maximalist' shoes. They just give you a natural rolling motion and you feel slightly more shock absorption and slightly more propulsion off the ground. It's subtle but over long periods it's helpful!
The real USP of this shoe for me is that it feels very cushioned and structured, so it's perfect for long training runs, but it also feels quite light and responsive for racing. There are no compromises with this shoe. You can have it all!
Verdict
On describe this shoe as 'comfort meets speed', which I think sums it up really well. It will be your comfortable companion on long training runs, but it will still be your partner in crime when you want to up the pace!
Find out more about the new On Cloudsurfer HERE.
All images copyright On Running (as my shoes were really dirty).