When was the last time you saw loads of bare calves running around at a race? Not recently, right? It seems that calf guards or compression socks are de rigueur for runners toeing the start lines of races these days, especially longer races. I'll bet that loads of you have at least one pair, maybe even a collection, and I don't know about you but my collection started with the lazy thought that "everyone else uses them, and the marketing says they're good, so I'll give it a go…"
Now, several years later I still routinely use compression socks on all my longer runs and races, but embarrassingly this is driven more by habit and the sense that they are an integral part of my safety net, rather than a tried and tested knowledge of their efficacy. I was therefore delighted when I was asked to review a pair – an excuse to truly test a pair against the manufacturer's claims and see what I thought!
The pair I'm reviewing is the Compressport Full Sock Race and Recovery (R&R) and would set you back £40. It's an integrated sock and calf sleeve made for easing the strain of running and also easing the recovery process, made by a company with a well-cemented reputation for producing high quality compression kit.
If you're short on time then here's the summary: racing – No; recovery – absolutely! If you're after a bit more detail then read on…
Comfort and Fit
Taking these socks out of the packaging, the most obvious feature is the array of small raised dots all over the foot and lower calf sections of these knee-high socks. These are the 3D.DOT technology designed by Compressport to ensure maximum grip in shoes to prevent feet from slipping during runs. The socks feature a special array of these dots along the Achilles to prevent friction and pressure.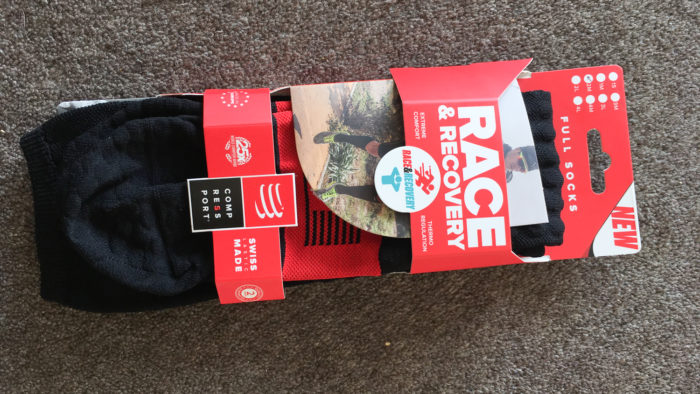 The socks are lightweight, seamless and I found them true to size and a good fit. The socks don't compress the toes so it's easy to maintain a natural foot splay and barefoot feel as you move. The woven fibres in the sock ensure they are soft, and they're very comfortable not least due to the gently supportive "ventilation bands" around the upper calf which ensured that the socks were snug but never tight. There's then a band of more supportive material that wraps around the arch, providing the overall feeling of a comfortable, snug and supportive sock that would allow for natural leg and foot movement. Thumbs up!
Apart from their soft comfort, they were also much easier to don than any other compression sock I've ever used. Gone was the normal battle to get them on, and likewise for taking them off after use. I often find extracting my cold, sore and tired limbs from wet and mud-caked calf sleeves a long, painful and undignified process, but these came off with a minimum of fuss – a massive advantage.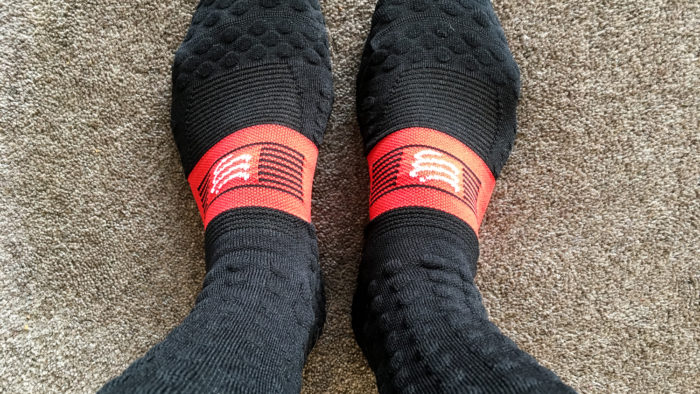 Race
Compressport bill these socks as compression to run and race in so off I went for a short trail run. My high hopes were however, dashed very quickly by their very low coefficient of friction. If the 3D.DOT technology was developed to enhance grip inside the shoe, then I have to suggest that the technology needs further development. The socks were slipping around inside my shoes, making my run far less fun than normal with the constant distraction of the constant rolling and sliding of my feet.
I continued to test, and even after running over 50 miles in them in a variety of shoes and across different terrains, the verdict is the same. Too slippery.
Compressport claim that these socks will limit muscular vibrations, reducing muscular breakage, preventing cramps and aches, delaying muscular fatigue thus allowing you to run further and faster. I don't feel I can comment on this as they're too slippery to run in and I didn't manage a full distance test!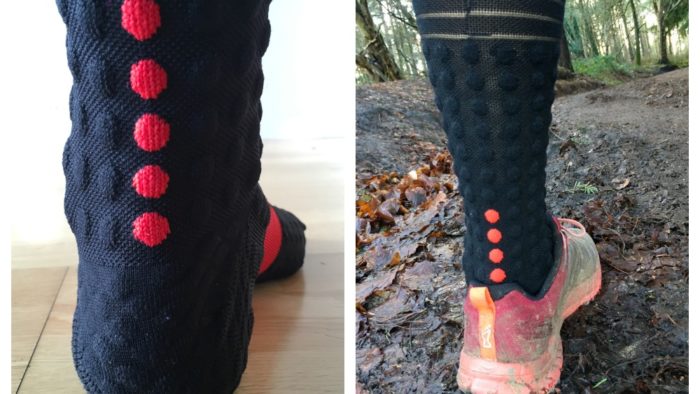 My preferred running is over rough fell territory, and one of the reasons I habitually wear compression socks is actually to protect my legs from the scratching of heather and bracken. What you gain in softness with the R&Rs however, you pay for in abrasion-resistance and these socks wouldn't stand up to constant abuse from undergrowth. This isn't the manufacturer's fault as it's not something they sell the socks for, but it's something to bear in mind…
After that little bout of negativity, here's some good stuff! For those that run in all weathers or regularly run through bogs, these socks are impressively good at shedding water. The hydrophobic fibres from which the socks are woven is effective at repelling water and wicking sweat, and even the 3D.DOTs which look like little sponges seem to stay efficiently dry. Running in some pretty awful conditions, the socks got damp but never soggy.
Recovery
Here's where I let the positivity shine! Compressport describe how the socks aid recovery by promoting venous return which increases blood flow which then in turn leads to quicker flushing out of the toxic metabolites that have built up during exercise, ultimately leading to better recovery.
I've been caught several times in the last month walking round for a day wearing odd socks, especially after long runs – the Full Socks R&R on one leg and another compression sock on the other for some true testing. In a collection of several pairs (including other Compressport models) the R&Rs are doubtless the best recovery socks I have. They're comfy, comforting and easy to get on and off, but more importantly they seem to allow my calves and ankles to move more freely after long and tiring runs.
I can't give you any stats or numbers, no tangible evidence, but I can say that in each side-by-side comparison, the leg wearing the Full Socks R&R just felt that tiny bit better, looser, more relaxed and more mobile than the other.
Verdict
I think I have to say that, as a sock to run in, I can't wholeheartedly recommend these to anyone. There's only really one problem with them, but it's a deal breaking one. They're too slippery and not grippy enough inside the shoes.
As recovery socks, however, I love them and I'll be using them from now on. Compressport make another sock in this same range that is much more targeted towards recovery – their Detox Recovery sock. The only question I'm left with really, is whether it would ever be worth buying the R&R socks when you're only really getting one of the two 'R's on offer, when you could buy their Detox Recovery socks and get what I'd expect to be even better recovery performance?
Find out more about the Compressport Full Socks Race & Recovery HERE.