When people who have never seen Hokas notice them on my feet, the first question they ask is, "is that thick sole comfortable?" Simple answer: Yes, Hoka trainers are as lush as they look. But then I launch into a much longer answer, possibly oversharing details about what makes them so comfortable. How they are as light, or lighter, with a minimal heel drop that rival any "less comfortable-looking" trainer. With the Speedgoat 4, Hoka continues with the tradition of creating a well-cushioned, high-mileage trainer that I (and my feet) am happy to wear for whatever adventure my legs (or my wife) want to take me on.
I have always been a fanboy of Karl Meltzer, a.ka. the Speedgoat himself – a consistent runner who continues to inspire me as I journey into the aches and pains of my mid 40's. Sorry Karl, I'm not calling you old, but following your career as you crushed it through your 40's is inspiring. And then Hoka developed a shoe named after him. And I had to get that shoe. And I'm glad I did. The Speedgoat 4 is the fourth-generation shoe in the Speedgoat line. Having had the original model, I was happy to see that improvements to this newest edition only enhanced a shoe I already loved.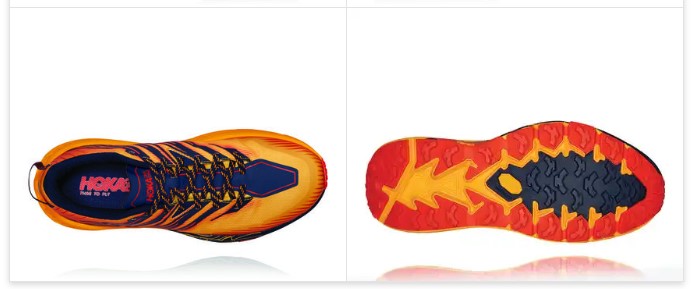 Fit
I was pleased to find out that the Speedgoats loved me back. The fit was like my previous Speedgoats – highlights included a comfortably cradled heel cup, secure mid-foot and a slightly wider toe box than the previous version. As I slipped into them for the first time, it felt like I was reuniting with an old friend. One of the most surprising things about Hokas are how light they feel. When you see them with that iconic thick sole, you anticipate a heavy, bulky trainer. However, Hoka has found a way to make their shoes to be as comfortable as they look without sacrificing weight and function. The seamless mesh uppers provide for a spacious toe box, free from "hot spots" caused by stitching. The midfoot utilizes a gusseted tongue design which allows for a snug midfoot fit. The heel cup is soft with a medium depth, which allowed me to "lock in" for a secure fit.
Performance
Living in northern England, I have access to a variety of terrain: pavement, track, trail, and fells. So, I was able to put the Speedgoats to the test on multiple surfaces. Let's start with the smoother surfaces. On pavement and tracks, the cushioning is unrivaled. It makes the quick jaunts around the town during the mid-week enjoyable and comfortable. We've had a lot of rain here these past few months, so anything other than pavement tends to be muddy and slick. The Vibram® outsoles provided the traction needed to navigate these slick surfaces, while providing the stability needed on varied terrain.
Further afield on the trails and fells of the Lake District, the Speedgoats felt at home. My feet were happy to have the underfoot protection on the rockier ground, and the cushion to handle the longer days out. The traction was good on the more developed trails, but given the wetter conditions this year, off-trail trackless running provided difficult underfoot conditions. The lugged soles of the Speedgoat did what they could but were better served on the trails than open fells. The mesh uppers provide great breathability while also providing necessary drainage when bashing through the overflowing rivers and voluminous puddles.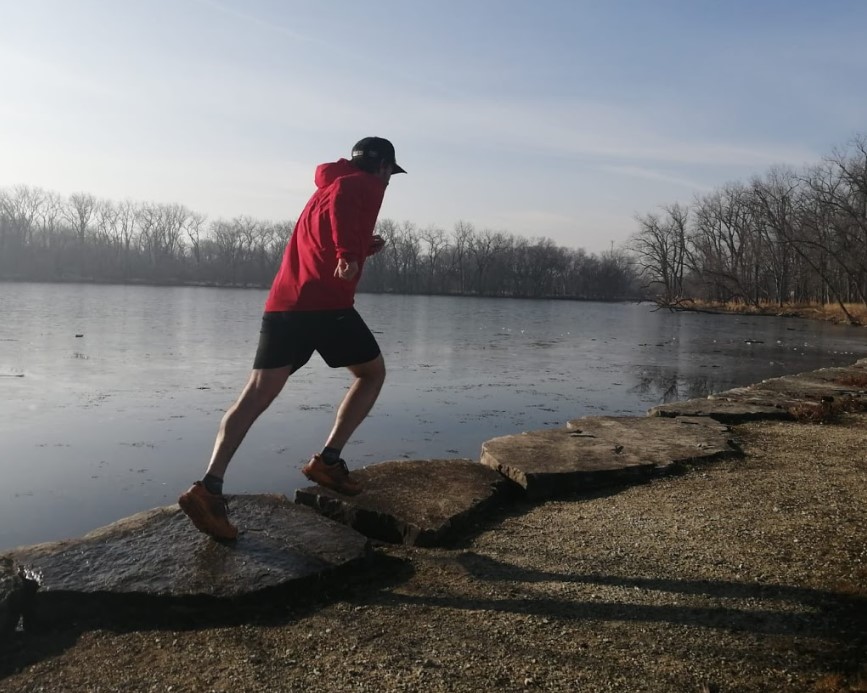 Verdict
I really enjoy the Speedgoat 4s. I've been running in them for the past few months and they feel as good today as they did when they came out of the box. They performed well on a variety of surfaces. The thick sole makes them appear large, but they are surprisingly light and agile and a great trainer for longer days out where comfort, protection, and function will get you through whatever the trails throw at you.
Specifications
Updated mesh upper provides breathability
3D printed overlays provide additional midfoot support and lockdown for a more secure feel
Gusseted tongue features strategic cutouts for breathability
Lacing eye-rows contain a small winged component to ensure a secure fit
Midsole features a new lightweight foam for a more responsive ride
Wider forefoot offers a more stable ride and accommodating fit
Vibram® Megagrip rubber outsole provides grip in wet and dry conditions
5mm "stepped" lugs offer additional support and stability
Zonal rubber placement adds support and stability
Find out more about the Hoka Speedgoat 4 here.