So rather unusually I'd like to start off a review of the inov-8 All Terrain Pro Vest by explaining why I don't like doing reviews and offering some caveats to this one.
I don't trust reviews. I'm sad to say that gear companies tend to send out their kit for free in the knowledge that human nature being what it is people will say nice things about it in return for more free kit. It's just the way things are. There are some, like D C Rainmaker, who pay for the items he reviews but he's something of an exception. That's not to say all reviewers are paid shills but those reviews have to be viewed with a cynical eye. For this review I was provided a pack for free but I will be returning it at the end of the test.
Secondly it'll be no secret to those who follow me on social media that I've not always been a fan of inov-8. I've been critical of their build quality and the sheer size and confusing nature of their shoe range. So I have to offer kudos to them for actually providing a pack to someone they knew wasn't particularly a fan of their kit.
And lastly a bugbear of mine in other reviews is opinion. I'm just a runner. Like you. This isn't my job, for the most part I don't get paid for it. What I say is based on what I feel and how the product suits me. There'll be things I like about the product you'll hate. Because I like or don't like something doesn't make it right or wrong. It just makes it right or wrong for me. Some features will suit my style, some won't. That said I will point out things I think could have been done better where they're relevant.
So onto the pack. Inov-8's newest offering: the All Terrain Pro Vest 0-15. Since the Salomon S-Lab first appeared on the trail running scene five or six years ago there hasn't been a great deal of real innovation when it came to backpacks. There's been tweaks here and there but generally speaking pretty much everyone has stuck with some variant of that first vest-type form.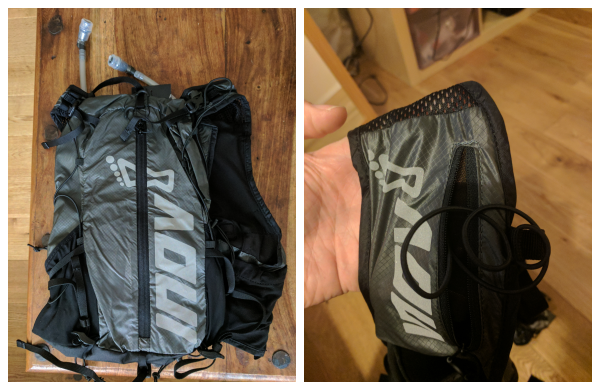 So when inov-8 tweeted a photo of their newest offering, a race vest type pack with a removable rear compartment giving essentially two different sized packs for the price of one I was instantly interested. Like I'm sure most of us I have a range of packs for almost every occasion and the thought of having one pack which was truly adaptable was really enticing. Supposedly this was the one pack that'd do everything from a quick jaunt to a winter 100 miler.
So essentially the way it works is this: if you're familiar with the race elite vest you'll recognise the basic shape of the pack. A by now traditional vest shape with the addition of a detachable section which secures to the body of the pack by six simple compression clips. Unlike the Salomon equivalent the pouches for the soft flasks, and they are soft flasks in this version, sit somewhat under the armpits instead of directly in front of the chest. Not having tried this configuration before I was worried that they might inhibit my arm swing but I was happy to see that my flappy bird form didn't trouble the bottles at all.
Sitting alongside the bottle holders are net stuff pouches which'll be very familiar to Salomon fans, these however aren't as deep as the S-Lab iterations and are somewhat prone to freeing their contents when I took the pack on and off. Not an issue at all when the pack was being worn tight against the body but whenever I took it off to retrieve something from the rear I needed to make sure nothing fell from there. Possibly some elastic along the top seam would prevent that and it's something we may see in future generations. The bottle themselves were inov-8's own variant in the genre but with the addition of the super long hose which, when attached sat some two inches up my right or left nostril. Now there are those who'll love these hoses and those who'll hate them. Suffice to say they're not for me but having tried a couple of my own flasks in the pouch they held securely so I'm sure you can carry whatever suits you best without issue.
On the left shoulder strap was another pouch pocket which would probably hold gloves and hat and a spare buff and on the left a secure zipped pouch for valuables. It's worth noting that anyone with a slightly larger phone than normal probably wouldn't be able to fit it in here, it was slightly too small to accommodate my Google Pixel phone. There's two adjustable straps securing the front did their job unobtrusively.
Without the extra pack attached at the rear the vest appears to have just a single zipped pocket low down on the back, probably the size of a cd case. However in a similar vein to the original S-Lab ultra set the top opens up to reveal either a space for a hydration bladder or a stuff pocket for a jacket of waterproofs. Though I had my doubts as to how practical this would be in reality it was surprisingly comfy when I used it to carry my windproof when the weather proved milder than expected today. There will of course be a slight payoff as the wicking ability of the mesh rear is compromised on hotter days but it's really a small price to pay in my opinion.
The detachable portion of the pack really is simplicity itself. Six adjustable compression clips attach it securely to the vest portion, you cinch it to your particular size and off you go. There's a small mesh pouch on either side which is accessible whilst the pack is being worn but the main body of the pack itself is opened via a central zip running from top to bottom. Or bottom to top as you may prefer. And that's it. There's some bungee cord to fasten items on the fly but that really is it.
There are a number of loops, cords and bungees dotted around the pack and for the life of me I couldn't figure out what some of them functioned as. This seems to be an issue with every trail running pack maker at the moment, they have some fantastically well thought out design features but because no one actually includes an instruction manual with the pack they're completely lost on most of us. I'm still trying to figure out how to fasten my poles to packs I bought five years ago.
As the rear compartment wasn't integral to the structure of the vest I expected a fair bit of movement when I was running but on a five hour jaunt along the north downs on Friday, carrying everything I'd carry for a hundred miler, I was pleasantly surprised to find it barely moved at all. There is a slight difference in the centre of gravity as opposed to the equivalent S-Lab sized pack as that's held tighter to the body but the difference was minimal. It was certainly more secure than my old faithful OMM 15 with very little body roll at all. The vest configuration gave access to my snacks easily enough and though I'm not a fan of the soft flask hoses that's a personal choice, not a design fault of the pack.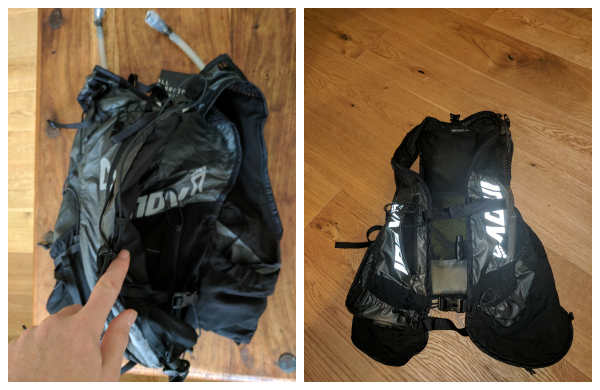 What I was struck by was how lightweight the pack is. It'd been advertised as and designed for racers and this certainly isn't something I'd use for everyday commuting. It's a light racing pack designed for people who cut their toothbrushes in half on the MdS. That's not to say it feels particularly delicate but the fabric certainly is gossamer thin and I can't help but wonder if we'll see it slightly enhanced in later editions. We shall see. In my opinion inov-8 have had issues with build quality in the past and I'll be interested in seeing how this pack fares to a few months of running abuse.
So in conclusion I was pleasantly surprised. Before I received the pack I decided that my criteria for a successful test would be that if I felt the pack functioned well in both it's guises, as a minimal vest and as a potential 100 mile pack. Well in my view so far it has. Inov-8 have come up with something genuinely innovative and they've done it well. Over the next few months I'll run it through it's paces some more with an eye towards longevity and build quality but so far so good.
So kudos to inov-8. I went into this test with an open mind but was perfectly prepared to let rip if I felt that pack wasn't designed well. I'm happy to say it's a pretty good pack. If you're an inov-8 fan you'll love it.