Rob Neal tests out inov-8's Trail Talon.
I can't be the only one who gets confused with inov-8's wide range of running shoes, trying to decide which is the best one for me. My problems were solved when they released the Race Ultra 290. The clue was in the name, I run ultras so these must be the shoes for me! I've run nearly 2000 miles in 4 different pairs of these shoes and they quickly became my shoe of choice. I wasn't alone in being a fan on the Race Ultra, I've seen them on the feet of lots of my friends and runners at races across the country. If you are one of these runners then I've got some bad news for you – inov-8 have stopped producing these shoes. This may seem strange for a company to stop selling something that was so popular, but I have some good news – this summer they have released the Trail Talon which they say is a new and improved replacement.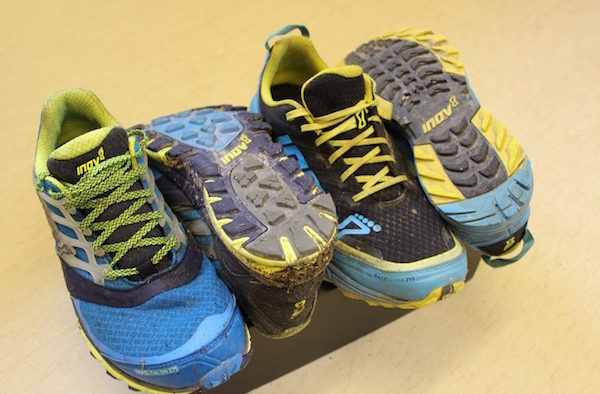 As a big fan of the Race Ultra 290 I was excited to try the Trail Talon 275 and I really hoped that inov-8 hadn't ruined my favourite shoe! I've been fortunate to be given a pair of these shoes in order to write this review, so, what has changed?
Cushioning
For me this was the most noticeable change between the shoes; the Trail Talon has significantly more cushioning around the rear of the shoe which make them extremely comfortable from the very first run. I've previously only felt this level of comfort in road shoes, not those designed for trails. This added cushioning is obviously a real benefit for longer runs and make them a pleasure to wear. However, it does bring a couple of downsides in my opinion. While the shoe does generally drain water very well when it gets wet the cushioning at the rear of the shoe does seem to stay damp for longer although this didn't cause me any discomfort it might be an issue in longer or multi-day races. Also, although the new lacing system does seem to make the foot seem more secure in the shoe than the Race Ultras I did find slightly more movement around the heel of the shoe on steep and technical downhills. These were very minor issues and for me the improved comfort of the extra cushioning is definitely worth it!
Another area of compromise is the midsole. This feels firmer to me on the Trail Talon than it did on the Race Ultra. On the plus side this gives better energy return and make the shoes feel responsive on firmer ground. On the negative side some people may prefer a bit more cushioning underfoot, especially for longer runs on hard packed trails, which is what these shoes are aimed at. This will come down to personal preference and one option would be to fit your own, more cushioned, insoles into the shoe.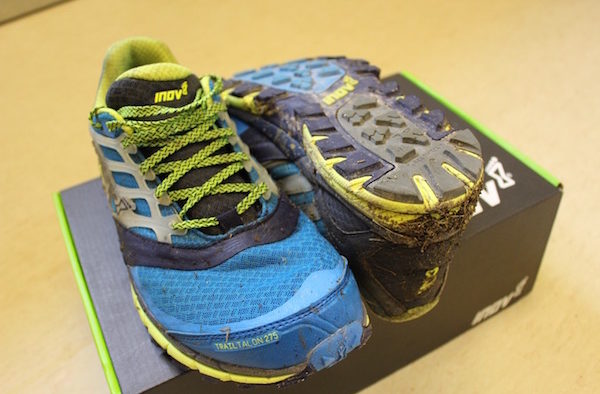 Grip
Inov-8 are marketing these shoes as being aimed at running on hard packed trails and in my opinion the grip is an improvement over the Race Ultra. I felt I could run with confidence on dry rocky trails, even on steep downhills. I did have a few slips on steep wet rock and grass descents which is what you would expect from a shoe with this style of grip. The contact area of the grip is wider than it was on the Race Ultra which means that they are comfortable for running on the inevitable miles of road that most of even the most committed trail runners have to endure at some point in their week. While I wouldn't choose these shoes for a road marathon it is impressive that they are comfortable and effective across such a wide range of terrain. However, if you're expecting to be running on a lot of technical terrain and steep wet rock then there are shoes with better grip out there.
Weight
For those who aren't shoe geeks, the number in the name of inov-8 shoes refers to the weight of the shoe in grams. Therefore, the Trail Talon 275 will be 15 grams lighter than the Race Ultra 290 (for a UK size 8). It is impressive that the weight has been reduced while adding to the cushioning and while any weight saving is welcome I can't say that I particularly noticed the shoe feeling lighter. To be honest, I think I have significantly more than 15 grams of mud attached to my shoes most of the time anyway!
Options
The shoe I tested was the Trail Talon 275 which has an 8mm drop which personally suits me well and feels comfortable on the longer runs. There are also 2 other options available. One is the 275 GTX which features a Gore-tex waterproof lining. Personally I prefer my shoes to be able to drain water rather than be waterproof but this may suit some people, especially in winter conditions. The other option is the 250 which is a lighter shoe with only a 4mm drop which will suit fans of more minimalist shoes whose running styles are adapted to the lower drop.
Like the Race Ultra the Trail Talon does have attachment points for a gaiter which I've found work really well on the Race Ultra and so far, the Trail Talons seem to be the same. Although it can be quite fiddly to get attached to start with, I have found that it does then stay well attached. I have only experienced one side detaching, even on 12 hour plus runs.
Verdict
So, as with any review of running kit, I could use all the buzzwords and talk about ADAPTERFIT technology POWERFLOW midsoles all day but what it comes down to is the simple question: does the shoe fit your foot and give you the grip you need? This will always be a personal judgement but if you are considering some new trail shoes I would definitely recommend finding some Trail Talons to try. I've run over 100 miles in my pair so far and I see them becoming my shoe of choice for dry trails, they are certainly a worthy successor to the popular Race Ultras. In the winter I will probably switch to my Terraclaw 250s (This isn't an inov-8 advert, their shoes just seem to fit my feet well!)
The Trail Talons are a great all-rounder. They are comfortable straight from the box and a joy to wear on long runs. They grip well on all but the most difficult terrain and they are still comfortable enough to cope with some boring tarmac. As with any product attempting to be an all-rounder it won't please everyone, there are many shoes out there with better grip or more cushioning, but if you want just one pair of shoes that will keep you on your feet and running for many miles of trails then these would be a great choice.