If you're one of those runners who are criticised for having too many pairs of trainers, you probably have conversations that go like this:
"Another pair of trainers? Why do you need another pair?"
"Ah, well these ones are for trails"
"I thought those ones were for trails"
"No, those ones are for softer trails and they don't have enough cushioning for harder trails …" Etc
If this sounds familiar, I've got good news. We've just tested a shoe which is unequivocal in its mission. So much so that its name says it all: MUDCLAW
The MUDCLAW has long been an inov-8 staple, beloved of fell runners, obstacle course racers and lovers of mud. However, unlike most brands who only make very minor changes to their key models from version to version, inov-8 has really gone to town on this new version, the MUDCLAW G 260.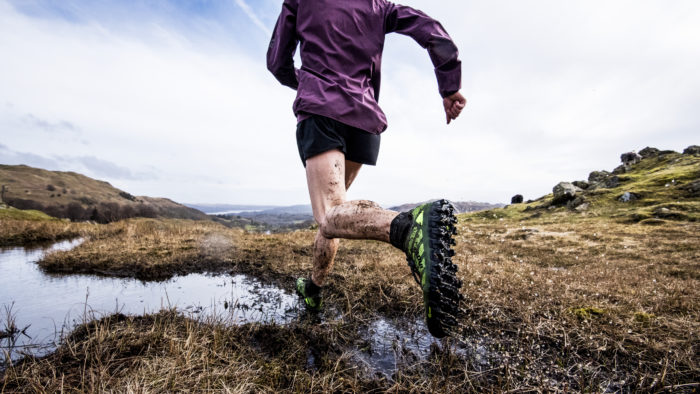 Spec
Studs: 8mm
Drop: 4mm
Weight: 260g
Midsole: EXTEROFLOW tech, plus a next generation METAPLATE rock plate
Attachable gaiter (included with shoe)
Price: £140
Technology
Last year inov-8 announced their ground-breaking use of graphene in their shoes and the MUDCLAW was one of the shoes to benefit from this. This was part of a big project with the Graphene Institute at the University of Manchester. Graphene is the toughest material known to man and yet graphene-infused rubber can remain flexible, so it's easy to see the benefits for footwear. But what are the specific benefits of graphene to the MUDCLAW?
There's always been a bit of a trade-off between grip and longevity of soles. I've got other studded shoes which give great grip on mud but they wear down really quickly if you spend parts of your run on rock or road. I've also got a pair of studded shoes which now have two fewer studs at the front after a long run which had a bit of scrambling in. I guess that the deeper the stud, the more susceptible it is to wearing down/shearing off. Unless they're made of graphene, which will stretch without breaking and will stand up to a lot of wear and tear. Ben Mounsey used a pair for 1,100 miles in testing. So there's a big benefit there.
The graphene soles have also been designed to give the greatest amount of grip possible. The studs are triangular and apparently are the best shape to grip and propel you through mud.
Because of the flexibility that the graphene affords the rubber, they also feel more cushioned than your standard studded shoe. They definitely feel a lot less minimal than many similar shoes.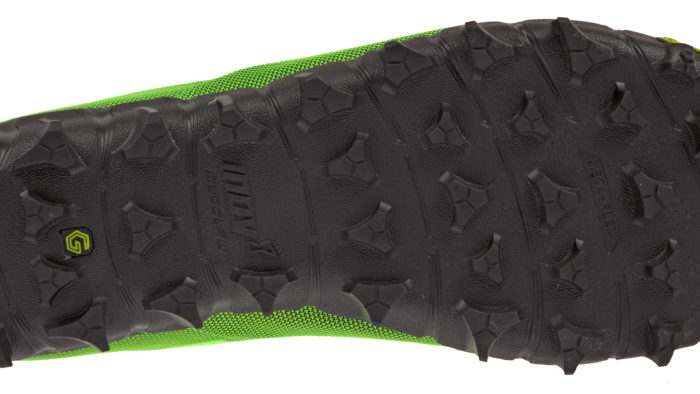 Fit
There's also usually a trade-off between grip and comfort with super grippy shoes but these don't feel as stiff as a lot of studded shoes when you first put them on and the upper feels really comfortable. The tongue and collar round the ankle are really padded and the material on the upper is soft and not rubbery (like the X-TALON). They are a narrow fit (they are a 1 on the inov-8 fit scale) so that your foot doesn't slide around inside the shoe when you're on a steep muddy downhill. However, they don't feel that narrow and certainly feel roomier than similar style shoes.
Performance
You just can't fault the grip over mud and soft ground with these shoes. They have the surest grip of any shoes I've ever tried. When you're running down a slippery muddy slope, expecting to engage your bum in this descent at any moment, you'll be pleasantly surprised. So that's good news for your car upholstery and washing basket.
They're also a much more comfortable shoe to run in than similar grippy shoes. They are obviously low profile but you do get a fair bit of cushioning from the sole. I've happily done longer runs (2hrs plus) in them without my feet grumbling. They haven't scrimped on the technology in the midsole, with EXTEROFLOW, which is designed to absorb energy, then release it to propel you, and the METAPLATE rock plate for shock absorption.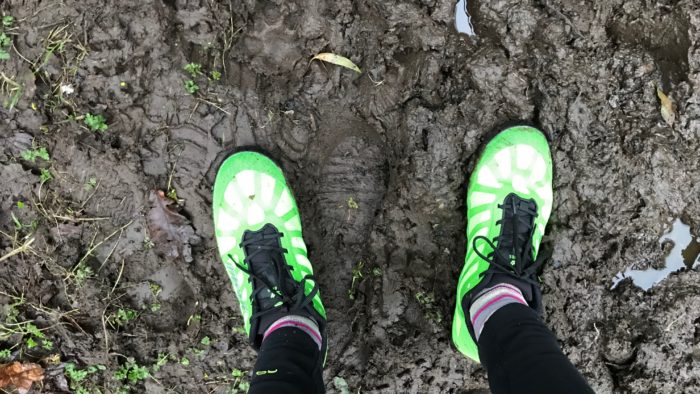 Who are they for?
In a nutshell – anybody doing muddy running! They are obviously great for fell running, OCRs, orienteering and cross country. But I'd say they are suitable for a much wider market than this, really anybody doing off-road running where you're going to encounter a fair bit of mud, whether that's the Thames Path or a bog on a mountain! In the past I've bought X-TALONs and just used them for quite specific runs (cross country, muddy races), but I think the new MUDCLAW is comfortable and hard-wearing enough to be more general purpose in terms of terrain and distance.
Verdict
It's definitely a great grippy shoe and it should be easy to justify its place in your collection!
Find out more about the new inov-8 MUDCLAW G 260