As a self-conscious, career-minded, hardworking, husband, father and obsessed runner I have always, subconsciously, wholly unsubscribed from any sort of structured or carefully considered recovery process, whether that be an active recovery, flat-out-feet-up-rest, cross training, heck, even a full night of unbroken sleep is off the cards in our house. I came to terms with it a long time ago and have fully accepted the fact that I could be missing out on some great benefits performance-wise. I'm also fully aware that if I were to actually find time to think about, and implement, a detailed recovery plan to my week I'd probably just end up using that time to run anyway. It is what it is.
I still have that same desire to run (most of the time), I still feel like my running is progressing in the right direction (some of the time) and I have been (relatively) free of injury for as long as I can remember. So for me that's a win-win-win. But then something happened. Something completely out of my control. And by that I mean I knew exactly what I was doing when I clicked the link, but I was powerless to stop myself – I signed up to my first ultra-marathon.
Thoughts instantly turned to working out how I was going to fit in the training volume required to be able to successfully run 43 miles. Then one day I had a light-bulb moment; to be able to run further and increase training volume I'm simply going to have to recover quicker between each slog. My lifestyle won't allow for ring-fenced rest time, in the same way that my brain won't allow for easy recovery runs (the race is ALWAYS on after the first 400m whether I like it or not). So how? Then out of the blue I was offered the chance to try out some new Zone3 compression gear. Bingo. The answer almost handed to me on a plate, or was it. Well I guess that's the idea behind these kind of test reviews, we'll have to find out.
Zone 3 is one of the UK's leading triathlon brands, so clearly they know their stuff when it comes to creating performance clothing to withstand the rigours of endurance sports but also items that will support and hopefully improve athlete performance.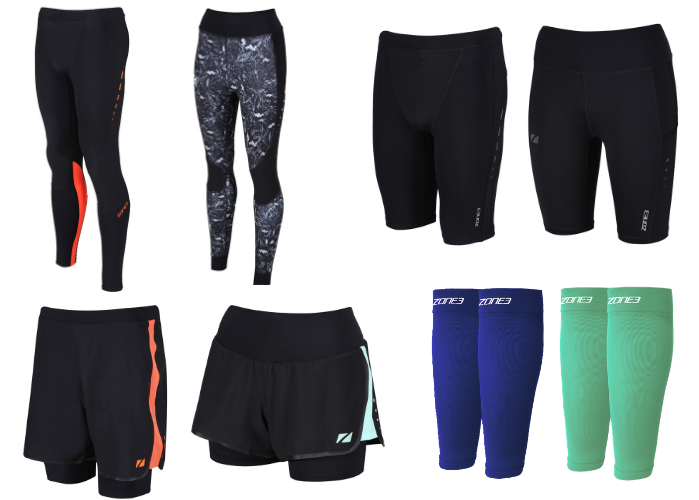 The RX3 range (it stands for 'race, recover, repeat'), which includes tights, shorts, 2-in-1 shorts and calf sleeves, is being marketed as "Medical Grade Compression Wear", which sounds great, clearly. I'm not 100% convinced the reference to medical grade in this context is really needed. A quick bit of background – compression wear is measured in millimetres of mercury (mmHg), there are 5 levels ranging from 8-15mmHg (lightest) up to 40-50mmHg (tightest). Anything outside of these are not only not considered medical grade they're also not considered compression. Arguing over semantics isn't going to help me recover any quicker so let's just let that one lie and get on with the nitty gritty.
Sizing
I was sent over a pair of the RX3 compression tights and compression calf sleeves, both items size medium. I've never worn any sort of compression gear before so therefore never needed to work out whether I had XS, S, M, L or XL calves. To look at them it's clear to see they are neither S or XL but that still left the middle 3 options and from experience (mostly relating to skinny jeans purchases) there can always be a bit of a blurred line which is open to interpretation when it comes to this kind of sizing. Fortunately, the Zone 3 website has very detailed and accurate sizing charts for all their items. I measured the circumference checked it against the chart and came in as an M – sorted.
With the tights they offer 9 different size options. Starting with XXS all the way up to XXL and include a Small Tall (ST) and a Medium Tall (MT) along the way. The size chart takes into consideration height and weight as well as waist size and the ranges of each often overlap with the neighbouring sizes, which makes sense and seems to capture all potential leg shapes and lengths. There's obviously a lot of variables in the full leg range when you're trying to ensure effective compression from ankle to waist but I think they've done well.
Fit and feel
The items could not have arrived at a better time, not only due to the aforementioned increase in training volume but because winter seemed to decide to appear overnight and temperatures dropped. Having said that I've always been of the mind to dress for the 2nd mile of a run as opposed to the freezing cold 1st one. It'll be fine once you get going. I'm more of a t-shirt and shorts kinda guy or even singlet and shorts during races. So as nice as the thought of an extra layer was originally I then started worrying that, having never worn these sorts of items before, I might find myself overheating. Not the case. The material of the tights is very breathable, specifically the ever so slightly lighter material panels that run from the inside and front of each knee up the side of the thigh to the waist band. The rest of the tights apparently use a "higher denier strength material" which creates a Black-Out feature intended to stop the tights going see through during a workout. Good idea. This material does however still feel breathable and lightweight which is great.
The compression of the tights is graduated in order to increase blood circulation meaning it ranges from 18mmHg at the ankle to 8mmHg around the waist area. You can physically feel the difference from bottom to top when wearing the tights and it's almost like a reassuring hug around each leg that says, "Don't worry guys we'll do the boring circulation work so you can concentrate on bouncing from one to the other." At least that's what I imagined they were saying when I put them on.
Talking of putting them on, there's a tightness (obviously duh!) to both the tights and the calf sleeves that requires care when putting them on. Not in an annoying faff kind of way but you wouldn't just stretch them out and jump straight into them without thought and I like that about them.
On the tights they use "Flatlock" stitching and heat bonded seams, where necessary, which means that there isn't any area that really digs in or rubs or feels uncomfortable against your legs. Likewise, the calf sleeves are created using a 360° seamless construction for the main part of the sleeve. The ankle end has the same heat bonded seam as the tights. Trying to eradicate seams and, I guess, "sticky-out-bits" when you're designing compression wear is probably one of the key components and Zone 3 have done a great job with both these items.
Technology and bells and whistles
Both the tights and the calf sleeves have strips of PU Tape (Polyurethane) to support the soleus calf area. The idea apparently is to reduce muscle vibrations. I can't say that it was a noticeable reduction of vibration because I'd never really noticed vibration in that area in the first place, but, the tape does offer another layer of support around an area that can be susceptible to tweaks and tinges and injuries so it can only be a good thing.
There are Zone 3 logos and other small splashes of material – couple of dashes on the calf and six up the outside thigh – which are made of reflective material. They are not overly noticeable as far as reflective areas go but I guess every little helps.
There is a back pocket on the tights which is big enough to fit a gel or a small energy bar and again the zip seams are created using the heat bonded tape technique meaning the zip sits flush and perfectly in line with the rest of the material and doesn't stick out either way. There is a small internal pocket stitched into the waistline big enough only maybe for a key.
Verdict
These are both great items of running clothing. Clearly very well made and a carefully thought out design. I think it's great that the same item can offer different benefits depending on when you are wearing them. I've worn them during runs (not at the same time!) and have felt that they offered increased support on longer runs and actually an increased feeling of elasticity in my legs during shorter sharper work outs. I tend to regularly feel twinges in my calves after longer runs and so I've occasionally worn the calf sleeves underneath my other clothes for a few hours afterwards. Other times I've got home of an evening after 15-18 mile runs and just worn the tights around the house to aid the recovery of the leg muscles, as well as spring up and down the stairs chasing my 3 children around before bed time. I have to say that I have indeed noticed an increase in recovery. My legs do actually feel fresh day after day regardless of what I've run the night before or even earlier in the day. I'm now into the final few weeks of training before the ultra in January and feeling good. There's not much more I can gain from training between now and then so it's really just a case of not getting injured and I've got full confidence that using this Zone3 gear I'll be able to achieve that. I think on race day itself I'll probably start with the calf sleeves in my pack and put them on during the race. The tights will be waiting in the drop bag at the finish line for a quick change into after the race to ease the inevitably impending pain and stiffness. I'll be as fresh as a daisy for work on Monday morning. Maybe.
Find out more about Zone3 compression clothing here.