inov-8 launched their new G-SERIES shoes a couple of weeks ago and they will hit the shops next week. Why G-SERIES? The G refers to graphene, the strongest material on earth, which is incorporated into the rubber sole of the shoes. Essentially what this means is that they are designed to be more tough and hard-wearing (50% more than regular soles) and therefore last a lot longer.
Read all about the G-SERIES shoe technology here.
We were lucky enough to be given a pair of TERRAULTRA G260s at the launch to try out. It's only been a few weeks, so this isn't designed to be a full review, but as they hit the shops on July 12th we thought we've give you a first look at them, in case you're thinking about getting a pair.
The tech
Weight: 260g
Drop: 0
Lugs: 4mm
Stack height: 9mm
Price: £140
Available: July 12th
First impressions
First things first, they are bright! This is the only available colour for the moment, for men's and women's versions. It's definitely striking, but this is your only option.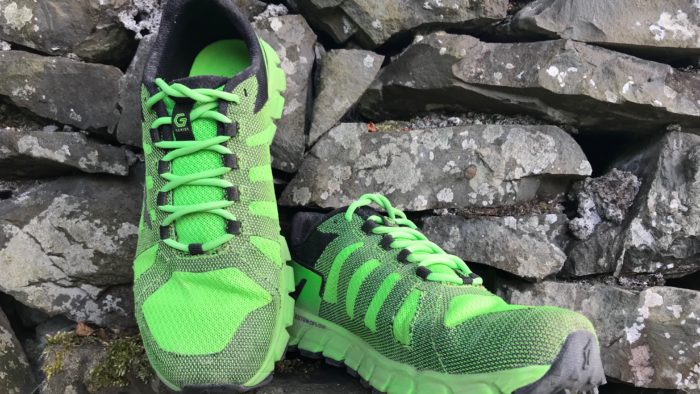 Fit
They are definitely quite a wide fit. They're classed as a 4 on inov-8's fit scale. If you like your toes to have plenty of room to spread you will be delighted with these shoes. If you have been a fan of the inov-8 RACE ULTRA or TRAIL TALON then you'll find the fit similar. I hover between a 7 and a 7.5 in inov-8 shoes and I needed to go for the smaller size in these.
Comfort
From the off this is a very comfortable shoe. It has plenty of cushioning and feels nice and bouncy. They are supremely comfortable to run in on harder trails and there are lots of nice touches, such as the slightly elasticated laces and the EXTEROFIT upper, both of which give a little bit as your feet move and expand. One of the key innovations about graphene is that although it's incredibly tough, it's also flexible. So these don't feel rigid, like you might imagine with a super tough sole. The sole is designed to flex in all ways so that your foot can move naturally and comfortably.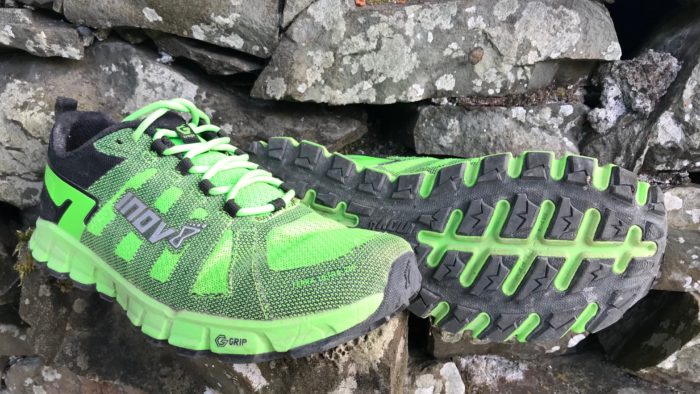 Grip
Often inov-8 shoes with lots of cushioning compromised‌ on grip. They had their very grippy shoes (eg X-TALON) which has a softer rubber, which gave great purchase on mud but would wear down quickly on any hard surfaces, or they had their very cushioned shoes (eg TRAIL TALON), which had harder rubber but couldn't deliver such good grip. However, the graphene element in the sole of these shoes means that there doesn't have to be a compromise any more. The use of graphene in the outsoles means that they can design really tough but flexible grip. This is probably one of the biggest innovations of the G-SERIES shoes. The TERRAULTRA has a decent level of grip – slightly more than the TRAIL TALON – and would deal with a bit of mud, but nothing too extreme. But it's designed for long runs on harder trails – they have other shoes for the very muddy stuff.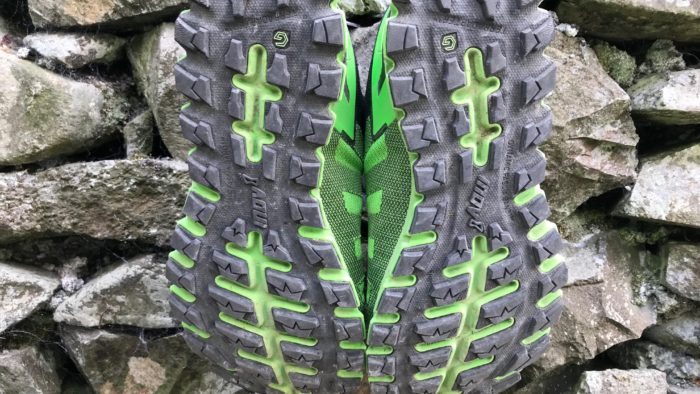 On the run
It's only been a few weeks but the early signs are that this is going to be a great shoe for trail ultras. The amount of room in the toe box and the level of cushioning is perfect for ultras. I've run on rock and hard trails, as well as a bit of pavement and grassy trail. The only negative I've found is that because of the wider fit my feet do move around a bit on steeper downhills, so I'd probably go for a shoe with a narrower fit for any runs or races with a lot of that type of terrain.
Verdict
It's too early to give them a verdict but I definitely feel that these will be shoes that I will do a lot of longer runs in. If you've been a fan of shoes like the TRAIL TALON then I think you'll like this model from the next generation of inov-8s. The big question which people are asking is whether the uppers will last as long as the soles – what good is a shoe with perfectly preserved soles if you've poked your toe through the top or there's a hole in the side? They've incorporated kevlar into the uppers, which seems very resilient, and the uppers do seem to be a lot tougher than on previous shoes. We will keep you posted with a proper review once we've put more miles on them though.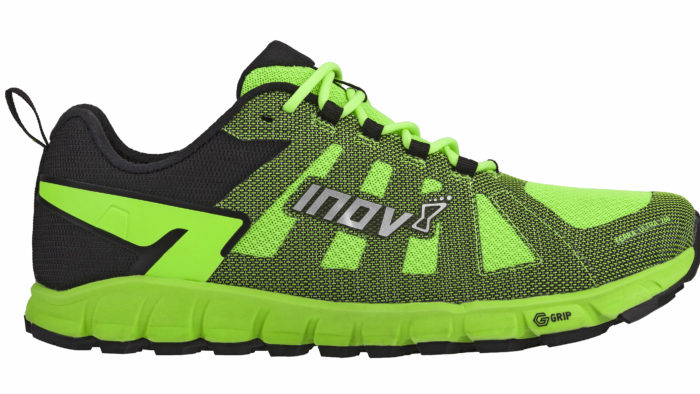 Pre-order the TERRAULTRA G260 at inov-8.com