Brooks has just launched the new version of their perennial favourite, the Ghost shoe. This new version is edition 12 and shoes don't go into that many versions unless they're pretty successful sellers.
Who is the shoe aimed at?
It's a neutral shoe and it has a moderate amount of cushioning. It's not as cushioned as the Glycerin or Transcend and it has a similar amount to their Adrenaline shoe, if you're familiar with that. It's a lightweight shoe but is still fairly cushioned. This means it's good for long training miles, but also light enough to be a race shoe.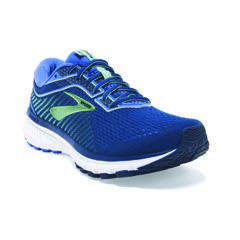 Technical info
Drop: 12mm
Weight: 264g (women) / 295g (men)
Price: £120
What are the key features?
The cushioning has Brooks tech such as BioMoGo DNA and DNA LOFT to give softness underfoot without losing responsiveness and durability.
The sole also boasts a 'Segmented Crash Pad' – an integrated system of shock absorbers – to provide cushioning no matter how the foot lands and give you a smooth transition.
This is a shoe that comes in various widths, if you struggle to find a shoe that's right for your foot.
What's new to this version?
Brooks are going with the 'if it ain't broke, don't fix it' philosophy for the new Ghost, so the key elements remain the same, but the one big change is the upper. It's now a 3D Fit Print upper, to give you stretch and structure which fits your foot perfectly. It's designed to be as comfortable as possible, so you get less rubbing and fewer hot spots, even when the weather's hot.
Other information
There's also a GORE-TEX version with a breathable membrane (to avoid those 'foot feeling like it's in a carrier bag' moments)
There's a limited edition version of the shoe available through Intersport.
There are 6 different colours of the shoe available for women and 6 for men. If you like to match your shoes to your outfit.
Find out more about the new Brooks Ghost 12 HERE.