As runners we might be good for the environment in some ways, particularly if we swap our car journey for a run commute, but we are undoubtedly bad in others. And one of the things we're all guilty of is getting through a few pairs of trainers per year and disposing of the old ones. There are several ways to recycle them but the shop Runners Need is giving you an added incentive to do it at the moment.
Until 7th March Runners Need will give you £20 off a new pair of running shoes, if you take your old pair in to be recycled through their 'Recycle My Run' initiative.
Runners Need are working with the European Recycling Company on this and they have collected over 1.5 tonnes of old running gear to be recycled or re-used since October 2016! You can recycle your old trainers and kit at Runners Need stores all year round, it's just the £20 off a new pair that's only available until 7th March.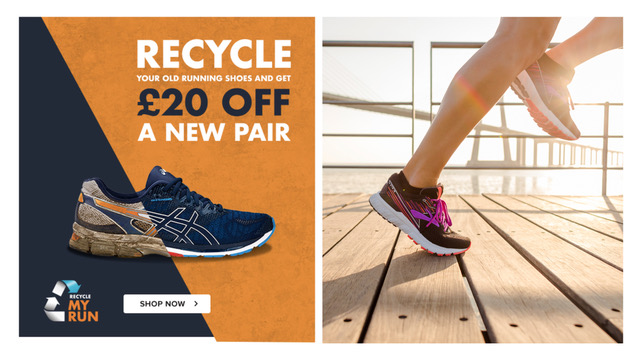 Runners Need has also partnered with clothing and shoe recyclers SEOX to ensure each pair of trainers is maximised to its potential. The ERC, part of the SOEX Group, assists people all over the UK to recycle their unwanted clothes and footwear reducing the impact of shoe waste, here and around the world. Recycling your old running shoes diverts important resources from landfill and allows them to be reused or recycled, creating employment opportunities and providing footwear to those who could not otherwise afford them.
So if you're due to buy a new pair of trainers soon, why not check out your nearest Runners Need and use this great initiative to save some money?
And if you want to be more environmentally aware as a runner, here are a few other ideas for you to try.