Saucony have launched the Ride 13. Their new shoe that they claim offers advanced cushioning and a streamlined fit. We hope to get a test pair shortly to put them through their paces.
Here's what Saucony have to say about their about the new shoe.
---
The Ride 13 is the latest iteration of the highly popular Saucony Ride model and it now features the brand's PWRRUN cushioning and FORMIT technology, making this the most cushioned version of the shoe yet.
Overview
New PWRRUN cushioning protects from impact with a soft, yet responsive feel underfoot
TRIFLEX outsole optimizes flexibility
FORMFIT surrounds the foot in 3D comfort, enhanced by 3D-Print overlays
Engineered mesh provides structure or stretch where needed and enhances breathability.
SPECS
Category: Neutral
Offset: 8mm (32/24)
Weight: 9.7oz (277g)
Men's 7-13, 14, 15
Designed to offer the smoothest miles yet, the Saucony ride 13 gives reliable comfort on any run thanks to advanced cushioning and a new streamlined fit.
The Saucony Ride 13 offers continuous comfort at any distance with its next generation of cushioning, PWRRUN. This all-new technology gives the runner a springy and responsive underfoot feel that helps maintain strength and keeps runners feeling energised as they build mileage in training.
PWRRUN cushioning provides "just-right" softness that's responsive enough to tackle as many miles as you wish.
Saucony's latest shoe offers increased durability and cushioning than previous editions with a brand-new blown rubber outsole. The improved durability of the outsole means more smooth miles. Plus, it provides added cushioning at a lighter weight.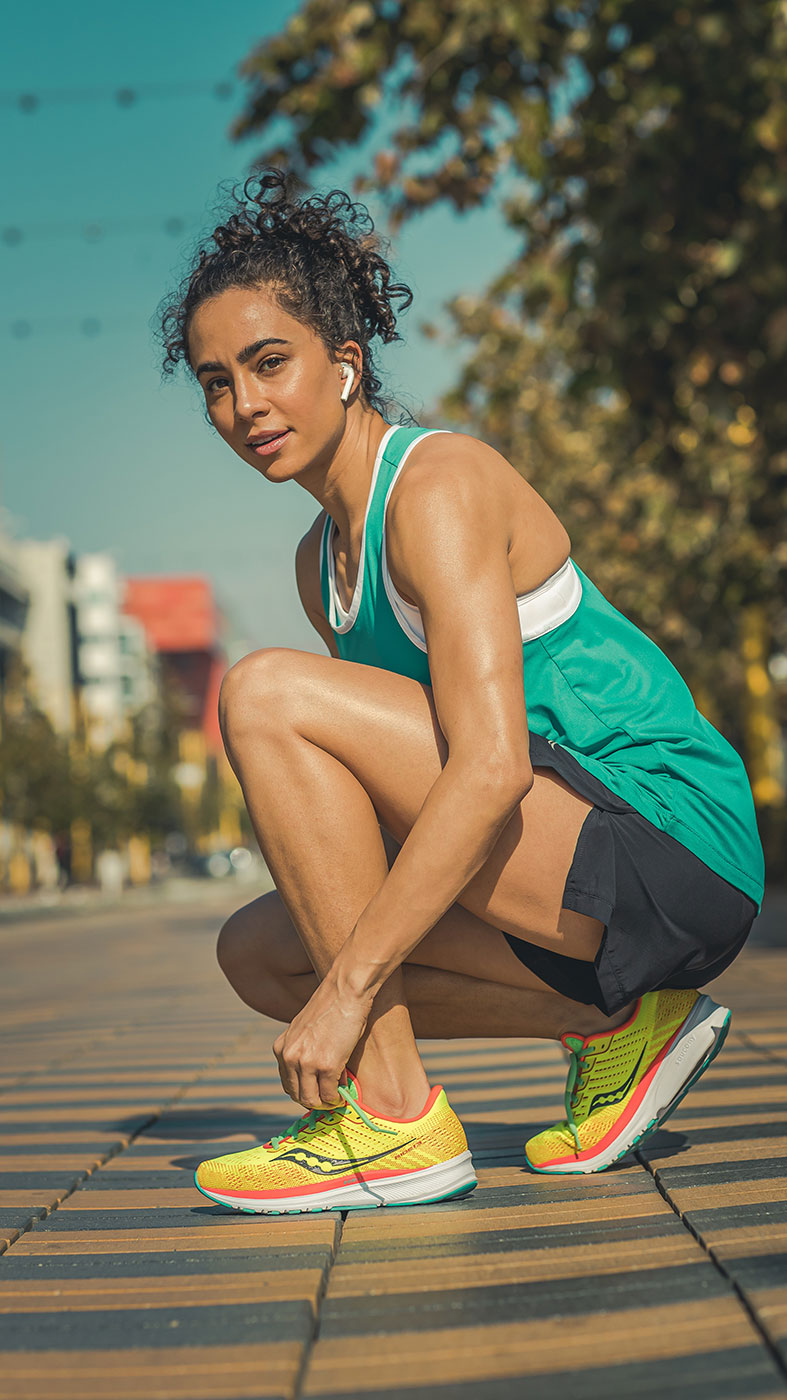 All runners' feet are designed differently and Saucony has taken this into consideration with the Ride 13 and its FORMFIT. This is Saucony's 3D approach to fit that feels bespoke through the use of an underfoot cradle materials that flex, stretch and protect.
Adding to the focus on personalisation, the Saucony Ride 13 features an engineered mesh toe box that provides structure and stretch where needed to provide unrivalled comfort on each and every run.
The Ride 13 is available in a range of colours:
Mens shoes: Mutant yellow, charcoal and red and alloy and black for the men (278g)
Ladies shoes: Mutant yellow, blush and dusk and alloy and black (247g)
Gareth Lloyd, Saucony UK Marketing Manager comments: "During the warmer months, more than anything, the focus has to be on enjoying the miles you put in, with the Ride 13 we intend to give you ultimate comfort on each run. "We are delighted with the latest adaptation of the popular Ride model. With the combination of the all new PWRRUN and FORMIT technology, we believe this is the best version yet."
The Ride 13 will be available to buy at www.saucony.co.uk from August 1st priced at £125