Interested in a low drop shoe with added comfort and protection and a more natural fit? If you haven't heard of a brand called Topo yet then read on…
I've been running for about the last 20 years and I'm a bit of a geek about kit so I thought that I knew most running shoe manufacturers, but I have to confess that when Run247 asked if I wanted to review some shoes from Topo… I had never heard of them. This made me a bit sceptical, 'what can a new small company do that the massive international companies with millions of dollar budgets aren't already doing?'. Well, I'm happy to report that Topo are doing something different and I was very impressed with what I found.
The Company
Topo was founded in 2013 by Tony Post (hence 'ToPo'). Tony was a good college runner in the States and with a 2.25 marathon at Boston he was clearly no slouch. After learning about shoe design and manufacture working at Rockport, Tony moved on to become CEO at Vibram where the company were at the forefront of the natural running movement with their Five Finger shoes. After leaving Vibram Tony, and a small team, founded Topo with the aim of producing shoes that allowed a natural running style and fit but with some of the benefits of more traditional running shoes.
The Shoes
The Terraventure model that I have been testing is pitched as a lightweight but durable trail running shoe. It features a decent grip and a rockplate to provide some underfoot protection but the difference from most other brands is primarily in the fit. The shoe incorporates a wider toe box – which was great for me as I have wider feet anyway – but it should allow any runners toes to spread out more naturally. This is particularly useful on longer runs where your feet will tend to swell. Combined with the wider toe box the rest of the shoe fits well, the midfoot feels secure and the heel has some effective cushioning with a good, snug fit to avoid too much movement.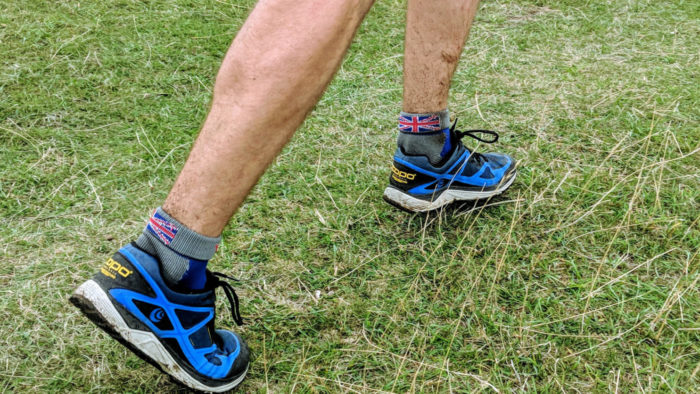 Another key design feature of the Terraventures is their 3mm drop (this refers to the height difference of the cushioning between the heel and forefoot). Traditionally road running shoes would have a drop of around 12mm which encourages heel striking. Advocates of low or zero drop shoes claim that a lower drop helps reduce injuries by allowing a more natural running style. One point of caution if you are considering purchasing a low drop shoe such as the Terraventures: be aware of what drop your current shoes are and transition gradually if you are accustomed to running in higher drop shoes to avoid injury. I generally run in shoes with a 4-6mm drop and I was able to use the Terraventures straight out of the box for runs up to 4 hours with no issues.
With the 3mm drop Topo appear to be aiming at the gap in the market between the zero drop shoes, such as those from Altra and Vibram, and the more traditional higher drop. This could be the sweet spot that allows runners a more natural style without some of the commitment and risk of injuries of transitioning to zero drop shoes.
These shoes are designed for use on the trails with reasonably deep 6mm lugs on the grip and for me they felt best suited to drier trails and avoiding too much deep mud. They also felt comfortable covering a few miles on road, when necessary.
Finally, a point that may be more important to some people than others: the appearance of the shoe. They have a fairly unusual look, which may or may not be to your taste, but to me there is something about them that doesn't make them look like a 'serious' running shoe. However, none of us are shallow enough to choose a running shoe based on looks, are we..?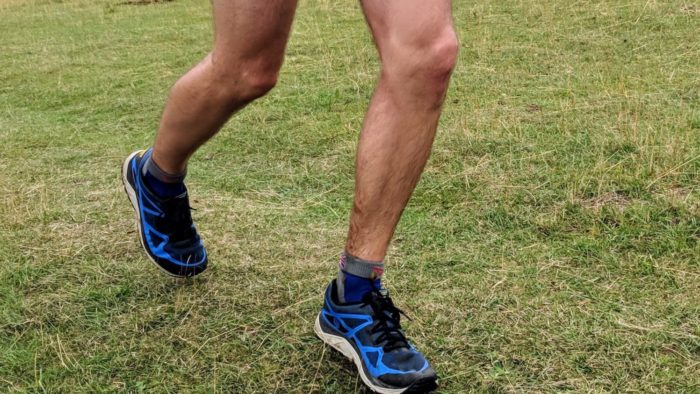 The Verdict
I really think Topo could be on to something with this style which combines the best aspects of minimalist shoes that allow a natural running movement with the added protection of more traditional running shoe designs. If you have tried minimalist zero drop shoes but feel like you need a bit more comfort and protection, or if you are using more traditional shoes but want to adapt to a more natural style, then it could just be that Topo have found the right balance for you. These shoes are great all rounders that will serve you well on trails and occasional road running and feel very comfortable while you are doing it.
Find out more about Topo shoes here.