Wearable training tech brand COROS sent over a test unit of their Apex Pro model which is aimed at Multisport and long distance event participants. We take a quick first look whilst we put it through its paces in a more in-depth review coming shortly.
What Coros say: The APEX Pro offers 40 hours of full GPS battery life – a 14% increase over the original APEX. Now you can get through that Mountain 100 miler without having to debate about switching into Ultra Max Mode.
Rotating Digital Dial
COROS is introducing touch screen technology for the first time in the APEX Pro. With touch screen we take the already easy to use functionality of the APEX and make it even easier. Using touch screen along with the rotating digital dial, you can move your navigation track up/down, left/right and easily zoom in and out.
Key features:
Display: 46mm: 1.2 in. 240 x 240 (64 colours)
Screen Material: Sapphire Glass
Bezel Material: 46mm: Titanium Alloy
Physical Size: 46mm: 46 x 46 x 11.9 mm
Weight: 46mm: 55.3 g

Battery Life (46mm/42mm):
100/80 Hours in UltraMax GPS Mode
40/25 Hours in Full GPS Mode
30/24 Days for Regular Use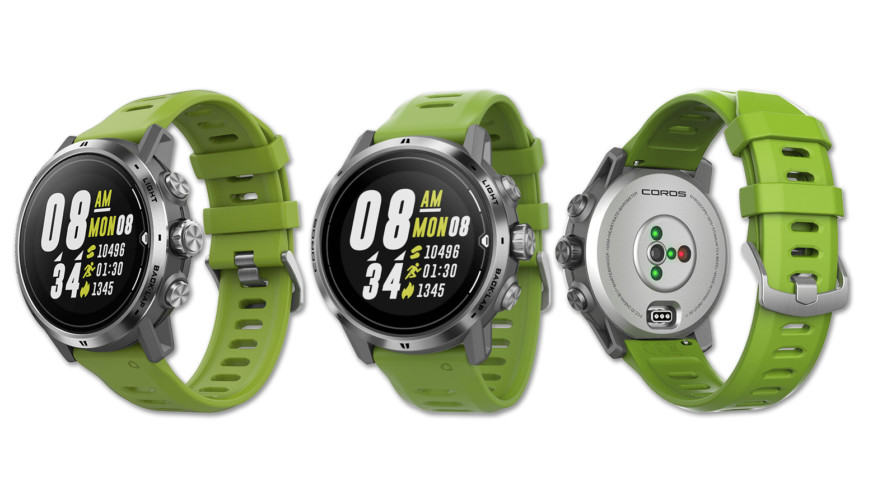 TRI247 say: COROS is a company that has emerged from Kickstarter and Indiegogo roots back in 2016 with their smart helmets for cycling. More recently they have released a range of sports watches with the Apex Pro one of their latests to come to market.
We are testing out the watch for a full review but our first look indicates it is a very promising addition to the sports watch lineup. If you are on the hunt for a new watch then you might want to consider COROS alongside the usual brands in the GPS/Smart watch market.
Easy to read screen
The Apex Pro is lightweight and well constructed with a bright, crisp screen that is easy to read in the sunshine.
Two buttons and a rotating selector dial keep things simple. Scrolling through menus is fast and fluid. Combined with the buttons is a touchscreen but it's not essential to operating the watch and seems sensitive enough.
Build materials are high quality and the strap is a nice feeling silicone material. The charging cable attaches firmly and solidly.
One of the key selling features is the extremely long battery life which is claimed to be good for up to 100 hours. A huge amount that still logs your GPS data. Full GPS recording offers up to 40 hours. That's going to be long enough for most of us!
COROS provide a training APP for IOS and Android which pulls plenty of data out of the watch and so far has been easy to use and syncs solidly with the watch.
Full review to follow presently. You can visit the COROS website here.