For people who like to run ultras it's long been a complaint that the battery life of their watch doesn't last for the amount of time it takes them to run a race. Step forward the Suunto 9 with up to 120 hours of battery!
Sick of trying to recharge your watch on the run when you're doing a long ultra? Of trying to make sure the connector stays in place on your wrist and carrying a heavy battery pack in your backpack? Well it seems that Suunto have solved this thorny problem which many of us have. The new Suunto 9 multisport watch has 3 battery modes – performance, endurance and ultra – which will give you between 25 and 120 hours of battery life.
They've also added intelligent battery technology which will tell you how much battery life you have left in the watch in the mode you're in for the particular activity you're doing. The watch will also give you smart reminders to charge the watch, based on your activity history. It will even give you a nudge during your run to say that you should switch battery modes (which you can do mid-activity), to ensure that you will have enough battery left for your activity.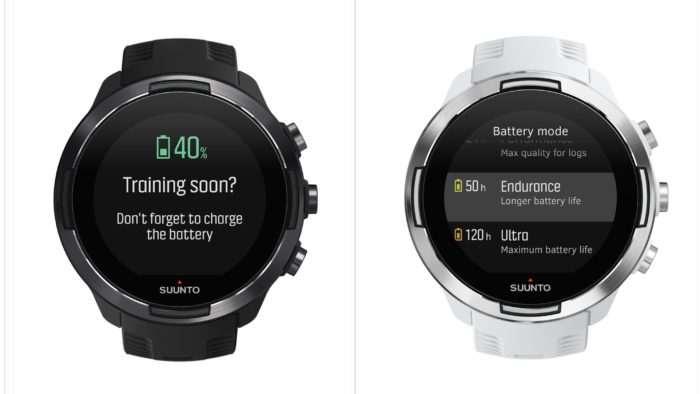 But, doesn't extended battery life just compromise accuracy, like it does with other watches? The Suunto 9 uses Suunto's FusedTrack technology, which combines GPS and motion sensor data to improve the track and distance accuracy when on the extended battery modes. Suunto claim that this means that accuracy isn't compromised.
This watch has been thoroughly tested, for thousands of hours by Suunto athletes and their team of testers worldwide. Markus Kemetter, Suunto Product Line Manager said:
"We put the Suunto 9 through vigorous testing. First in our testing laboratory, exposing the materials and the build to various elements and forces, including drop, freeze/thaw, humidity and immersion, and later by our skilled and passionate team of field testers and athletes, who for months have used the watch in their training and everyday life."
The Suunto 9 will be available from June 26th and it will be priced at £499. You can find out more information about it at www.suunto.com/suunto9