A while ago we brought you the news about online platform Zwift launching for runners. While that might not have been so appealing during the glorious summer months, now that it's starting to get colder and darker at night Zwift might give you a way of keeping things interesting if you find yourself on the treadmill.
Previously your virtual runner on the screen had to share the routes with cyclists. But now Zwift has for the first time added run only routes to the platform. The expansion includes a total of five new running routes and 5km of dedicated, run only paths. This marks the next step in Zwift's development of their running platform, which first launched as a beta product in February this year.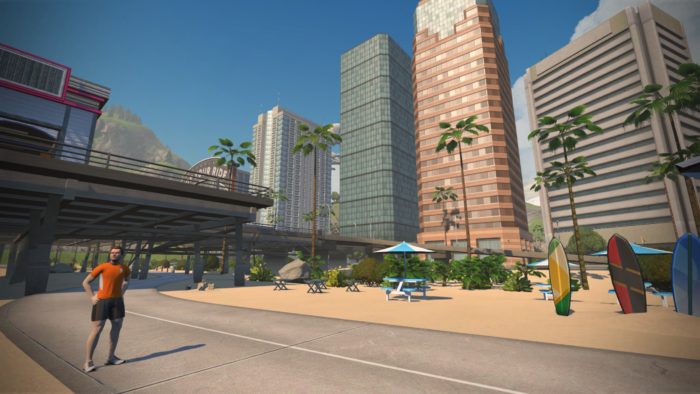 Alongside the dedicated run only loop – '5k Loop', an additional four routes allow runners to connect more areas of Watopia's shared roads on a single run than ever before.
The full list of routes available from launch are:
5k Loop – 3.1 miles // 100ft elevation (Run only loop)
Take a twisting and turning 5km journey through the heart of Run Valley, down onto the beach path, and along the scenic skyway over the ocean.
11.1 Ocean Blvd – 6.9 miles // 171ft elevation
In honor of Zwift HQ's address, this 11.1km route takes you over the 360 bridge, into the underwater tunnel, and then brings you home via Run Valley.
Chili Pepper – 5.0 miles // 157ft elevation
The short and spicy route takes you through the heart of Run Valley and then on a quick trip through the Volcano
Jon's Route – 7.8 miles // 192ft elevation
Take a scenic tour of Watopia that hits all the highlights of the running path and the flat route.
That's Amore – 4.0 miles // 179ft elevation
Run your way from Run Valley over to the Italian villas. If you really want to earn your pizza slices, this route will help you do it.
If you're new to running on Zwift, Flexible Training Plans are a great place to start. Flexible Training Plans adapt according to your schedule, allowing you to complete workouts that suit the time you have available, and the plan will adapt accordingly. Plans will give Zwifters windows in which they need to complete a specific workout session within each weekly block. To avoid, the negative impact of overtraining, if a session isn't completed within the set window, it will simply becomes unavailable. The plan will then rework the rest of the week to ensure you are able to get the most from the remaining sessions. Currently there are three run specific Training Plans in game: Cyclist to 10k, 5k Record Breaker and the Half Marathon Speed Builder.
Running on Zwift is currently free. The platform is compatible with all treadmills by connecting with a Bluetooth or ANT+ footpod. Footpods may be connected to iOS devices, Apple TV, or laptop/desktop computers and calibrated to the treadmill speed in the Zwift App. A rising number of Bluetooth-ready treadmills can also connect directly to Zwift, without the requirements of a footpod.
For more information head to www.zwift.com/run