A few weeks ago we brought you the news that Zwift, the virtual, interactive platform for running and cycling, was launching run only routes. Well, we've got even more exciting news: you can now run in New York!
Runners and riders can now take on challenges in Zwift's futuristic version of New York, on suspended glass roads above the Manhattan, whilst skirting famous landmarks such as The Guggenheim, The Met, the El Dorado Hotel and Tavern on the Green. Gamifying your treadmill run in a setting like this could be just the thing to keep it interesting this winter!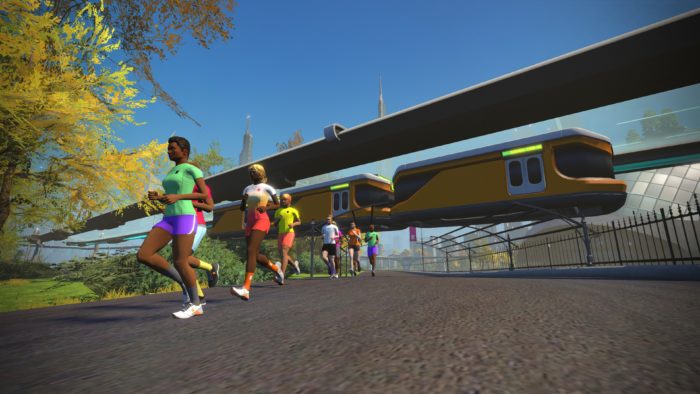 New York run only routes are:
FLAT IRONS – 14.8km // 146m
Run two laps of the Shuman Trail with a long lap of the park in between. Flat Irons is named for the downtown Flatiron district
HUDSON ROLL – 9.0 km // 80m
Take a lap of the reservoir before braving the inner loop on the park roads
SHUMAN TRAIL LOOP – 2.5km // 9m
Explore the sanctuary around the reservoir on this sneaker friendly path. You won't find cyclists on this section
There's also an additional 10 New York routes for both runners and cyclists:
RISING EMPIRE – 20.7km // 376m
Hit the KOM in both directions on this climbers course
PARK PERIMETER LOOP – 9.7km // 126m
The outermost loop of the park
THE HIGHLINE – 10.5km // 179m
Ride the elevated roads in the skies above Central Park
LADY LIBERTY – 12.3km // 206m
A steep climb up to the KOM before a long lap around the park
MIGHTY METROPOLITAN – 20.0km // 318m
Traverse most of the park and elevated roads in a meandering loop
ASTORIA LINE 8 – 11.5km // 142m
Named for the first NYC subway line, take a figure 8 path around the park
KNICKERBOCKER – 22.4km // 365m
This mostly flat route has some grit in it with one trip up the KOM via the steep route
GRAND CENTRAL CIRCUIT – 6.8km // 144m
Circuit course that takes the steep route up and down the KOM with a short loop around the Sprint in between
EVERYTHING BAGEL – 34.3km // 545m
Hit the Sprint and KOM in both directions on this long, looping route
THE 6 TRAIN – 6.5km // 69m
The shortest route around the park is flat and fast
Find out more about Zwift, their dedicated running routes and their flexible training plans at zwift.com/run/.