UK CrossFit brand Wodable are a brand on the move and making strides out of the gyms and onto the streets, tracks and trails. Founded in 2013 by Jay Bright they have gone from strength to strength carving out a niche in the gym and CrossFit worlds by creating practical and durable sportswear coupled with creative and attractive designs. Obviously, it wasn't going to be long before the standout patterns and creations caught the eye of passing runners, which is exactly what has happened. "It's really been a natural progression for us," says Bright, "We began to see an increase in runners wearing our products more and more, and so we decided to start looking at ways to move outside of our target market of the past 8 years in CrossFit and start catering for all aspects of fitness. First of which is running."
The team at Wodable are creating the full range of sportswear from vests to shorts and leggings to socks, as well as more specific gym and CrossFit accessories; But the item that has really taken the fancy of runners from around the world are the huge range and variety of performance headbands.
Based in Southend-on-Sea, all Wodable products are designed and produced in-house. Having originally outsourced production of the items during the early days Bright quickly became frustrated with the quality of the products that were being sent to him after his hours of meticulous design and planning. Instead, he decided to purchase all the manufacturing and printing equipment and set up a factory at their Southend HQ. Now, a small team of creatives, led by Bright, are in full control of the process from conception to creation and enjoying the freedom and inspiration that comes from that. Talking about the design process Bright says, "We all sit down together as a team and discuss and develop ideas. Our in-house design team can then get to work straight away setting out the designs, before we go to manufacturing. This process is all in the same office and factory which enhances the flexibility and obviously speed of creation from that initial idea to actually holding the finished product."
As we previously referenced the product which has well and truly struck a chord with the running crowd are the performance headbands. Available in a variety of styles – Big Band, Performance, Comfort and Tie Ups – there are designs ranging from simple colour schemes for those wanting something understated and practical, through to the funky for those looking to make bit more of a statement. Each style of headband is created using moisture wicking fabric, with different percentages of material composition being used depending on the design; so there really is something for any one and any run, regardless of distance, intensity, or weather.
Wodable are not just a brand with an eye for creating desirable apparel though. They've got a focus on the future as well and how what they are doing needs to be sustainable and appealing to consumers, whilst maintaining that creativity and quality. All products, including packaging are sourced locally from where they are based in the UK and they have recently launched a new line of products under the Defiance Range. Bright says, "The Defiance Range was developed from predominantly recycled fabrics. The pattern was made from photos of local buildings in our area and other iconic London locations that people might recognise."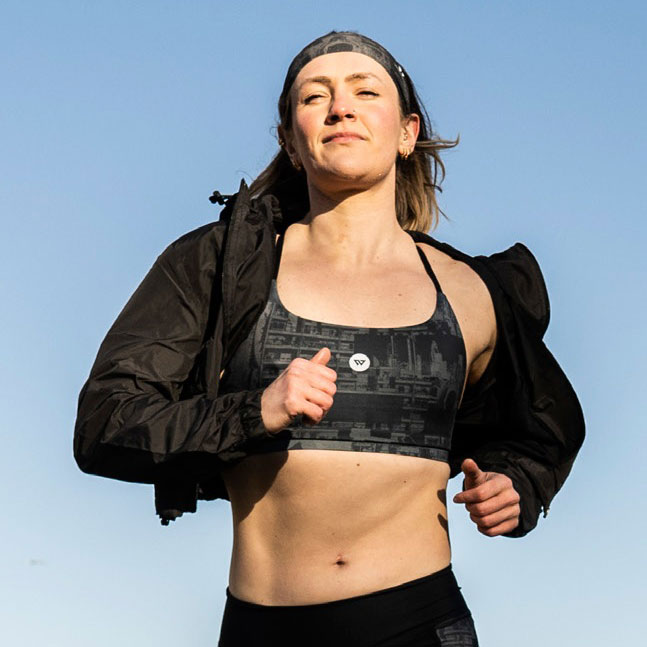 There is more to come for sure from the team at Wodable and their passion for creativity, and eye for practical designs, are clear to see across the whole range of products. The brand once confined to CrossFit circles is now very much on the run.
Find out more at the Wodable website here.