As anybody who runs in London regularly knows, the air quality can sometimes make it an unpleasant, or even dangerous business, particularly in the heat.
In fact, it's become so bad that London exceeded the European and UK air quality limit values, for the whole year on 18th March, just 77 days into 2019! London's toxic air pollution levels are almost as bad as Beijing or New Delhi, and the cause of thousands of early deaths each year* from lung and heart disease. Runners are potentially at the highest level of risk and completely unaware of this silent and invisible killer! Londoners running around the city breathe much more heavily than pedestrians and therefore flood their lungs with pollutants. But with the aid of innovative technology, they can escape this.
Drink brand TENZING has partnered with King's College London to launch its Clean Air Tracker, which is designed to help Londoners find healthier 'clean air routes'. TENZING donate 5% of their profits each year to environmental projects and this year their focus is on air pollution. The Clean Air Tracker syncs with Strava to show the live air quality score of the user's route and essentially make polluted air visible.
Once synced with Strava, the air quality score will automatically appear after every run, allowing people to tweak their routes, potentially cutting exposure by around 50%. Clean Air Tracker users can also search for 'clean' runs in each London borough, plot and share their own running routes with the community and take on challenges to find the cleanest routes in London. The Tracker will be rolled-out to offer clean air monitoring for cyclists and walkers later in the 2019!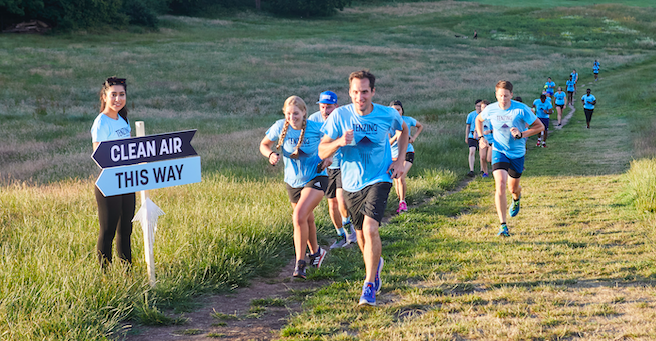 Andrew Grieve, researcher at King's College London, said: "Every day I see people out for their lunchtime jog, running along some of the capital's most polluted roads. Running is great for health, but It's even better on low pollution routes. By partnering with TENZING I hope that we can help the London running community dodge air pollution and find that clean air run."
To cement TENZING's clean air mission in the London running scene, they have also launched their Clean Air Run Club, where like-minded health-conscious casual runners can attend weekly Clean Air runs in the city alongside the TENZING team.
Huib van Bockel, founder of TENZING, said: "We started TENZING Natural Energy, to offer people a natural alternative in a market dominated by synthetic energy drinks. What applies to the food and drinks we consume, also applies for the air we breathe. As keen runners ourselves, we were shocked to find out the appalling air quality we run in in London. Now with our new tech based on King's College's data, we can help find runners the cleanest air routes to go for a run"
Read about Patagonia's Running Up For Air events.
* around 40,000 deaths are attributable to exposure to outdoor air pollution which plays a role in many of the major health challenges of our day. In the UK, these costs add up to more than £20 billion every year. Full article at RCPCH.