Take a new direction with your cross training and become a stronger runner by climbing.
If you know about running, you know you shouldn't only run – you have to train in other ways to stay strong and fit. Common cross training activities amongst runners are swimming, cycling, hiking and gym sessions but if you've a head for heights (and even if you haven't), climbing could benefit you in more ways than you realise. We went along with BAM down to Yonder in Walthamstow to find out more and try it for ourselves.
Getting started with climbing
The climbing walls at Yonder have a colour-coded system on the walls, which marks different paths to climb, graded by difficulty level, plus there's plenty of etiquette to follow – this was all outlined in the safety video we were required to watch before we went in, but it was good to have a coach on hand; I'd recommend any newcomer to take a lesson or two before going it alone.
First thing we learnt was that the shoes are small. And tight. And that's on purpose. This is because you need to be able to flex your feet and feel almost like you're not wearing shoes at all. Once we were all geared up, our instructor got us to jump up and down on the cushioned floor, to get a feel for the surface and know what's coming if we leap (or fall) off the wall.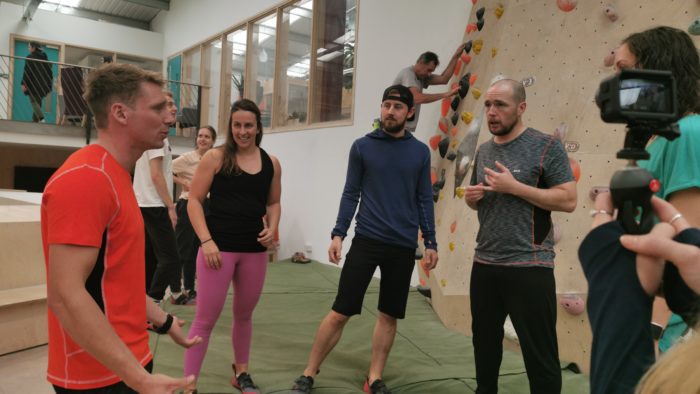 What's in it for runners?
This isn't a cardio exercise, but it will most certainly make you sweat, from the pure effort involved. What I liked about it was that it's a full body activity, where you need to have control over every limb, moving in different directions at pretty-much the same time and that's got to be a good thing for a runner. When we run, we move our arms and legs forward and back, but no other direction and it's important that we don't neglect the muscles that move our bodies in other directions, for a few reasons:
An all-round balanced body
To ensure muscles not used when running don't get so weak that other muscles have to take on their work (on top of the work they are already doing) and sustain injury
Being able to safely dodge that puddle/squirrel/toddler on a scooter at a moment's notice, with the assurance that you have the strength to do it, land safely and carry on running
Our instructor explained how to balance our weight as we climbed, so our arms didn't do all the work; thinking about where our hips were, using them to facilitate movement, making sure our feet weren't dangling, but under control, giving support. And speaking of feet…
As runners, most of us pay not-nearly-enough attention to our feet. Which is a bit ridiculous as they are a major part of running. Yes, we get our gait analysis, replace trainers after every few hundred miles, get the best blister socks etc etc, but what about working on flexibility and general control over our feet – the things that carry us mile after mile after mile?
Climbing forces you to articulate the movement in your feet, curl your toes to aid grip on ledges and flex your ankles for the best angle to properly support yourself. Can you lift each toe individually, when standing normally? Can you wriggle them in a Mexican wave formation? Being able to do these small movements really aid your balance and control as a runner – it's worth just working on this anyway (you can practice on the tube/bus/coffee shop queue).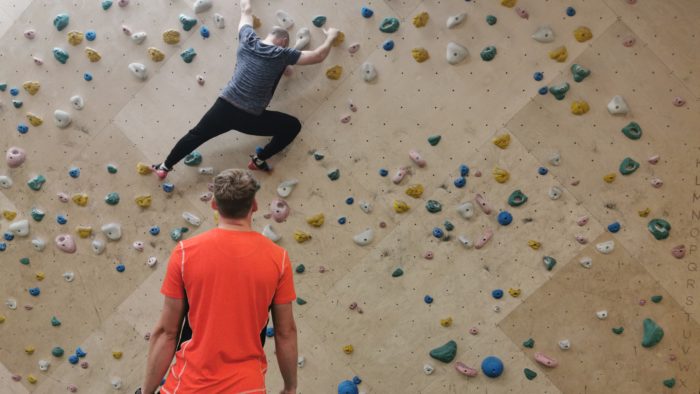 Reaping the benefits of climbing
If you're thinking about giving climbing a go, you could start to see the difference in as little as a month if you're going more than once a week, and some will notice changes in their body if only going once a week. Aside from the physical benefits, however, climbing will give you a real mental workout. Strategising where which foot and which hand goes next for the best and easiest path along the wall can be a challenge, and our instructor advised us to plan at least the first three moves before we were even up there… more if we could. You'll get better at this as you go and obviously that's a benefit for life in general, but really helpful for trail runners in particular, looking ahead, anticipating areas where you might have to leap aside or change your stride in some way.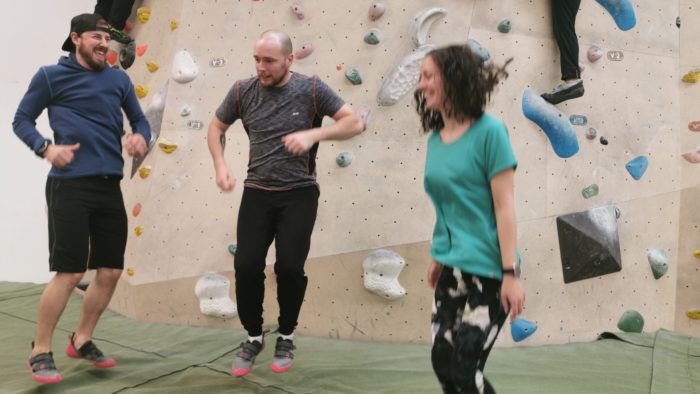 What to wear
We were kitted out head to toe in BAM clothing (which we love for its environmentally friendly attitude). It was ideal for this sort of activity as it's unrestrictive, soft against the skin, resilient in compromising positions and wicks away sweat, keeping you comfortable at all times. Whether you choose to wear something from the BAM range, or want to buy another brand, those are the things to look for: comfort, flexibility, hard-wearing and sweat-wicking. Most climbing centres will have shoes for you to rent, so you can try different ones, and figure out if climbing is your thing, before investing in your own pair.