The foam roller. We runners have a love/hate relationship with it. We know that just a few minutes on it might just help that really tight muscle feel a lot better tomorrow. And yet we know it's going to hurt! If that sounds familiar we've got good and bad news for you – Pulseroll has designed a vibrating ball to really get into those tight spots! We were given one to try out.
Like most of you, we are very familiar with a foam roller. We've owned various versions of one – from nice soft foam ones to very hard ones with spikes – and they are ubiquitous now in gyms and physio rooms. We've also tried Pulseroll's vibrating foam roller, which gives an added dimension to your foam rolling by combining pressure and vibration, also helping to add heat into the muscle. We're also familiar with the small physio ball, which is particularly useful for getting into those areas like hamstrings and glutes. Pulseroll has devised the 'Vibrating Single Ball' as their next generation of vibration technology. It combines all the benefits of the foam roller and ball, and adds vibration.
So what are the benefits of the ball? Just like a foam roller its aims are to reduce muscle soreness, increases flexibility and reduce DOMS. But with the added dimension that the vibration will create heat in the muscles.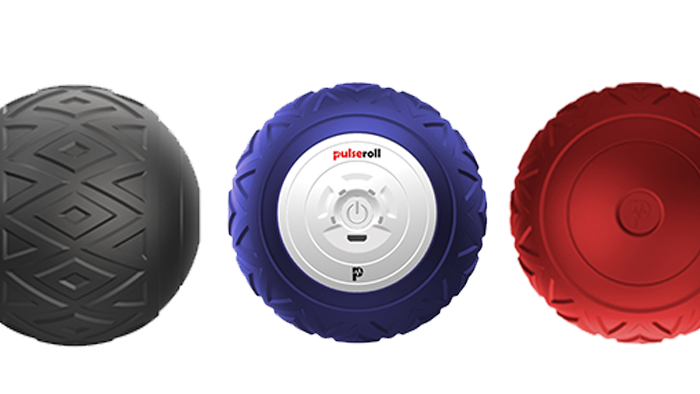 The ball is actually a bit bigger than the sort of physio balls I've used before (which are about the size of a tennis ball and irresistible to dogs). It's about the size of a bowls ball (the diameter is 10.5cm). You can use it on the hamstrings, calves, glutes, quads, hip flexors, feet, lower back and shoulders/arms, so that's pretty much the same as for a foam roller.
There are 4 levels of vibration, so you can use it on a lower level while you get used to the sensation, then work up to the stronger levels. What I found good about the combination of the ball shape and the vibration element is that it's quite easy to find those trigger points and stay on them, unlike with a foam roller where you tend to have to roll around in strange positions to hit the right spots. It feels like you're really targeting the good spots. There's even a little remote control you can use, so that you can alter the vibration level without having to move from the ball.
The ball charges up with a cable and it'll hold a charge for 6 hours, so you take it with you to races if you're travelling. It's actually much easier to pack than a foam roller and it weighs in at 680g.
Sports teams are adopting the Pulseroll technology to complement physio and massage. Pulseroll are official suppliers to teams like GB Boxing, British Fencing, British Weightlifting and England Handball and the brochure also shows pro footballers, golfers, sprinters and cyclists using it, as well as doctors.
If you use a foam roller or a physio ball already then I'd say that the Pulseroll vibrating single ball will add another dimension to your rehab or prehab. The key difference for me is that it feels like you can really target a problem area and really work into it. It's like an evolution of the roller/ball. And that might not always be pleasant, but it could be good news for those tight spots and achy muscles.
Find out more about Pulseroll and their Vibrating Single Ball HERE.