Landing on our doorstep this month was a delivery from Tribe. Tribe offer a range of plant based performance nutrition products to fuel your training, racing or even just a tasty snack.
Our selection of bars came in a range of flavours including Choc Raspberry, Choc Peanut, Choc Maple, Choc Salted Caramel, Peanut Butter Crunch, Apple And Cinnamon. Our bars were from the Infinity Energy and Triple Decker ranges, which you can mix and match as you require.
Tribe subscription
The company offer a subscription service with free UK delivery and a range of selectable options and weekly, fortnightly or monthly plans to suit your needs. They offer the option to pause, change or cancel your plan at any time.
Another welcome feature is that the smaller packs are not too expensive so for example you could have a delivery of 6 bars for £8.99 which is great value to have it arrive on your doorstep.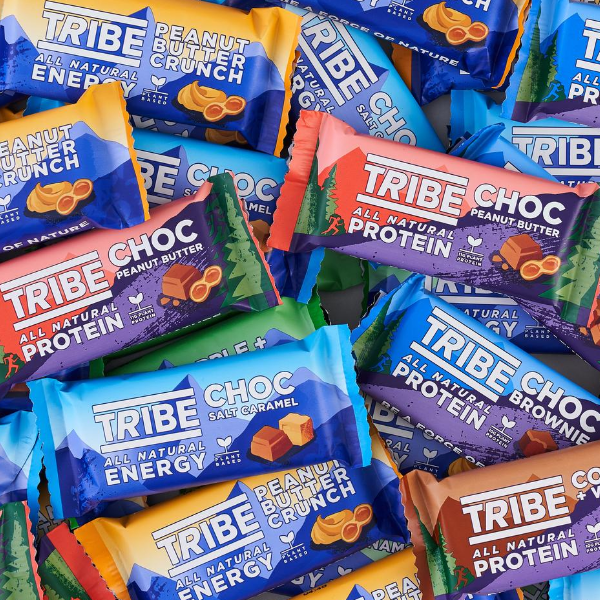 Key features:
Slow Release Energy
60% less sugar than competitors*
Vegan, Gluten + Dairy Free
Natural Performance Nutrition Bar
Nutrient-rich energy nutrition
60% less sugar than competitors
7g Protein
Source of copper for energy-yielding metabolism
Taking two of the bars from our samples, the Choc Sea Salt offered 236 calories, 24g carbohydrate, 5.3g protein, 13g fats in a 50g bar.
The Peanut Butter Crunch offered 237 calories, 22g carbohydrate, 6.6g protein, 13g fat, also in a 50g bar.
There are lots of options from a one off purchase or the subscription options mentioned earlier. The shop allows you to custom pick your bars quite simply to ensure you get exactly what you want.
Are they worth your money?
The bars are extremely tasty. They are nicely textured, full of flavour and very easy to consume. Full marks to Tribe for the bars they sent over, they were delicious.
We would happily recommend the Tribe products and the subscription option makes things very simple to ensure you don't run out!
You can find out more at their website here.