If you haven't already come across it, Maurten has been making waves in the world of sports nutrition for a little while with their energy drink mixes, which have been used by some of the fastest marathon runners in the world (more on that in a minute). Now they've brought out a new product – a gel.
Maurten was designed to solve a problem that has dogged runners for many years – how to ingest enough carbohydrate to fuel effectively without suffering GI issues. The Swedish inventors, one of whom is a cancer doctor, took their inspiration from certain types of drugs and how they are absorbed without coming into contact with the stomach lining. The initial products from Maurten were powders (Drink Mix 160 with 40g of carbs and Drink Mix 320 with a whopping 80g of carbs) in individual pouches, which you mixed with water. The magic happens once it hits the acid in your stomach and it turns into a hydrogel, forming an encapsulation around the carbs so they don't actually come into contact with your stomach lining. So it gets into the small intestine quickly and gets to work, and the stomach didn't even really know it was there.
So you could get a big helping of carbs into your body (for comparison most sports drinks and gels tend to have around 20 – 30g of carbs per serving) without upsetting your stomach. A game changer for many. But, there was a catch – you had to premix the drinks ahead of your run and carry them, or stop along the way to mix them up. This might be ok for a long run or an ultra, but it's not very practical for a marathon or similar (unless you're an elite with a special drinks table). Here's where the Gel 100 comes in!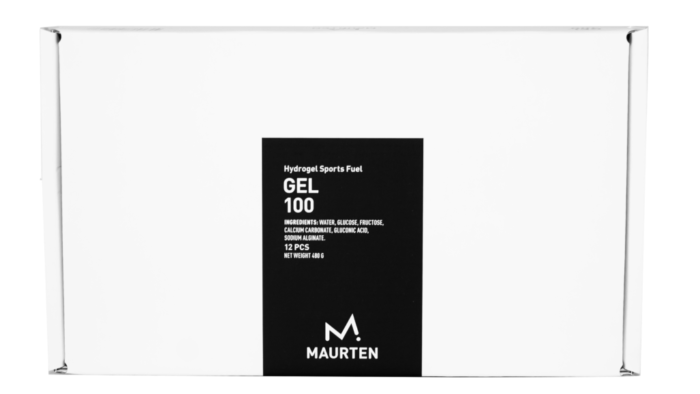 Like the drink, the gel has no flavour (except a sort of sweetness). This makes it easy to tolerate, especially later in a run when you might usually struggle to get things down. The consistency is thicker than most gels; it's kind of like part-set jelly, not thick enough that you have to chew it but not liquid either. And because the gel uses the same technology as the drinks – the hydrogel which can't irritate your stomach – you can be sure that you will absorb it and it won't cause you any GI distress.
The one difference between the gel and the drink is the amount of energy delivered. Whereas the drinks have either 40g or 80g of carbs, the gel has 25g. So it isn't designed as a method of getting huge amounts of carbs into you in one go, it's more a handy way of boosting energy, without the need to mix drinks and, importantly, without irritating your stomach. Five of us tested the gels on a long run and everybody found them palatable, easy to get down and had no stomach issues. Even the guy who can't use gels because they upset his stomach.
So this is the missing piece of the puzzle for Maurten and if you believe the proof is in the pudding then you might be interested to know that Eliud Kipchoge used the gels when setting his new marathon world record (2.01.39).
Find out more about Maurten drinks and the gel HERE.
You can buy them from Achilles Heel or Sigma Sports in the UK, and Avalanche Sports Marketing is the UK distributor for wholesale enquiries.