There are so many supplementary nutrition products out there. We bring you a regular round-up of what's new out there for you to try.
Fullsteam
Fullsteam is a newer brand which is simple in its approach. They do two products: one for pre-workout, one for post-workout.
Racestak is the pre-workout prodcut. It has a combination of carbohydrates and branch chain amino acids fuel the session ahead and then caffeine, beta alanine, acetyl L-carnitine, betaine and citrulline malate designed to help improve performance.
It comes in refreshing Summer Berry and Lemon & Lime flavours. The flavours are pretty strong, if you like something to get the tastebuds going. The 1.35kg tubs offer 30 servings and are available via the Fullsteam website with free delivery for £39.99.
Recoverystak is the post workout recovery product for those looking to train again as soon as possible after exercise. Recoverystak's 3:1 blend of carbohydrate to protein, 45g of carbohydrates and 17g of protein per serving, is designed to take maximum advantage of the 30 minute window post training to optimally recharge muscles ready for the next workout. It's supplemented by vitamin C, choline and L-carnitine tartrate
It comes in Cookies & Cream and Strawberry flavours. You can mix it with water or milk, though it tastes much nicer with milk. The 2.1kg tubs provide 30 servings for £35.00, including free delivery.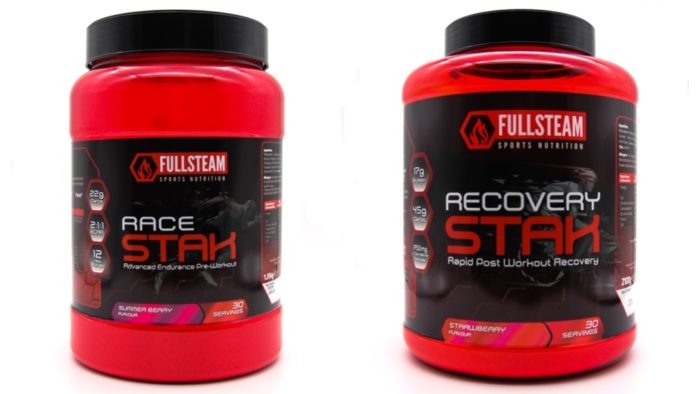 You can find out more about their products here: https://fullste.am/
Fullsteam are really involved in organising events too, and you can find a full list of them on their site.
Pursu Bars
Pursu make sports nutrition and if you summed it up in one word it would be 'natural'. Their bars are vegan and cold pressed. They have no added sugar or syrups and all incredients are organic. There are 3 flavours: beetroot, banana and sour cherry and all have a refreshingly short list of ingredients. Each delivers between 20 and 25g of carbs and about 200 calories per bar. The flavours are nice and the texture is quite moist, so they're easy to eat on the run.The bars come in banana, sour cherry and beetroot flavour.
But the key thing about Pursu is that they are going to great lengths to reduce their environmental impact. The wrappers for the bars are compostable and they are a plastic-free company. All packaging is cardboard or paper, even the tape they use to seal boxes.
There's a taster pack available, with one of each flavour for £6 (with 3p from each pack going to the charity Re-Cycle) or a 16 pack can be bought for £28.50 (with 16p going to the charity).
Find out more here https://pursu.co.uk/
Supreme Nutrition
Supreme Nutrition are a 'lifestyle nutrition brand' so you may have come across them in gyms, but not necessarily in a running context. But they do products which are suitable for runners, if you use protein supplements or energy drinks.
With a focus on performance, taste and quality Supreme's range is desinged to work in harmony with a balanced diet, and meets the requirements of Informed Sport and BRCGS, with double AA certification for Food Safety. The products have been developed with consultation from athletes, nutritionists and independent regulators over a five-year period. They are now being used by professional athletes, including Liverpool FC and England International's Alex Oxlade-Chamberlain, as well as those at many other Premiership clubs, and PTs and nutritionists, to boost their performance, energise intense workouts and enhance recovery.
They have a salted caramel Whey Protein powder, as well as cookies and cream, chocolate and vanilla. They have banana and chocolate flavour recovery products. They also have raspberry and watermelon flavour pre-workout products with caffeine, to fuel your run or workout.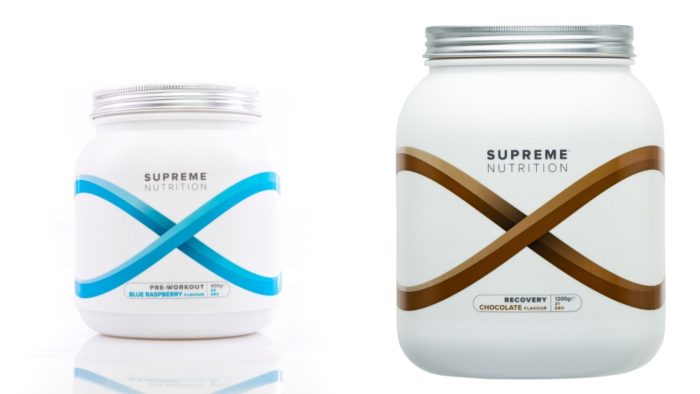 Find out more at https://supremenutrition.com
Beachbody Performance
An appropriate name for this time of year, Beachbody Performance do a pre-workout product called 'Energize', which is designed to fuel your workout but also increase your mental alertness. It's composed of beta alanine, caffeine (from green tea) and quercetin.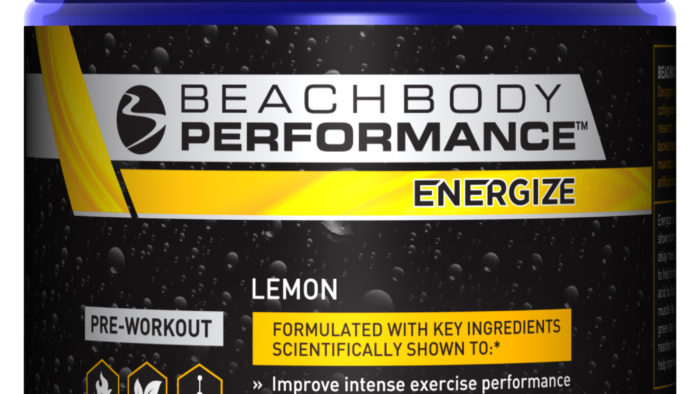 Find out more about it here https://www.beachbodyondemand.com/