There are a lot of different nutrition products out there these days. Sometimes it's hard to navigate the pros and cons of all the different bars, gels and drinks. But the key things it always comes down to is 'do I like it?', 'does it fuel my running?' and 'can my stomach handle it?'. That was the down-to-earth approach taken by new down-to-earth northern brand Voom.
Voom started out because a group of outdoor enthusiasts in the Lakes and Yorkshire Dales (including international mountain runner turned elite cyclist Mary Wilkinson) couldn't find a nutrition product they were happy with. One that was easy to carry, tasted good, gave them energy and didn't upset their stomachs. They already had links to a nutrition development lab (which had been developing products for professional athletes since the Sydney Olympics), they had scientists among them, so they thought 'why not try to create the sports nutrition we've been looking for?' There followed months of research, development and testing. And now they've launched the results of their labours – Voom! And to celebrate the launch they're offering you a 30% discount off your first order (details below).
At the moment there are 5 products: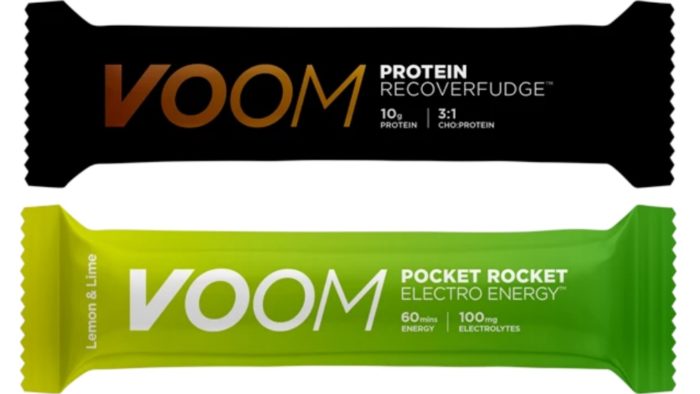 A lot of research has gone into the ingredients used in each individual product and the nutritional information, as well as information about the research into why elements like Beta-Alanine and caffeine have been included, is really good on Voom's website. You can see detailed information about each product by clicking on the links above and read more about the benefits of Beta-Alanine HERE and caffeine HERE. 
But, what are the products like to use? They gave me one of each bar and some of the Hydrate powder to try out and as it happened, I was doing the Abraham's Tea Round that weekend. This 30 mile Lake District challenge seemed like a fitting test for these products which have been devised and tested in the fells. And as I was likely to be on my feet for a good 10 hours it seemed like a good way to see how well Voom would fuel me and how well it would sit in my stomach.
My first impression was that the bars are very different from what's already out there. Firstly they are portioned into 4 pieces, which is useful if you want to eat a bit at a time and keep track if you're trying to eat a certain amount per hour. Secondly the consistency is somewhere between Kendal Mint Cake and Scottish tablet. It's not quite a sugary as either but it does have a sweet and very palatable taste (the flavours are orange, lemon/lime and berry). It takes a bit of getting used to but it made a nice change from chewy, savoury bars. They have a nice aftertaste and seem to deliver a decent kick of energy. I made a point of having a square or two when I knew big climbs were coming up and the strategy worked well. They didn't give me any stomach problems despite 10 hours on my feet in some quite hot weather.
The Voom Hydrate powder mixes into a lemon and lime flavour drink. It's pretty sweet but, again, very palatable and easy to get down.
The RecoverFudge is just a great product. It really does taste like and have the consistency of fudge. It's very easy to eat post-run and it delivers protein without having to drink some nasty shake. The RecoverFudge and lemon and lime Pocket Rocket Electro Energy bar were the two real stand-out products for me, and I'll definitely start using them regularly now.
I have to say that we've tried a lot of nutrition products at Run247 and I was initially sceptical of why Voom would be different. However, they really have delivered products which adds something to the market. The bars are a great alternative to gels, and with the same amount of energy as two typical gels at a price of £1.50 you might even find that you save money. The texture is different and refreshing.
The fact that they're a British company who have started by combining a passion for fuelling their own adventures and the scientific know-how to understand what's needed is also a big selling point for me. I want to support small British companies, particularly ones which are local to me (even the graphic design for the packaging and marketing materials was done in the Lakes).
Find out more about the company, the products, as well as really useful information about the ingredients used on Voom's website.
GET 30% OFF YOUR FIRST ORDER USING THE CODE 'LAUNCH30' (valid until end of August).