It's Diabetes Week in the UK. If type 2 diabetes is something you're concerned about, running is one of the ways in which you can keep it in check. In conjunction with a healthy diet, you can control or even reverse type 2 diabetes and stay off medication. We bring you a story about a parkrunner who managed to triumph over her own type 2 diabetes.
Ramona, a working mum from Chorley was once overweight, 17.5 stone, size 22, and type 2 diabetic. She just couldn't make the time for herself, nor the gym. But life transformed when she made one simple promise – to make herself a priority. Her mum suffered a diabetic coma and a friend died from diabetes-related complications so Ramona knew she needed to make a change, fast! With inspiration from sporting legends, Ramona is now fighting fit, taking on hundreds of running races, a parkrun fanatic and loving life!
In February 2009, Ramona was at her heaviest, 17.5 stone. "I was always a happy soul but knew I had to take ownership of my health as I was diagnosed with prediabetes after becoming very ill. I received my diagnosis in March 2009.
"I changed my eating habits and became more active – it was that simple. I participated in an NHS led programme called Activity for Life at my local gym Active Nation Chorley – just the support I needed. It was a 12 week workout and the deal was if you kept going, you could have a reduced membership. So I kept going every weekend without fail. I also started running after being inspired by London 2012 after volunteering as a Gamesmaker during the Olympic and Paralympic Games.

"By 2013, I had lost 7.5 stone. My dress size had vanished from a 20-22 to 10-12, my hard was paying off! My BMI transformed from 41.5 to 24. I weighed 111.2 kilos and got down to 63 kilos.

"That summer, August 2013 I joined parkrun and have been running ever since. I have passed the 150 parkrun mile-marker and I am now a parkrun UK outreach ambassador for people living with diabetes which is a national role. I also joined a running club and have ran hundreds of 5k, 10k and half marathons on road, trail, cross country, beach and fell terrains. In 2015 I ran my first full marathon at Manchester after training with several 20 mile runs."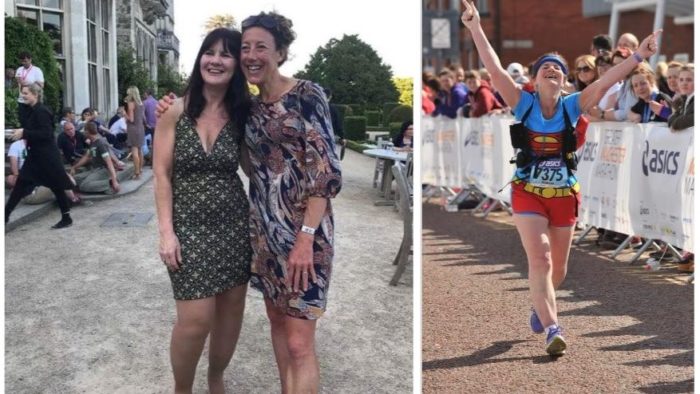 Ramona's recently raced the RocknRoll Liverpool, the third year she has taken part. "I ran the 5k on Saturday, half marathon and 1 mile fun run on the Sunday."
Ramona understands that her weight fluctuates:
"It's due to muscle gain and also changes in my insulin regime so I currently weigh around 70 kilos which was my goal when I first started working out – as that is the default weight on the treadmill!

"My next fitness goal is to complete a sprint triathlon before I turn 51 in October; I'm currently taking part in swim 22 at Active Nation Chorley; a 12-week challenge to swim 22 miles. Next I'll be getting on my bike!"
Ramona heroes Active Nation's #haveaword campaign: What small change can you make today that will make a huge difference to your health and happiness? This Summer, ACTIVE NATION is on a mission to get the country moving more. Lose weight, get fit, conquer a new challenge or improve your mental health – one change is all it takes. Make a commitment. Believe you can change. Achieve your dreams.
It's simple – all you have to do is visit www.activenation.org.uk, share the small change you plan to make and receive expert advice, motivational weekly training tips, and a downloadable activity planner. ACTIVE NATION will you on your journey – you'll find easy-to-follow recipes, meal swaps, the healthiest Friday night treats, exercises and unique workouts that suit all levels of fitness and abilities.