Step One Sports Boxers
Step One's Sports Boxers show they are up to the task when it comes to running on some of the hottest days of summer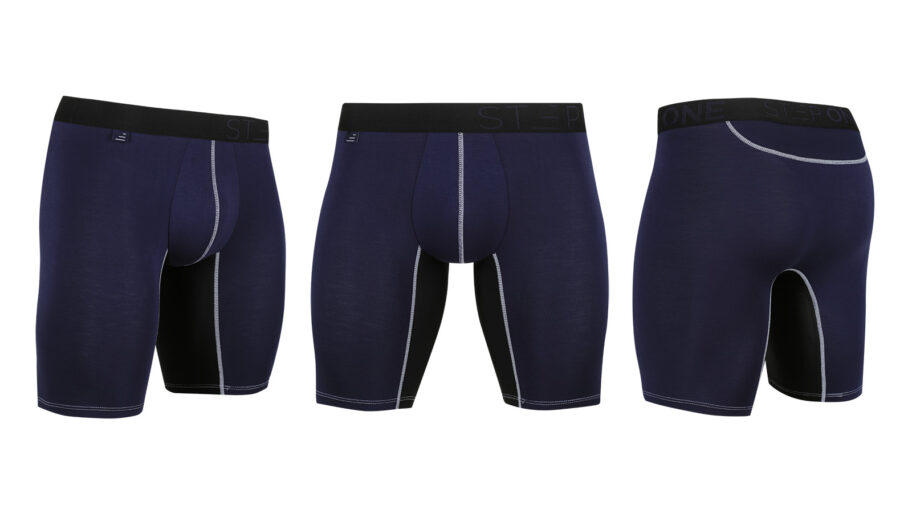 Pros
Extremely comfortable from the first wearing and felt same after multiple uses 
Wicking was impressive – coped really well with heavy sweating in extreme conditions  
No chaffing at all – even over ultra marathon distance 
Bamboo based, sustainable products have to be a positive thing,  
Cons
Can't fault the product – the tongue-in-cheek colour names (butter nuts, juicy plums) a bit tacky. 
Step One Sports Boxers Review
Perhaps the greatest complement you can pay any sports boxers or undershorts is that you forget you are wearing them. That was certainly the case for me with the Step One Sports Boxers. 
As an endurance runner, avoiding rubbing or chaffing is essential and it's something I am constantly aware of. I know that if I get it wrong, my race – and probably several days after it – will be extremely uncomfortable.  
So testing out the clothing that is going to cover some of the most sensitive parts of my body is a must before using them in anything more serious. 
The Step One Boxer Shorts filled me with confidence from the first wearing. They felt a good fit straight away and the softness of the material, made from bamboo, was really noticeable. Added comfort and support was provided by the 3D elastic pouch and it is something that really makes a difference. 
A few short training runs and no problem so I was happy using them as I stepped up training distances to five-hour plus runs. These runs coincided with some warmer weather and, as somebody who sweats heavily when exercising, it provided a much better test of the promised wicking and breathability. And I wasn't disappointed. I was extremely comfortable throughout despite finishing with my short and vests soaked in sweat. 
Running in the Step One Sports Boxers on a 100k Ultra didn't require any extra thought from me. I was confident they would be fine, and they were. The second half-of that run was in hot conditions. Once again, I was soaked in sweat, but the Step One Boxers did their job. They wicked extremely well, they were comfortable throughout and I suffered no chaffing or rubbing. 
I tested the Step One Sports Boxers through around 30 hours of exercise and they were washed more than half-a-dozen times. They held up really well and still look and feel as good as they did the first time I wore them. 
Sustainability should be an important factor for all of us when we are making choices around sportswear. And Step One deserve credit for developing a product that is made from organic, sustainable FSC approved materials that also performs to the highest standards. 
Step One Sports Boxers Description
Step One have added Sports Boxers to their range of underwear for men and women. 
The company prides itself on being an online and sustainable clothing brand providing comfortable underwear for men and women of all body shapes and sizes. All Step One products are made from the breathable, organically grown bamboo. The material is significantly softer and smoother than cotton yarns and organically grown. The fabric has enhanced sweat wicking properties high levels of breathability. For added comfort they also feature additional support from a 3D elastic pouch. 
The Sports Boxers incorporate additional features that better meet the needs of athletes. This includes being 4cm longer in the leg than the standard boxers, prevent them from riding up even under the most extreme movement. They also incorporate longer UltraGlyde panels that prevent chafing.  
Step One Sports Boxers are available in a range of sizes from Small through to 3XL. 
Step One Sports Boxers Specification
Previous Model
Not Applicable