Matt Whyman's love of running has developed over the years to such an extent that he felt able to take on one of the toughest races in the world.
He admits to being a very average runner – a mid-packer – who has found the courage to push himself to longer and greater challenges in the full knowledge that a podium is never going to be on the agenda.
'Failure is an Option' is the story of a love of running that developed from school cross-country through parkruns, marathons and ultimately led to Whyman taking on one of the toughest ultra-races in the world, the Dragon's Back, a 315km, five-day race across the mountains of Wales that features 15,500m of ascent.
Reaching a wider audience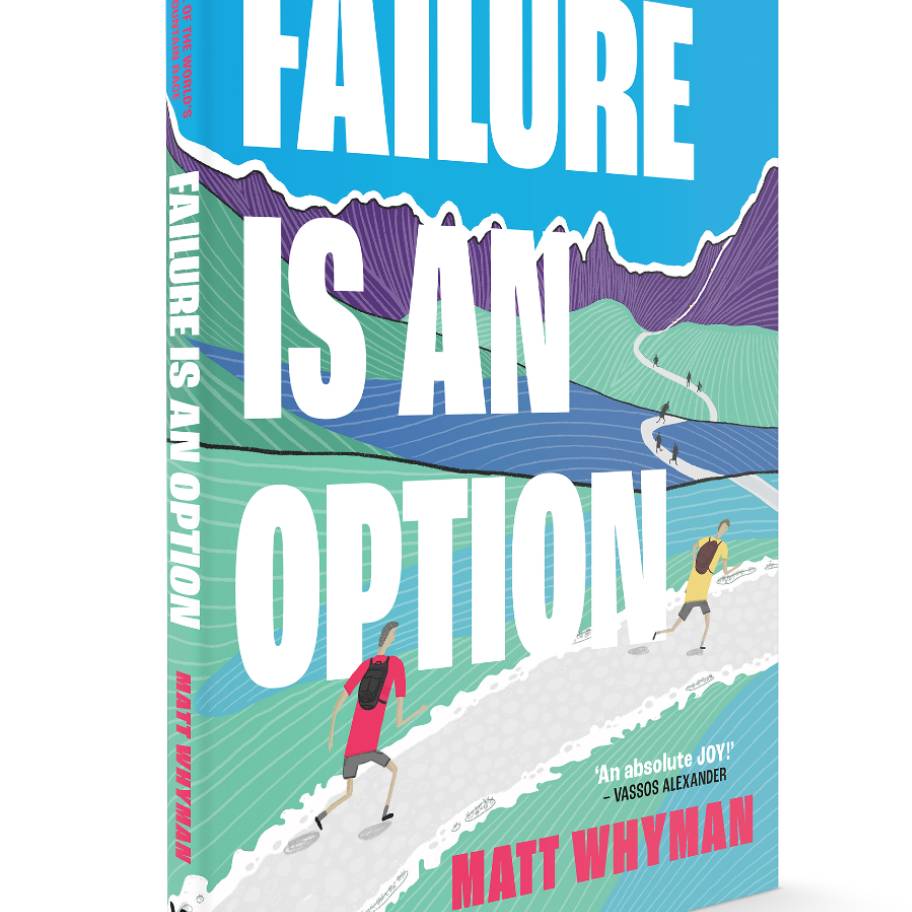 But it's much more than one man's story. Whyman is a successful and talented author with a number of best-selling novels to his name – including Boy Kills Man and The Savages.
He has used his skills as a writer to produce a story that entertains, but, perhaps more importantly, will open up the world of ultra-racing to a wider audience and hopefully tempt a few people into giving it a go.
"It's not for everyone," admits Whyman. "It's quite an intimidating thing to get into and I'm hoping this book dispels that a little bit. But once you get into it and you find your feet, a world of possibilities opens up."
Even the most experienced of runners can baulk at the thought of a 100 mile-plus race. And it's quite possibly the fear of a DNF that holds them back. The title of the book is a clue to Whyman's approach.
Failure has to be an option
"The whole point of the book is that if you are guaranteed to be able to finish a hundred miles it's not enough of a challenge," he explains. "Failure has to be an option for anything to be a challenge otherwise it's not a challenge."
And Whyman speaks from experience when it comes to 100-mile races, "I've done six, finished four and DNF'd two, which I'm pretty happy about – there's room for improvement," he said.
For Whyman the whole ultra-running experience is as important as finishing any race.
"It's a chance to see the landscape and it's only very recently that I have come to realise that I don't need to travel abroad to make the most of trail running. There's so much on offer here (in the UK) without flying anywhere and it would take me a lifetime to really appreciate it all. It's been quite liberating really.
"In the mid and back of pack, it's a very supportive group where the competition is really against yourself, that's where people show their humanity. I've made some really good friends in ultra-running, from all walks of life, and I'm really grateful for that.
"I don't think I've ever felt lonely on an ultra-marathon – even if it's just a distant headlight."
Hydration issues
In 'Failure is an Option', Wyman does not shy away from highlighting the challenges he has faced and the errors he has made. He continues to battle against hydration issues: "I've been working on getting this right for a year-and-a-half and every time I think I have nailed it I find myself yakking up into a hedge at 70 miles because I haven't taken on enough," he explains.
And there are numerous examples of errors he made in races that cost him – and on one notable occasion, his relay teammates – dearly. But to Whyman, that's all part of the learning curve and he was keen to include them in the book. "Nobody likes to admit when they get things wrong and I thought, why not? We learn from our mistakes and if we don't admit them and just focus on the successes it doesn't really do anyone any favours.
"Anyone who is thinking they may like to try and run 100 miles may think everybody appears to be superhuman – and that's not true.
"I'm really keen to say that a five-mile trail or fell race is just as demanding and you should give it a go. If there is no guarantee you will finish, then it is a great experience. Ultimately, it's up to you – if you want to pull out you can, but if you finish, the reward is immeasurable. It changes you forever."
Meeting the next challenge
The endurance running journey is often about the next challenge. For the ultra-runner that may be going from 50k to 50 miles and then considering 100, 150 or even 200 miles.
Whyman took things to another level when he entered the Dragon's Back. "You see something and you think 'I can't do that' – but the thought never leaves your head. Then I started to think 'can I?'"
The 'can I?' became 'I can'. Whyman spent a year training for what is without doubt one of the most brutal races on the calendar with some quite terrifying climbs.
A book for everyone
'Failure is an Option' alternates between Whyman's development as a runner and his preparation for the Dragon's Back. He could easily have focused on the art of running and targeted the ultra-running community. But instead, he has chosen to write a book that is for everyone who runs, but more particularly those who always find themselves in the mid-pack. It's an uplifting story of what can be achieved if you turn your mind to ultra-running and are not put off by the risk of failing.
He tells his story beautifully. His humour and honesty shine through in equal measures and, by the time he is toeing the start line of the Dragon's Back, you want to be with him every step of the way.
In ultra-running, failure is more an inevitability than an option – but you can come back stronger with a far greater understanding of how to face the next challenge. Matt Whyman captures this perfectly.
'Failure is an Option' will be published on April 14 you can pre-order from the Vertebrate Publishing website.