Do you get bored of doing the same old training runs and the same old races? Maybe you've lost your running mojo and you need something different to help you try to find it again. There's so much variety out there for every type of runner and every kind of budget. Here's our suggestion for 5 races with a difference.
Red Bull Quicksand
Red Bull are synonymous with quirky races. They have the Red Bull 400, which involves running 400m up a ski jump, and Wings for Life, where runners try to outrun a catcher car and raise funds in the process to try to find a cure for spinal cord injury. And now they've launched Red Bull Quicksand, a mile along the beach climbing over man-made sand obstacles.
Gummers How
Gummers How is a fell race with a difference. You have to row to the fell! Runners start in Windermere, then run to their boat and row across the Lake, before mooring and ascending Gummer's How fell. Then, after a fast descent they pick up their boat again and row back to the finish line! You can do it either as an individual or a team. The race was brought back recently but it actually dates back 60 years when, according to the Westmoreland Gazette, up to 3,000 people used to come and watch the event! The race takes place in June each year. Here's a video of the action.
Wife (Partner) Carrying
On paper a race of 380m with 15m of ascent doesn't sound that hard. Until you add the weight of a person on your back. Wife carrying dates back to 793AD but it has moved with the times recently in that the 'wife' on the runner's back can be male or female (as can the runner). The 'wife' has to be a minimum of 50kg though, otherwise the organisers add in a weighted backpack, just to make it fair. At least it's helping you to develop a relevant skill, should you ever come across an injured runner on the trail who needs carrying to safety. The UK Wife Carrying Championships take place in Surrey every March.
Zombie Run
'Just' running not enough for you any more. Do you need the added challenge of being chased by zombies? You got it! At the Zombie Evacuation Race you'll run 5k and negotiate 10 'zombie challenges' while being chased by 100 zombies. Leaving aside the whole 'can zombies run?' debate, this sounds like it might give you nightmares. But if you've lost your running mojo it could be just the thing to help you find it again. There are various zombie races out there – here's one taking place in September.
Beer Mile
Recognising the close link between running and beer, these races have been growing in popularity in recent years. The rules are that you must drink 4 beers during the mile – ideally one lap of the track, beer, another lap of the track, beer etc. Each beer must be a minimum measure of 355ml (a standard can) and it must have a minimum alcohol volume of 5%. One of the least pleasant rules is that if you vomit you must complete one additional penalty lap of the track. If you thought this was just a bit of fun, think again. It's a serious business and some of the times recorded are pretty astounding. The current men's pb is 4.33! It was set by a 22 year old, which makes sense. The women's record is 6.08. Here's your one-stop beer mile resource: http://www.beermile.com/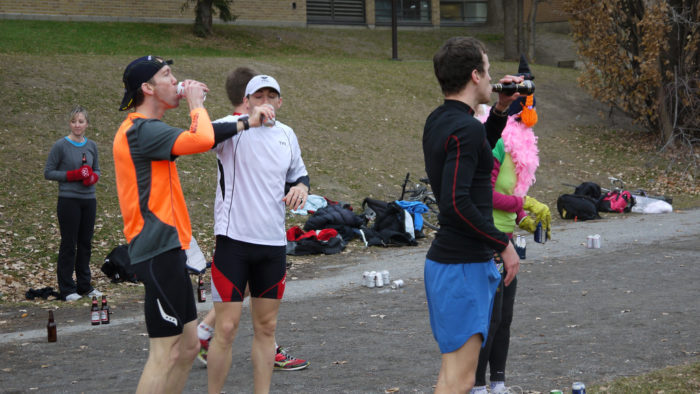 Other races to try:
Colour Run: all the family can take on 'the happiest 5k on the planet'.
Run with your dog: take on a race with your best running buddy, such as Simply Health Canine Run.
Man vs Horse: if running with dogs isn't your thing maybe running with horses is! A historic race which pits runners against riders over 22 hilly miles.