The Montane Spine Race Challenger, the 108 mile version, started on Saturday morning. Despite the weather being mild temperature wise it really wasn't an easy year for the runners this year even without snow. High winds and rain conspired to make conditions pretty tricky for those brave souls out on the Pennine Way.
The Challenger starts in Edale and finishes in Hardraw and it looked like an exciting field this year, with two-time Spine Race winner Carol Morgan and Jim Mann, podium finisher at many similar races and fan of Winter rounds, on the start line. And as predicted Carol and Jim built up bit leads in the women's and men's races.
Jim seemed to stretch his lead out further and further and ended up winning in 22.53 and taking an incredible 3 hours off the men's record! He was typically modest about his achievement, saying afterwards:
"That'll go under 20 hours that will…it needs the right person and the right weather. You can't run fast in this weather, it destroys you."
Carol Morgan built up a lead of almost 4 hours in the women's race, finishing in 31.47. When interviewed at the finish she was also similarly modest and made a very good point about the small number of women that entered the race:
"I'm just ordinary really. You'll see Jasmin tomorrow and she is phenomenal. There's not enough women in this game and there's a lot of inherent sexism in the world, and I like to think that we challenge both of those."
In the men's race former winner Wouter Huitzing was second and Howard Dracup third. In the women's race Jenny Yeo took second and Jen Scotney took third for the second year running. Speaking of the conditions Howard said: "When I got to Pen-y-Ghent, I was crawling literally on all fours and going up over…you know the slabs at the top? When I got there, I was on my hands and knees and the wind just blew me over."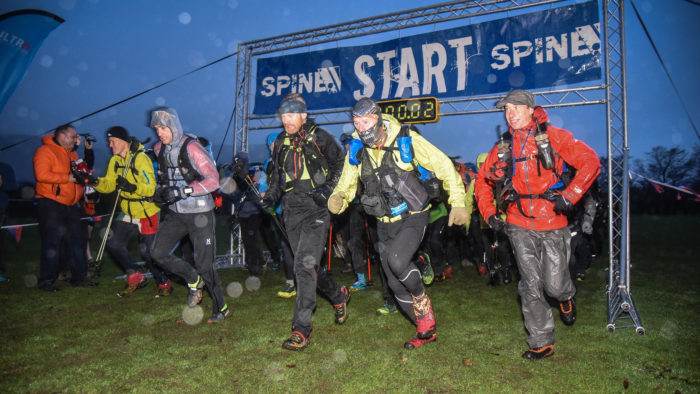 It was into these conditions that the intrepid Spine Race runners set off yesterday morning. This race is 268 miles from Edale to Kirk Yetholm. They are just through the first night and the leaders are Jasmin Paris, Eoin Keith and Eugeni Rosello Sole. It's very early days but how incredible would it be for a woman to win this race outright? Keep following the action HERE throughout the week and we will give you regular updates. Find out more about the Montane Spine Race and Challenger HERE.
Huge congratulations to Carol Morgan and Jim Mann and keep going Jasmin!
Header image copyright Harsharn/Spine Race