It's UTMB week and there's an awful lot going on. To help you to navigate the week of races we've put together a handy guide. Here's all the key information on the big one: the UTMB itself.
What's the route?
The race starts in Chamonix, then heads south to Saint Gervais, La Balme and Les Chapieux, before heading north east to Lac Combal and Courmayeur, the halfway-ish point. From there it heads up towards Refuge Bertone, then down to Arnouvaz, before a big climb up Grand Col Ferret. It continues downwards to La Fouly, up to Champex Lac, then it's up La Giete, Les Tseppes and Tete aux Vents before the long, painful descent back down into Chamonix.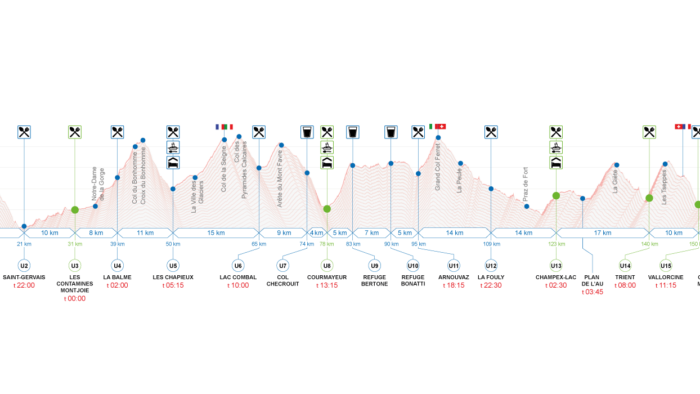 Distance: 171km
Amount of ascent: 10,000m
How many runners: 2300
When does it start?: 6pm Friday 30th August
When are the winners expected to finish?: 19 – 21 hours for the men, 23 – 25 hours for the women
What's the cut-off?: 46.5 hours
Key summits: Col du Bonhomme, Col de la Seigne, Arete du Mont Favre, Grand Col Ferret, La Giete, Les Tseppes, Tete aux Vents
Runners to watch: Mimmi Kotka, Courtney Dauwalter, Andrea Huser, Miao Yao, Katie Schide, Rory Bosio, Beth Pascall, Jo Meek, Hayden Hawks, Pau Capell, Xavier Thevenard, Zach Miller, Tom Owens, Ian Sharman, Paul Giblin, Andy Symonds, Harry Jones
Previous winners include: Lizzy Hawker (5 times), Jez Bragg, Kilian Jornet (3 times), Francois D'Haene (3 times), Rory Bosio (twice), Krissie Moehl (twice), Xavier Thevenard (3 times).
How many points do you need to do it?: 15
Percentage of female runners in the race: 11%
Average age of runner: 42
Do say: 'big respect to everybody who finishes this race'
Don't say: 'it's not as tough as the Marathon des Sables'
Here's all the information on the UTMB