It's the UTMB this week and there's an awful lot going on. We've put together a guide on the races – the routes, the profiles, the runners and the key facts – as a quick reference, in case you need to blag it. Here's all you need to know about the CCC.
What's the route?
The race starts in Courmayeur and almost immediately heads up on a mean climb towards Refuge Bertone, then it lulls you into a false sense of security that it's all going to be ok all the way to Arnouvaz, before shattering that illusion with a hideous climb up to Grand Col Ferret, but then you're rewarded with a glorious runnable downhill down to La Fouly. The climb up to Champex Lac looks small on a map but feels big when you're doing it, then you've got three more summits to deal with – saving the meanest for last with Tete aux Vents – before descending back down into Chamonix (which might be painful).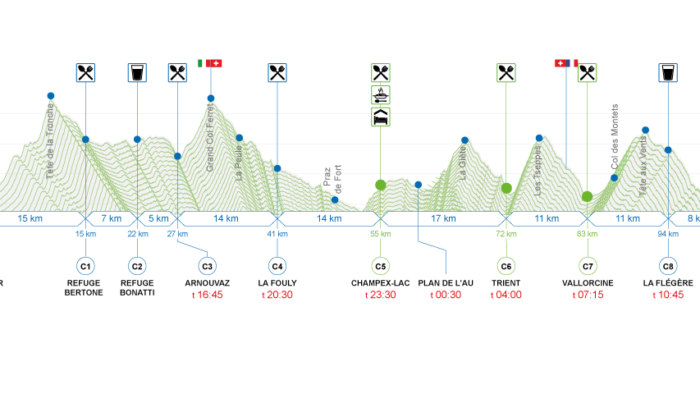 Distance: 101km
Amount of ascent: 6100m
How many runners: 1900
When does it start?: 9am Friday 30th August
When are the winners expected to finish?: 10 – 11 hours for the men, 12 – 13 hours for the women
What's the cut-off?: 26.5 hours
Key summits: Tete de la Tronche, Grand Col Ferret, Tete aux Vents
Runners to watch: Holly Page, Luis Alberto Hernando, Emilie Forsberg, Cristofer Clemente, Anna-Marie Watson, Marco De Gasperi, Brittany Peterson, Keely Henninger, Kelly Wolf.
How many points do you need to do it?: 8 from a maximum of 2 races
Previous winners include: Ellie Greenwood, Mimmi Kotka, Hayden Hawks, Zach Miller, Lucy Colquhoun, Caroline Chaverot, Tom Evans
Percentage of female runners in the race: 15%
Average age of runner: 41
Do say: 'it's a tough but beautiful route, following much of the second half of the UTMB route'
Don't say: 'oh, you're just doing the CCC?'
Follow the race live HERE.
Find out more about the CCC HERE.