There are some races which just seem to get under people's skin. Often it's a race that tests you to your limits, sometimes it's a race which just has an unbelievable atmosphere. The Montane Lakeland 100 definitely ticks those boxes.
The runners set off at 6pm this evening and the weather promises to be as unpredictable as ever, with rain and humid conditions expected. The course is sure to provide a big challenge for all runners. While it doesn't take in the big summits of the Lakes, it is a gruelling non-stop tour of tough passes with 6,300m of ascent.
A good indicator of how tough a race is what percentage of runners finish. In the Lakeland 100 the DNF rate is about 60%. Runners have 40 hours to complete the course, with the winning time usually being around 20 – 22 hours.
Montane athlete Terry Conway, who is the record holder for the 100, says of the challenge that the race poses, "the Montane Lakeland 100 is a peculiar animal.  Despite its technical nature, there are also parts where you can really get a shift on.  The key is self-management; you can't concede too much time on the slower parts, but you must still be able to make the most of the faster sections.  It's a cerebral challenge, coupled with the dramatic scenery which makes the experience really quite visceral."
Last year's winners Sabrina Verjee and Ken Sutor are back. Sabrina recently finished second in Dragon's Back and won the Montane Spine Fusion Race outright. She must be odds-on favourite for the women's race and could feature very highly overall. Josh Wade is also one to watch in the men's race, having recently won the Lakes Mountain 42 and UTS 50 (thanks for the tip, Ally Beaven!).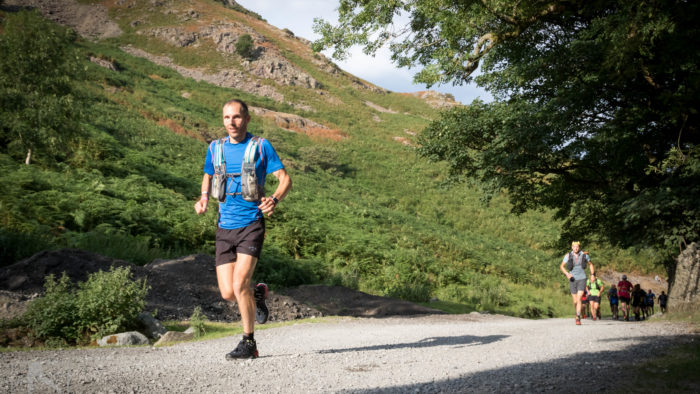 The Lakeland 50 sets off tomorrow morning. We will be bringing you news from both races, but in the meantime you can track the runners HERE
See all the information about the races and the routes HERE
See a list of the winners and their times from all the previous Lakeland 100 and 50 races.