It's one of the highlights of our year at Run247. This incredible endurance race has to be one of the hardest out there. January 13th sees the start of the Montane Spine Race 2019!
The Montane Spine Race is a 268 mile non-stop race across the Pennine Way from Edale to Kirk Yetholm. It was first run in 2012, when there were 11 entrants and only three finishers. It's grown and grown in terms of numbers, but the odds of finishing aren't that much higher these days! 250 intrepid runners will stand on the start line next week. What will they face?
There are many challenges to test the runners. Firstly, there's obviously the terrain. Seen by many as the toughest long-distance walking route in Britain, the route passes through the Peak District, Yorkshire Dales, the Cheviots and ends up in the Scottish borders. As you can imagine, there's a large number of big hills along that route, including Kinder Scout, Pen Y Ghent and the stunning valley of High Cup Nick. The highest point the runners will need to overcome is Cross Fell at 893 metres. Which brings us to our next point – the weather.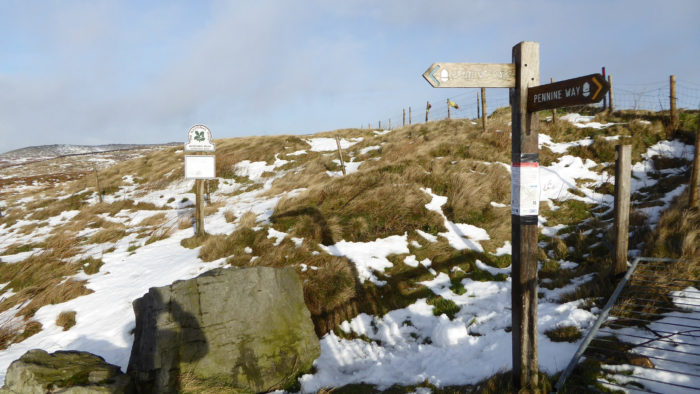 It's a popular walking route at certain times of the year, but there's a reason most people do it in the summer! And to be honest, I've been up there in summer sometimes when it's still been pretty grim! The weather will play a huge part in the race. It has been run in heavy snow, which obviously makes every step and navigation a lot harder, but the best case scenario is that runners will have to deal with very cold conditions, particularly at night, and mostly likely freezing cold rain. The going underfoot will never be easy with bogs, mud and ice to negotiate. Keeping warm when you're tired and moving slowly can be a challenge for all runners and hypothermia is a real threat.
The Spine requires runners to be self-sufficient. It's a non-stop race, which means that there's no set stages – runners just keep going until they finish or stop. There are checkpoints where they can sleep, eat and change clothes, but they will be face long stretches in between them. They need to carry a sleeping bag and bivvy or tent to sleep in (here's info on the full kit list from Damian Hall), should they need to rest between checkpoints (or in case they get injured and need to await rescue).  Runners have to navigate, which doesn't sound too hard on paper as it's a way-marked route, but practically speaking when you're really tired and it's dark it's very easy to go the wrong way.
But the biggest challenge that Spine Race runners will face is surely the mental one. All runners will run through several nights and face unimaginable fatigue, both physical and mental. When everything hurts and you're cold and tired, the ability to keep on going will require runners to employ incredible mental strength, particularly when leaving a warm checkpoint.
Walkers tend to tackle this beast of a route in about 3 weeks, with nice beds in hotels or hostels along the way and lovely meals and probably the odd beer. The women's record for the Spine Race is 109 hours (Carol Morgan) and the men's is 95 hours (Eoin Keith). Most runners will take much longer to complete the race, though around 50% won't finish.
Now if you're thinking that a 268 mile race in winter across exceptionally tough terrain is sounding just a bit much, I've got good news! There's also the Montane Spine Challenger, which is 'just' 108 miles from Edale to Hardraw.  This starts on January 12th.
Over the next week we will be bringing you further articles on the race and the runners in it. Previous winners include Carol Morgan (twice), Beth Pascall, Pavel Paloncy (twice), Tom Hollins and Eoin Keith. Then we will be following all the action as it unfolds.
Header image copyright Racing Snakes (provided by Montane)