The 2019 Berghaus Dragon's Back Race kicks off on Monday 20th May. Around 450 brave souls will leave the castle at Conwy and begin their journey down the spine of Wales.
The Berghaus Dragon's Back Race is one of those bucket list races that strikes fear into many. Everybody seems to have a horror story. The worst one I've heard ended with 'the bus had to take a detour to drop him off at hospital', but there are many similar ones.
Why is this race so feared? It could be the length (315km over 5 days), it may well be the elevation (15,500m in total), it might be the terrain (runners cross Crib Goch and need to use their hands quite a lot), but I think it's mostly the history. It first took place in 1992 and was thought to be a challenge so tough that the Paras were asked to provide support. Paras took part too and probably weren't embarrassed at all to find that fell runners were quicker than them on their own training ground.
Then it was resurrected in 2012 by Ourea Events. The gap of 20 years had only served to reinforce its reputation and people flocked from all over the world to do the 'toughest race in the UK' thinking it couldn't be that hard. But most of them found that it really was. It next took place in 2015, then 2017 and now happens every 2 years.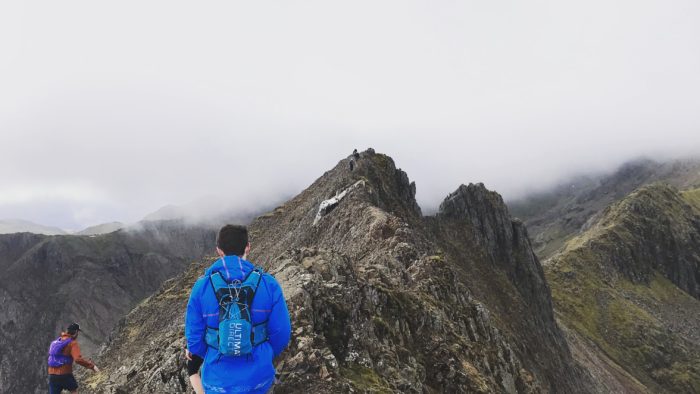 But, staying positive, lots of people do finish and some in mind-blowingly fast times. Jim Mann finished in 40.08, with Jasmin Paris right behind him in 41.45 in 2015. Marcus Scotney won in 37.58 in 2017. 127 people finished in 2017, which is a cause for hope for those running next week! So how do you give yourself the best chance of finishing? We spoke to some runners who've done it to find out their top tips!
Jenn Gaskell (class of 2017)
1. The hot food counter in the Machynlleth Co-op – what a lifesaver!! I bought so many warm potato wedges, far more than I could ever eat…but handed them out to friends for hours to come as we stumbled along!
2. I was also the first person to leave the tent every day. It just gives you extra time to mess up the navigation or run out of energy, and if you do arrive at camp early, then it feels like you've won some extra kit faff time 🙂
3. Make sure the sea is on your right hand-side!! On the Wednesday, a bit sleepy and in the fog, I managed to do a total U-turn!!
4. Get all your friends to send you Dragon mail, it was one of the best parts of the day reading all the print outs with the feet up on my drop bag! Which is another tip…sleep with your feet raised onto your drop bag 🙂
5. And don't forget to take pictures! I only have about 5 pictures from when I did it….all eating at checkpoints! But the views are awesome!
Beth Pascall (class of 2015, 2nd woman and 4th overall)
The most important thing is to get out on the course in advance. A lot of people are shocked by the technicality of the terrain in North Wales so as long as you know what to expect you'll be fine! Oh yeah, and bring one of those midge nets that goes over your head for the overnight camps!
Ally Beaven (class of 2015)
1. Make the most of your time in camp. Eat, drink, get your sleep kit sorted, pack your bag for the next day, eat, drink some more, go to sleep. Nice as it is to chat to other runners, it's not helping your recovery. Lie down. Sleep. I got to see both sides of this. Days 1 and 2 I was ~ top ten or so and had all the time you could want in camp. Days 3-5 my feet and ankles went to shit and I was among the last runners to finish. It makes things soooo much harder.
2. For the hill runners, don't get carried away on the first 2 days. They're by far the best of the race but if you let loose and enjoy yourself it will bite you in the arse. Or, more likely, the feet and ankles. I ran hard down Pen Yr Ole Wen, Snowdon and Rhinog Fawr, my feet started giving out on Cader Idris on day 3 and by the end of the race you couldn't see any of the bones because they were so swollen. They looked like balls of dough.
3. Ear plugs. Midge net.
Jez Bragg (class of 2017, 5th place)
I would say being super-slick with your packing and camp admin. Packing in a waterproof tube (a dry bag) is not that straightforward, and potentially pretty messy. Organise everything into smaller packing bags (the fabric draw-string sports bags?) – so everything has a place, and when you do need to get to the bottom in a rush, it's less of an explosion!
Jo Zakrzewski (class of 2015, 4th woman and 12th overall)
Look around and enjoy being in places hardly anyone has the opportunity to go to, and make the most of the food in the camp – you'll need that energy!
Find out how to enter the 2021 race HERE.
Header image copyright Berghaus Dragon's Back Race/Ian Corless