After my trip to run the Comrades Marathon in 2018 I was keen to return to do battle with the hills of KwaZulu Natal in the other direction. After all, last year's race was 90.184km and this year's race was 'only' 86.830km – just how hard could this be?
Returning to Comrades meant my nerves were based on knowing how tough it was rather than the unknown. We did the registration (very easy), had a nose around the expo and then relaxed. Visiting the Umlhanga parkrun on the Saturday morning along with 900+ others our group had a pleasant morning run along the sea front for some enjoyable parkrun tourism prior to a day of relaxation.
As it was an Up run, we stayed in Durban and hence race morning was very easy. Get up very early, have an early breakfast, leave the hotel, walk less than 1km to the start. Easy. Although I had extra layers it was quite warm – the difference between starting next to the sea or in Pietermaritzburg in the mountains. One of the highlights of the race last year for me was the start and this year was just the same. Listening to everyone signing the South African national anthem was incredibly moving, then we all sang Shosholoza (I'd learned the words specially) and then the strains of Vangelis's Chariots of Fire rang out. After this, we heard Max Trimborn's cock crows and moments later the gun went. A huge roar went up and the stampede started. I said goodbye to Jack & Mark (we had agreed to all run our own races) and I was underway. Within a few hundred metres the humidity kicked in and I shed my extra layers by the roadside just minutes before we started running up hill.
The uphill was a long and wide dual carriageway with a sea of people filling one whole direction. All of the bridges were lined with cheering supporters – they were in the dark so the chances of them seeing their own runners would have been small so they encouraged all of us. And we kept running. Uphill. Other than a few hundred metres of downhill that I remembered from last year (when it was uphill) we were climbing for about 16km. I admit, it felt a little daunting. As a 'fuller figured gentleman' hills aren't always my friends but today we were just going to have to get along.
About 15km in we started running up one of the 'Big Five' hills. I well remembered Cowie's Hill from last time and this coincided with me jumping on the 11h30 'bus' – one of the pacing groups. This was part of my plan as I'd hoped to stay with this pace for as long as possible. The driver (pacer) was Gary Dixon from the UK who I had also followed last year. I'd been in touch with him via Twitter before the race to check he was pacing again and knew he would be there. I'd started just in front of them and hence hopped on board. Gary was having a great time – he had a mini speaker with him and was blasting out some real throwback 60s, 70's and 80s music. Interspersed with the music and some singing, Gary was encouraging everyone along, reassuring us and generally doing everything he could to share around his endless well of enthusiasm. My sort of pacer!
We trundled down Cowie's hill towards Pinetown and Gary confirmed we were on the pace that was set for him. We through the first cutoff point in Pinetown at 18.5km done / 68.2 km to go. With the race time at 2h27 (13 minutes inside the cutoff) I knew the timing mat would update my friends and family who were tracking me as to my progress. The km markers in Comrades countdown so each one shows how far you have to go with a thermometer type gauge. Pinetown was the point last year that I dropped off the back of Gary's bus and I was really determined to keep with him for as long as possible.
However, I wasn't feeling strong or relaxed and this was a little concerning with only a quarter of the course under my belt. As we ran out of Pinetown I once again tried to keep with Gary but just didn't have the power I needed and he, his music and his followers slowly pulled away from me. I have to admit it was a little disconcerting but knew I just had to get on with it on my own.
Running out of Pinetown led us straight to Fields Hill. Another one of the Big Five and I had particularly remembered in the other direction from last year. It goes up (yes, I know it's a hill) and up and up. The gradient is really brutal and it goes on for a good few km. I'd hopped on with another of the 11h30km buses going up the hill to try to stay with them but it was getting hard. As I ran up I heard a shout of 'Mike' from behind me. I'd had my name printed on the front and back of my tshirt which seems to be the done thing at the London Marathon but I'm not sure I saw anyone else doing this at Comrades – didn't matter, I'm fairly shameless for playing to the crowds for support. I looked back down the hill to see Martin Luyt coming up behind me. I'd met Martin last year about 10km before the end and we'd run together until about 3km to go. We then got in contact afterwards and stayed in touch in the intervening months. He already had seven Comrades finishes to his name and had done a great amount of training in the intervening 12 months. We kept running up the hill interspersed with walks. Martyn is a strong runner and I was concerned that I would be holding him back. We got to the top of the hill having run together for 15/20 minutes at which point I told him he should go on. It was disappointing but a real boost to have seen him again.
Another timing point was passed at Winston Park with the race clock just inside four hours (bizarrely I was now 30 minutes inside that cutoff) and another timing mat crossed. Knowing that others would be getting an update on my time felt like a distant connection to them and in a weird way, quite reassuring.
My slightly low feeling at this point was interrupted by a shout from across the road and I saw Jack's friends, Ronwyn, Patrick and son Campbell, who we had been with the previous day. They are experienced Comrades supporters and it was great to have seen them. I ran over to them to receive encouragement and hugs. It was like a battery recharge and meant a lot to have the support. Much as I wanted to stay and chat, I knew the maxim that rang through my mind the whole day 'Every step you take gets you closer to the finish. Keep moving. Don't stop'. I ran on.
A few more downs and a lot more ups followed as I kept going. It was starting to feel a little better as I chugged along although I was nervous about the distance to come. When I compare it to last year, I was also nervous, and it always felt hard but not as tough as it did this time. Or maybe time had dulled the memory.
I then saw Jack's wife Sharon and daughter Kate (also experienced Comrades supporters) who were doing an amazing job of supporting us all at various points. I've no idea how they managed to get to everywhere bearing in mind the traffic jams we could see near the route for the whole way but they managed it. It was great to see faces I knew during the race and made such a big difference. There was a point after halfway that I saw them and they'd bought me a meat pie as I'd said earlier I'd love some savoury food. I don't even think I managed to string a sentence together or thank them (must work on my manners) but just took it and ran on.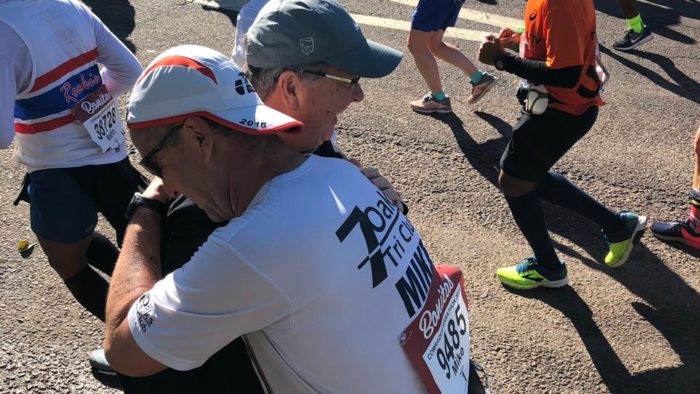 Botha's Hill wasn't too bad and I managed to feel like I'd just got it over and done with quickly with a lot of walking and a little bit of running. We ran past the immaculately dressed students of Kearnsey College and as we ran past there, I got chatting to Njabulo. It was his first Comrades and he lived just south of Pietermariztburg. He was in his late 20s and told me how he wanted to run to make his family proud of him. We chatted for a while and as we were running in the late morning sunshine I said 'look, we're near to Arthur's Seat'. He'd never heard about the legend of Arthur's Seat (for Arthur Newton, five time winner of Comrades way back when) and I passed on the story of the tradition that Jack had told me about. As we ran up towards the plaque at the crest of the hill I said to Njabulo that he should touch the plaque, doff his cap and put a flower down. I think he thought that the sun was getting to me but whether it was politeness to humour me or he liked the idea he joined in. We couldn't find any flowers on the roadside so I grabbed a bunch of long grass and gave half to him. We touched the plaque by the side of the road, put down the grass, raised our caps and I said 'Good morning Arthur'. He definitely looked like he thought I was a bit mad…..
I finally reached halfway in 5h52 – slower than I had wanted (18 minutes inside the cutoff here) as I had hoped to be there around 5h30. I did, however, hit another timing mat through the big crowds and music. All the aid stations along the way were fantastic. Men and women, boys and girls, old and young, black and white they welcomed each and every one of us with a kindness and warmth that often made me well up with emotion. We ran through Drummond and I knew I'd made another cutoff. The target for me know was all about making the cutoffs inside the time. As we were going along one of the rare flat sections, a truck with a timing clock on the top was alongside us. The chap who was driving had a serious look on his face. Chatting with him he told me that no, I wasn't right on the cutoff pace but he had to drive ahead to the cutoff points.
"I'm the cutoff guy" he told me.
"That's a tough job you've got" I replied, "having to see all that emotion up close".
"Yep", he smiled almost apologetically "I know how hard it is for you all".
"Have you done it yourself" I asked. He nodded. "Many times?" I asked. He nodded again.
"At least the person telling them their race is done knows what they're going through" I told him. He probably didn't need my reassurance but I was imagining him standing in the road as the seconds ticked down to a cutoff and then having to look someone in the eye to end their race. I felt reassured that it would be done with empathy and kindness.
We fist bumped and I ran on a little. One of the strange things about a big event be it Comrades, London Marathon or any large event is that a small human interaction like that can give you a shot of energy, a burst of confidence and a small uplift. We are a social animal after all.
The next hill was Inchanga. It was one of the shorter of the Big Five but was still tough. Halfway up the hill as I was walking, a supporter who I guessed was a few years younger than me caught my eye and encouraged me. He asked me whether I wanted anything. I said "Yes, would you walk with me for a bit". I felt a bit pathetic but he instantly started walking alongside me. He had on a Green Number top and I asked him how many finishes he had – thirteen apparently. It felt so good to have someone to talk to (I regret I don't remember his name) and he kept walking with me, quietly encouraging me to keep moving and run whenever I could. After about 400m of uphill, we shook hands, I thanked him and carried on. As I said, the human interaction really helped.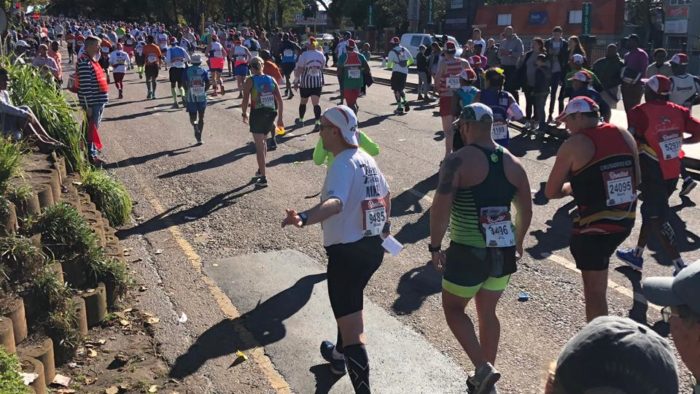 The next while was a bit of a blur but with about 40km to go, one of the 12 hour buses caught up with me. I knew that keeping up with them was a possibility but this bus was quite a bit ahead of their pace. I stayed with them for a while and the bus driver was calling out a chant as we went up hill:
"Small steps" he shouted,
"Small steps" we responded,
"Up the hill" he continued,
"Up the hill" we chanted back.
It was quite hypnotic and meant that I could just focus on that. He would then blow a whistle and we would all walk for a minute or two. Then he would blow the whistle and we ran again. "Small steps" I whispered to myself "Up the hill".
I knew that most of the ascent is done in the first half so it was just a case to do everything I could to reduce the amount of walking and increase the amount of running. Time was starting to slip and I knew there was another cutoff at Cato Ridge. As the name suggests, we could see the hills around us on both sides and the course was more undulating than hilly but my strength was waning.
The cutoff with 30km to go came (at 7h47 of running) and went at with 23 minutes to spare. It was getting tight. I knew that the last cutoff at the top of Polly Shortts was deceptively late so had to make that with at least 15/20 minutes to spare. Doing the maths in my head I was now timing every kilometre working out whether I had enough of a cushion to make the 12 hour cutoff at the finish let alone the remaining ones along the route.
With 25km to go as we ran through Camperdown, the bus started easing away from me and the road was starting to get a little quieter. And not in a good way. There weren't quite as many runners around me as there had been an hour before and the sun was starting to dip. Longer shadows were appearing and another 12 hour bus came and went past me. I was struggling to keep an 8 minute per km pace going and really didn't have much spare time.
As we passed the 22km and the 21km markers (distance remaining) a few people were looking at us and looking at their watches nervously. A few shouted out "You've got to hurry to beat the cutoff at Umlaas Road". I had a list of the cutoff times and distances clipped to my belt so knew exactly where and when they were but the reminders were needed. I picked up the pace a little and jogged on. There was a short chicane under a bridge at around 20km to go and now loads of people were urging us to hurry up. I could see the cutoff signs and knew I would make it. Just.
The cutoff at Umlaas Road was at 9h30 race time and I crossed the mat at 9.26.17. Just over three minutes to spare. I was relieved but knew that the reality of me speeding up was diminishing rapidly. I had just under 20km to go in about 2.5 hours. That was 7.5 minutes per km. I decided to try to run a whole kilometre without walking. That's only 1,000 metres; two and a half laps of a track. That's not difficult. It shouldn't be difficult.
It was.
By this point, there were minibuses driving past us every few minutes with race officials in them. The bailer buses were there to pick people up who couldn't continue and would transport them to the finish. I desperately didn't want to drop out but I knew that it was now almost a certainty.
I decided to run to the 16km mark which meant I would have run (and walked) for 70km. Not sure why the extra couple of kilometres were needed but a nice round number like 70km run felt like a good day out. With the time just before 3pm, I pulled up beside the road. Immediately a couple who were spectating there came over to me. "Are you okay?" they asked. I reassured them that I was fine, and my race was done. They looked disappointed for me and told me how well I had done to get this far. I welled up a bit but said to them that it was a bit disappointing but not the end of the world. I was being honest. It was disappointing but there are many more important things in life.
The next bailer bus that came past me slowed and the chap driving indicated to me that I could get in if I wanted. They stopped and I clambered aboard. The woman who was in the passenger seat was also a Comrades official and she wrote down my number and made sure I was okay. There were others on the bus who were in varying states of exhaustion. In comparison I was okay to some of them but the driver and his co-pilot looked after us so well. They had drinks and snacks which were really welcome. She chatted away and was, on our behalf, quite indignant that the signs said 'Bailer Bus'. "That's not right" she asserted, "It should say Hero Bus, you've all run so far and it just wasn't your day".
I phoned home to tell them the news and that I was okay – telling Janine that all was fine and I'd try to call later.
As we crawled along, many spectators on the side of the road clapped us and shouted out "Don't worry, you did well, you'll do it next time". Again with the kindness, the warmth and the caring. It just didn't stop all day.
Our journey to the finish took a long time as we were going along the route. I had hoped to be there in time to see Jack and Mark finish their 32nd and 7th Comrades respectively but it didn't happen. The racecourse where the finish was located was pretty chaotic and the one negative of the day. It took me ages to find a marshal who knew where I had to go to the International area and my long journey there included an underground walkway that was dangerously overcrowded. Eventually, I got the area where I knew Mark and Jack would be together with Sharon and Kate who were looking after them. I was so pleased to know that Mark had finished after his injury last year meant he DNFed and that Jack got another finisher medal.
Was I really upset but just saying I wasn't? No. I was, as I said earlier, a little disappointed but not upset. Part of which was knowing I couldn't ever get a back to back medal (you have to do your first two Comrades finishes in consecutive years to get that) and partly because 2020 and 2021 were both going to be Down runs. If I wanted to do another Up run it would have to be 2022…….
Moreover, there are much bigger things to be upset about. I'd had an amazing day, it had been a great trip with friends, I had been lucky enough to experience (most of) a world renowned event for a second time and I was fit enough to have run (and walked) 70 kilometres. What do I need to do to succeed? I probably need to carry less weight; I probably need to do more hill training. Both of those are down to me and not to anyone else.
Comrades describes itself as The Ultimate Human Race. I think that is pretty accurate and it certainly tests you. But most importantly, it demonstrates the best of The Human Race. That was never in doubt.
Read the stats from this year's race and find out about all the different medals they award in this article.