Mike Clyne has been running since 1982, aged 16, and he tells us that some 36 years on, he is still in love with the sport! His maiden marathon as a teenager was the first of many, and along the way he has encouraged others to run as well.
Mike has also completed a couple of Ultras (including Comrades), learning a thing or two along the way, as well as 10 IRONMANs. So he isn't a slouch, but – in his own words – he "isn't very fast".
When he isn't running, he is often found with a microphone in hand as a race announcer/commentator (#mikeonthemic!) and virtually always with a smile on his face.
We caught up with him ahead of his 15th London Marathon to ask about his memories of his first race.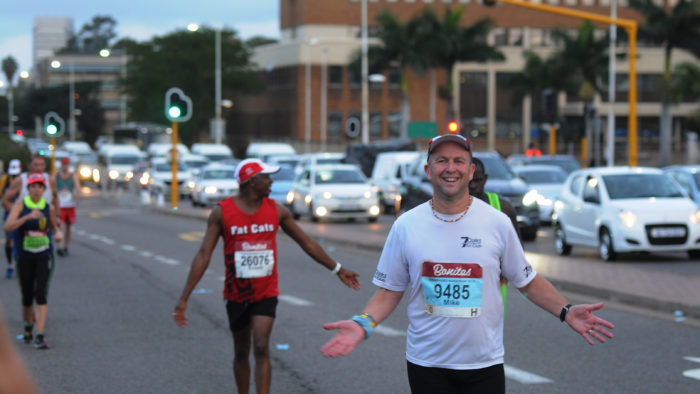 What sort of running did you do before your first marathon and how long had you been running?
I watched the first London Marathons in 1981 and 1982. These did give me inspiration and the local pub where I worked as a teenager were organising a 10 mile fun run in October 1982 which I trained for and did it. Then did half marathons in March and April 1983.
When was your first marathon?
2nd May 1983 in Abingdon – aged 16 and a half!
How long in advance did you agree or commit to do it?
I seem to remember I entered it around 6 months in advance – with a postal order, a paper entry form and a stamped addressed envelope!
What was the impetus for doing it? Who or what inspired / encouraged you to do it?
It was the fact that I wasn't a successful sporting youngster at school but was quite active and liked the event atmosphere (this hasn't diminished)
What was your first thought when you had said 'yes'?
Bring it on! Very excited
Did you plan to follow a structured training schedule? Did you follow it?
Sort of / not really. I was running about 3-4 times a week but I don't think I went more than 16 miles on my longest run
Did someone coach you?
No
Were there others around you (friends / club mates / family) who were also training for a marathon? Did you train with friends? Were you a member of a club?
I had persuaded a few friends to do the half marathons and I had one friend (who was two years younger than me) who also did the marathon
Tell us about some of the highs and lows of the training.
I lived a few miles from Richmond Park so often ran there, ran around and came home. Don't remember any lows but just did loads of running!
Did you use a mantra to help you get round?
I'm not sure I knew what a mantra was then. It was all very simple ie just run. No mental preparation, no thought about how to cope when it got tough
Did you stretch / warm up before, after or both?
If I did it was cursory at best……
Were you injured during your training and how did you cope/recover?
Luckily no. I seem to remember knees being a little sore on occasions.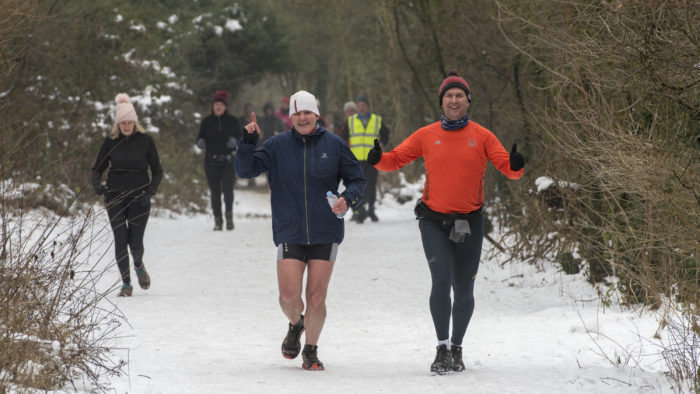 Can you remember much about the week leading up to the race?
Yes – I was very excited and nervous. I did a 1980s version of carbo loading so felt like a real athlete. My parents and brother came along with the family of my friend that was running as well.
Did you have a target time? If so, what was it?
I don't think so, just wanted to finish.
Tell us about race day – any particular memories?
I just remember the later stages, it seemed quite quiet around me ie no many runners despite there being 1265 finishers. I ran with my friend for most of the race but he ended up finishing a few minutes ahead of me. Did remember chatting to a few other folks most of whom seemed really old (probably mid 20s to 30 but at that age everyone seems old). The finish line was just a scaffold arch in a field so quite small but as you finished the St Johns folks wrapped us in big thick army style blankets and looked after us. Not surprisingly I remember being utterly exhausted but pretty pleased with myself. My family were (and always have been) very encouraging and supportive. Back at school the next day there was quite a bit of interest from friends and a few teachers.
Did you have a lucky charm with you or superstition that you follow on the day?
No – that's not really my thing.
Was it harder than you expected, about what you expected or not as bad as you thought it might have been?
To be honest I can't remember but yes it was hard!
What time did you do in the end?
4.28.19
On crossing the line did you think "yes!" or "never again!"?
Again, I can't remember but I did keep running after that.
What were your highs and lows of the marathon experience itself?
Highs were the feeling of achieving something that (with the exception of the chap I ran with) none of my friends had done and doing something sporty that stood out. There weren't really any lows but I'm quite a positive person.
What lessons did you learn about pacing/kit/nutrition before and after/advising spectators where to meet you?
I had no pacing plan at all – didn't even think about it! As for nutrition – it was just water and orange squash in those days. I think my family drove around the course to see me so that was easy.
How did you recover / celebrate?
Too long ago to remember but knowing me it would have been eat and sleep!
In hindsight, what do you wish you'd known before the race that you know now?
How to pace myself, do longer training runs, more mental preparation, plan how to cope with the mentally tough sections.
Have you done marathons or other endurance events since? How many, which ones etc?
To this point I've done 36 marathons, two ultras (50k and 56 miles) and 10 Ironmans. In the 100 Marathon Club that means my tally is now 48! Plus I've done many many shorter races from 5k to 20 miles over the years.
Did you parkrun before your first marathon – or do you now?
It was 21 years before the first parkrun and 30 years before my parkrun – so no!
What four pieces of advice would you give to some thinking about doing a marathon?
Train with friends
Plan your training and race as much as possible but don't be a slave to an on the day plan
Think about how you will get through the tough parts
Enjoy every moment!
Header image © Anthony Bliss and SussexSportPhotography.com