If you are in a race that has pacers, you can attach yourself to one of them. Not literally (obviously), but if you want to achieve a time or make sure you keep to an even pace the whole way round, you can follow a pacer. These folks are running a pace inside their normal race pace, with the sole aim of helping people like you to achieve their dreams.
Paul Addicott is one such pacer. Having an 'interesting' first marathon (see the article below!) he then did a few more and in 2013 paced his first half marathon and a year later paced at the London Marathon for the first time.
When you read Paul's blog or his social media posts (Instagram @pauladdicott; Twitter @paul_addicott; Facebook #pickupthepacepaul) you get a sense of the overwhelming joy that pervades his running.
And he loves to share that enthusiasm with online followers or those that he is pacing. You will see from his blog posts that he hits the pace target very accurately, which many people believe is the path to a successful marathon.
Paul's blog earned him a silver medal in the 2018 Runnings Awards and he is shortlisted for the same category this year. In amongst his running, he's also fitted in an IRONMAN and some long distance bikes and swims as well.
What sort of running did you do before your first marathon and how long had you been running?
I have always been fit and active, but never really ran for running itself. I played football, rugby, did some boxing. Running was a by product of what I did for fitness. It was only when I finished uni and did the Royal Parks in 2009 that I realised how unfit I had become, and this spurred me on to start running. I consider this the starting point for me.
When was your first marathon?
My first marathon was in 2011, the London marathon. I had been entering for many years, and as I was getting into my running I decided to enter for charity.
How long in advance did you agree or commit to do it?
I didn't get into the ballot, so decided I would run anyway, so it must have been the November before that I got my place and I committed to running London
What was the impetus for doing it? Who or what inspired / encouraged you to do it?
I had always wanted to run London, from a young age. Before I even considered myself a runner. I have a desire to be able to achieve, and push my body. From a young age I've always wanted to run London and MDS, I've now ran London 7 times, I'm yet to complete MDS
What was your first thought when you had said 'yes'?
Honestly, I underestimated the distance at the time. So I was more concerned about how I would raise the money for charity. It was a lot of money for me, and was very hard to raise that amount of money.
Did you plan to follow a structured training schedule? Did you follow it?
I have never followed a plan, but I roughly knew what j was doing. I increased my miles, but I didn't do anywhere near as many miles as I should have. At this stage I was fast and fit, but I had never done more than 16 miles, and this was a great learning curve for me.
Did someone coach you?
No
Were there others around you (friends / club mates / family) who were also training for a marathon? Did you train with friends? Were you a member of a club?
No one
Tell us about some of the highs and lows of the training
Training was lonely. I wasn't part of a club, and no one I knew ran. It was very different to my experience now. I was on my own
Did you use a mantra to help you get round?
No I didn't, mainly as I didn't know what this was at the time or the significance. However, one desire I have always had is not to fail, so I would keep telling myself to carry on, to not give up
Did you stretch / warm up before, after or both?
Nope, sorry
Were you injured during your training and how did you cope/recover?
No I got injured after. And it was hard
Can you remember much about the week leading up to the race?
That was a long time ago, but I was full of nerves. I remember having a huge rhino costume in my living room, and feeling very anxious
Did you have a target time? If so, what was it?
It was my first marathon and I was wearing a rhino costume, mainly as it felt like a good challenge. I wanted sub 4
Tell us about race day – any particular memories?
It was emotional. I ran too fast. Too fast for a marathon, I set off at 10k pace, bearing in mind I had never ran more than a half, 16 miles in training, and I was wearing a rhino costume, this was a mistake… I did fantastic until half way… then started to suffer. At 16 miles my world fell apart, it was such a hard second half.
Everyone around me was fantastic, it was a horrible day, and people passed me water as I couldn't get it in my costume. It was a very different way to experience London as I couldn't see much
Tower bridge made me cry. Seeing my family on St James gave me a boost, but I remember taking this picture and doing a big stride and cramping.
Did you have a lucky charm with you or superstition that you follow on the day?
No
Was it harder than you expected, about what you expected or not as bad as you thought it might have been?
Much much harder… never underestimate the distance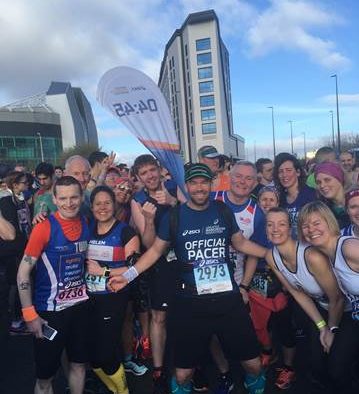 What time did you do in the end?
5:33
On crossing the line did you think "yes!" or "never again!"?
I can't remember what I thought… I didn't think either, I was thankful it was over though
If "never again" how long did it take to change your mind?
A few pints
What were your highs and lows of the marathon experience itself?
Tower Bridge… the crowds support, it was just amazing… the tunnel at 23, I cramped before it and this was a long tunnel. It's great support if going well, but if struggling and battling it is a nightmare
What lessons did you learn about pacing/kit/nutrition before and after/advising spectators where to meet you?
So many lessons and these are what I always try to share… take a look at my top tips
https://pickupthepacepaul.com/2017/05/07/so-you-want-to-run-a-marathon
How did you recover / celebrate?
Beer and burger, same way I always do
In hindsight, what do you wish you'd known before the race that you know now?
I wish I knew more about pacing, it's so important, and not underestimating the distance
Have you done marathons or other endurance events since? How many, which ones etc?
Many, I'm now a regular pacer for London, Berlin, Chicago and more, I've done over 50 marathon plus events
Did you parkrun before your first marathon – or do you now?
I didn't know about it until a few years ago, it's now a good way to get in speed work
What four pieces of advice would you give to some thinking about doing a marathon?
Believe in yourself, if you want it you can do it
Train, don't underestimate the distance
Keep a steady pace and stay hydrated
Have fun… it's easier if you are smiling