In the next installment of our new series on running your first marathon, we speak to Traviss Willcox!
If you live in Kent (or anywhere near it) and are a marathon runner, chances are you may have heard someone say 'have you done any of Traviss's races?'. Traviss Willcox organises the exceedingly popular Saxon, Vikings & Normans race series that specialises in events which may be small in size but are big in heart. Runners are well catered for both in terms of food and in terms of support. Most are loops or out and back courses that need minimal marshaling but are usually in lovely locations. Turn up 15 minutes beforehand, register, pin on your number, say hello to a few folks and off you go. Just take a look at what's on offer. Even if you don't want to run a marathon, you are welcome at his events to run shorter distances.
Traviss himself is a veteran of more than 400 marathons and ultras. He held the record for 114 marathons in a year in 2011 and then just kept going a la Forrest Gump. Most importantly, he smiles a lot. And seems to know EVERYONE – and everyone knows him. His infectious friendliness pervades his races and when he is racing, those around him.
Luckily he can remember a few things about his first marathon and therefore we are pleased that he has told us about it.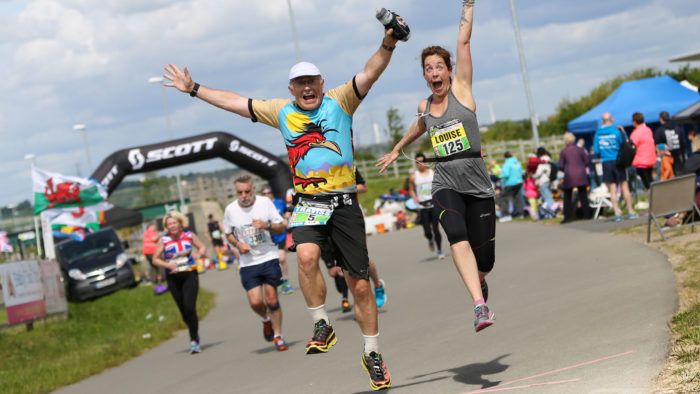 What sort of running did you do before your first marathon and how long had you been running?
I followed a classic 16 week type training plan spread out over maybe 6 months, did a few 5k/10k/Half Marathons… but before that just about zero since giving up cricket (due to knee issues) about 20 years earlier.
When was your first marathon?
Thunder Road Marathon in North Charlotte USA in 2009
How long in advance did you agree or commit to do it?
Only about a month – I had booked for a couple more in 2010 but was looking to cement a Comrades qualifying time early and needed to be in the US for some reason I've forgotten about now!
What was the impetus for doing it? Who or what inspired / encouraged you to do it?
Rachel, my fiancée, wanted to do the London Marathon and bemoaned that she had nobody to train with, so I said, OK I would train with her.
What was your first thought when you had said 'yes'?
Not much really until I did my first 10k training run and nearly died and realised just how far a marathon was, it's a LONG way!
Did you plan to follow a structured training schedule? Did you follow it?
I picked up a "train for a marathon" type book, flicked through a few pages, thought this is rubbish, skipped to the back, copied down a sensible looking plan and did that, more or less!
Did someone coach you?
No
Were there others around you (friends / club mates / family) who were also training for a marathon? Did you train with friends? Were you a member of a club?
Mainly just me, or me and Rachel.
Tell us about some of the highs and lows of the training.
I discovered why I hadn't run since school was because I hated it, was hard work, sweaty and miserable for most of the time. The rest of it was hard work, cold and grumpy!
Did you use a mantra to help you get round?
Not really no….
Did you stretch / warm up before, after or both?
Even after 401 Marathons, I have never warmed up, stretched or done anything like that.
Were you injured during your training and how did you cope/recover?
Training went pretty well aside from an ankle issue after my first half marathon, which set things back a few weeks.
Can you remember much about the week leading up to the race?
Nothing special but I remember rocking up at the Expo and thinking is that it? It was pretty small!
Did you have a target time? If so, what was it?
Sub 5:00. From the long training runs I should have been looking nearer 4:30 but sub 5:00 got me the Comrades qualifier.
Tell us about race day – any particular memories?
Race day stared with a bitter cold morning, -5C or colder, just minor nervous chatter near the back with one or two folk.
Did you have a lucky charm with you or superstition that you follow on the day?
Not that one, but the 400 since I've taken two ibuprofen and had a cliff bar/protein bar just before the start.
Was it harder than you expected, about what you expected or not as bad as you thought it might have been?
It was a GAZILLION times harder than I thought, mainly as after about 50 yards I felt "something" pop in my left knee which just got worse and worse and worse. At first it was fine when I was walking, but just hurt when running, in the end it just hurt!
What time did you do in the end?
5:59 – there was a 6:00 hour cut off and I was DFL…. Came in with a police outrider escort.
On crossing the line did you think "yes!" or "never again!"?
I mainly thought how on earth was I going to get to the hotel, about 400 yards away and I was in serious agony!
What were your highs and lows of the marathon experience itself?
I enjoyed the camaraderie with the folks at the back, all doing our best but struggling, going slow but making the best of it.
What lessons did you learn about pacing/kit/nutrition before and after/advising spectators where to meet you?
Always take pain killers with you [disclaimer: Traviss's advice, not ours!]! Don't tie chips on your foot so tightly.
How did you recover / celebrate?
Took me 15 minutes to hobble the 400 yards to the hotel, eventually went to drive through for dinner!
In hindsight, what do you wish you'd known before the race that you know now?
Take painkillers with you, when you're in that much pain, quitting at mile 13 would have been way more sensible (there was a turn off for the half I could have taken).
Have you done marathons or other endurance events since? How many, which ones etc?
Yes – 401 marathons the current total, 34 100 milers… [Note: Traviss has also done many 50 mile races and other ultras as well. Ed.]
Did you parkrun before your first marathon – or do you now?
No… I've done maybe 10 for speed work training.
What four pieces of advice would you give to some thinking about doing their first marathon?
1) Do it. What was that? No, you can. I know folk with replacement hips, false legs, new knees, no legs have done marathons and in many cases far more than one.
2) Get in those long runs, turning up with 11 miles as your longest effort means a real bad time about mile 19!
3) Nobody cares about your time, seriously nobody, just enjoy yourselves, eat the cake, walk a bit, high five kids.
4) You're better than you think you are, you can do more than you think you can…
Images © tzruns & Stuart March Photography