Some people never do a marathon, some do lots. Some people only do one and say 'never again', but few people just do two.
Nigel Gurney, a fan of many sports was encouraged to give the 2004 London Marathon a go by training and running alongside a long time friend.
His story about the training, the day itself and subsequent adventures are why we love events like the London Marathon for creating memories that last forever.
What sort of running did you do before your first marathon and how long had you been running?
In 2003 (one year before the first of my two marathons) I was "persuaded" to do a short-form triathlon which led to me entering a half-marathon later that year. This required me to take things a bit more seriously and as well as trying to do some regularly training, I did a 5k followed by the Nike Run London 10k that year. My natural inclination is not to run uness I have an event on the schedule, so whilst I had enjoyed a bit of cross-country at school, I had been idle for about 20 years since….
When was your first marathon?
2004
How long in advance did you agree or commit to do it?
Not sure, but between 4 to 6 months, I think.
What was the impetus for doing it? Who or what inspired / encouraged you to do it?
Despite much coercion form my "persuasive" friend, I had resisted until another friend, who is diabetic and at the time carried a fair bit more weight than me, expressed a wish to do it. I figured a) if he could do it so could I; and b) doing it together would give both of us a much better chance of completing it.
What was your first thought when you had said 'yes'?
"Mike [persuasive friend] is going to be so smug…."
Did you plan to follow a structured training schedule? Did you follow it?
Yes and, for the most part, yes. Having a training partner living close by made an enormous difference, as for each training run we had made a commitment to each other to meet at a particular place and therefore had to be there.
Did someone coach you?
Not formally, although much encouragement from and the occasional training with certain "persuasive friends"
Were there others around you (friends / club mates / family) who were also training for a marathon? Did you train with friends? Were you a member of a club?
Most of the training was with the friend I had entered with, although see above for other support. We were not members of a club.
Tell us about some of the highs and lows of the training
The high was undoubtedly doing the regular training run (along the Thames in central London) one more time the day after the event and this time stopping in all the pubs we had run past on so many occasions.
Other highs included seeing my half-marathon times improve and breaking 1:50 with my parents cheering me on (and really enjoying the "famous sporting event burger" after the event).
Biggest low was when my diabetic running partner suffered a sugar low during a training run, although I did find a new burst of speed in trying to find a Starbucks to get some sugar.
Not being able to find him again once I was loaded up with sachets was a bit of a drama (he made it home unscathed before face-planting himself into the sugar bowl and sending his father-in-law out in his van to find me – at this point I was to-ing and fro-ing up and down the Embankment in an ever-increasing state of panic: how was I going to explain this one to his wife…?). Injuries to the IT band were an irritation also.
Did you stretch / warm up before, after or both?
A little but not nearly as much as I probably should have done.
Were you injured during your training and how did you cope/recover?
I had some difficulties with my IT band in particular. I tried to strecth it regularly but probably didn't do enough of this. I think I also had physio (although this might have been during my 2nd marathon).
Can you remember much about the week leading up to the race?
Good question – no, other than speaking to my running partner and telling him to wrap himself up in bubble wrap to prevent any injuries, then promptly missing the last step when walking downstairs and nearly turning my ankle.
Did you have a target time? If so, what was it?
I wanted to see how close I could get to 4 hours.
Tell us about race day – any particular memories?
Plenty: 1) Running towards a scary looking spectator (think Buster Bloodvessel from Bad Manners) in Woolwich, who had stepped into our path with a pint in his hands (it must have been before 10.30), and as we approached screwed his face up into what I thought was the precursor to a torrent of abuse. He then sent us on our way with "go on Dicky [my training partner] – go on my son!!". We didn't dare let him down….
2) Running past a fellow runner who was doing karaoke all the way round on what I think were all running-themed songs. As we approached him we heard, at the top of his voice: "last night I had the strangest dream.." and were able to join him in a chorus of "ain't never gonna break my stride"…
3) Overtaking Wonder Woman who was surprised I knew her theme tune…. 4) Seeing my now-wife (this was pre-engagement) at regular spots around the course as she was expertly guided to the best viewing spots by a certin "persuasive" friend…
5) Being greeted at the finish by an old friend who informed me "you were beaten by two bananas, a post box and a womble and that's just the ones I saw"….
6) The overall crowd support but particularly one chap. We had our names on our shirts – mine said "Nige+" to be read along with my partner "Dicky" on my left, to read "Nige + Dicky". this fellow gave my a rousing cheer of "come on Nige plus!"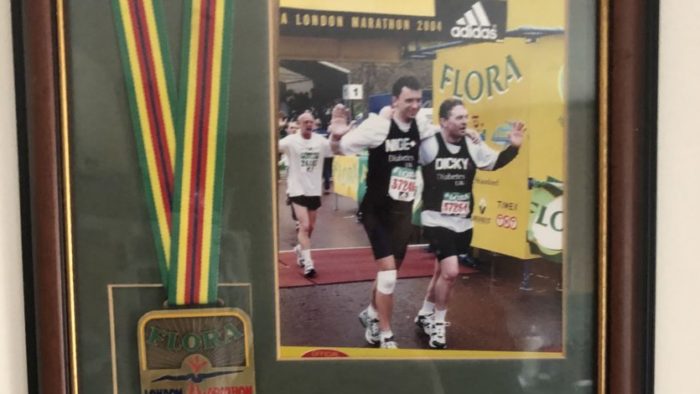 Did you have a lucky charm with you or superstition that you follow on the day?
Only that Dicky had to stay on my left to make the shirt names work.
Was it harder than you expected, about what you expected or not as bad as you thought it might have been?
I truly didn't know what to expect. When I was doing my first 10k the previous autumn I couldn't fathom how I was going to double the distance and do a half marathon, so this was off the charts in terms of expectation. Of course as I was enjoying my curry that evening I was thinking "well that wasn't too bad…"
What time did you do in the end?
4:35:13
On crossing the line did you think "yes!" or "never again!"?
"Yes" in terms of "we've done it", but I wasn't rushing to find the next one.
If "never again" how long did it take to change your mind?
Probably not too long – I half-heartedly entered the ballot for the following year on the expectation I would get 5 rejections and a guaranted place at the end of that. To my horror I was accepted for the 2006 event.
What were your highs and lows of the marathon experience itself?
The sense of achievement is wonderful and the atmosphere around the course is very special (I benefitted from running in one of the "majors"). As well as the highs on and at the end of the course, we also had a chuckle when we get back to my partner's house after the race and he walked in with his medal around his neck to be greeted by his childminder: "you won???!"
What lessons did you learn about pacing/kit/nutrition before and after/advising spectators where to meet you?
I was fortunate to have the ear of my not only "persuasive" but also marathon-experienced friend who was on hand not only with plenty of pre-race advice but also escorted my support group around the course.
How did you recover / celebrate?
A lot of tea, a mountain of sandwiches that my supporters had carted around the course and a marvellous curry in the evening. This was followed the next day by the "final" training run: stopping at all the pubs we had run past so many times. I impetuously (and no doubt foolishly) resigned my job the next day…..
In hindsight, what do you wish you'd known before the race that you know now?
I'm actually struggling to answer this one – I was very fortunate to have a number of very supportive people around me: a dedicated training partner, a supportive girlfriend and heaps of advice from friends who had run a good number of marathons.
Have you done marathons or other endurance events since? How many, which ones etc.?
A couple of Olympic distance triathlons (that summer and the following year) and a second London marathon in 2006. Fortunately, my "persuasive" mate had a young family by this time and stopped stalking me – it wasn't until I got a new boss a few years ago that I did some more long runs: a half-marathon in 2016 and a 10-miler in 2017. I suspect those days are now behind me, not least due to cumulative wear & tear on an ankle that I broke in my youth.
If you haven't done a marathon since, do you think you ever will?
No – see above re ankle damage. I recently ran a 5k and have pondered trying to get back to 10k, but I think it's probably now my limit.
Did you parkrun before your first marathon – or do you now?
No – I think my first marathon was pre-parkruns. There isn't one close enough to home for me to easily do and I would now prefer to spend my saturday moring on the golf course.
What four pieces of advice would you give to some thinking about doing a marathon?
Do it
Have a training buddy and commit to each other
Get a training programme (minimum 4 months) and stick to it religiously – stick it on the fridge door and tick each one off as you do it
Enter a number of warm-up events, building up your distance as you go and keeping a record of your results. The improvements you will see as you build yup your training will be very motivating