So it's Monday of London Marathon week, which still seems a strange thing to say in the last week of September but them's the breaks, and with only six days between now and the athletes lining up on Sunday morning we are getting more than a little excited as to exactly how a bio-secure 19.6 lap race around St. James's Park is going to play out.
Every day this week we are going to shine a spotlight on some of the expected frontrunners in the lead up to the race. We kick off today with Mosinet Geremew and Ruth Chepngetich.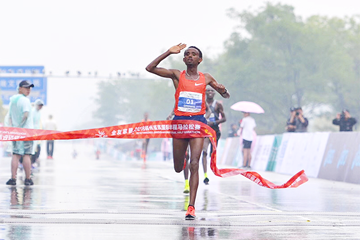 Mosinet Geremew (Ethiopia)
London Marathon Record: 2:02:55 (2019)
PB: 2:02:55 (London 2019)
28-year-old Mosinet Geremew from Ethiopia finished 2nd at last year's London Marathon in a time of 2:02:55, becoming the 4th fastest male of all time. Nobody ever remembers the runner up though right? Kipchoge stole the headlines in London last year (again), just like Mo Farah had done at Chicago in 2018 where Geremew was runner up with a run of 2:05:24.
A year before that in 2017 he finished 3rd at Berlin, running 2:06:12, behind Adola Guye and that man Kipchoge (again). In his marathon debut in the January of that same year (2017) he ran 2:10:20 at the Xiamen International Marathon in China to claim 2nd, which was only 24 seconds quicker than he ran at the World Championships in Doha last year where Geremew ran a 2:10:44 to claim, yep you guessed it, 2nd place!
Back in January 2018 Geremew did land his first and only WIN in the marathon distance though by running an astounding 2:04:00 at the Dubai Standard Chartered Marathon. If you're going to win a race you may as well do it quickly!
This is some record, so many "almost" and so many fast times, and you have to wonder with all the focus clearly on Kipchoge and Bekele for next Sunday whether Geremew could just cause a little upset.
Ruth Chepngetich
London Marathon Record: N/a
PB: 2:18:08 (Dubai 2019)
After Ruth Chepngetich's 2:17:08 at the Standard Chartered Dubai Marathon back in January 2019 a lot of people had considered it only a matter of time before the 26-year-old Kenyan broke the Women's world record; that was before Brigid Kosgei went and moved the goal posts by nearly a minute and half in Chicago later in 2019 and then the start of 2020 became a complete write-off for every man and his dog, let alone elite level athletes.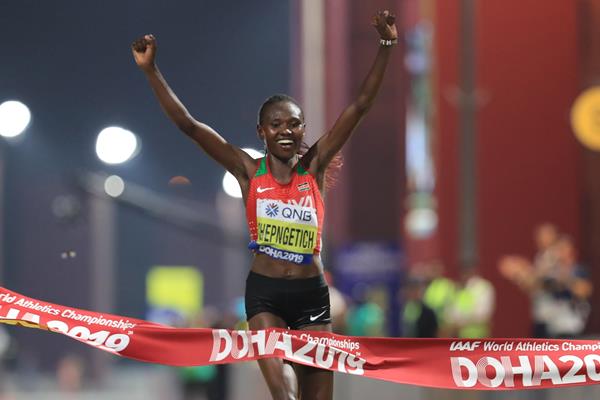 Chepngetich has a prolific record at the half marathon distance, in 2017 between Jan-Apr she won Adana Half Marathon (1:09:06), Paris Half (1:08:08), Milano Stramilano Half (1:07:42) and Istanbul Half Marathon (1:06:19), before finishing 3rd and 4th respectively at Bogota Half (1:13:57) and Lisboa Rock 'n' Roll Half (1:10:33) in the latter half of the year. Then in 2019 she finished 2nd behind Kosgei at the Bahrain Night Half with a time of 1:06:09 before going on to win in Istanbul (1:05:30), Japan (1:06:06) and Bogota (1:10:39)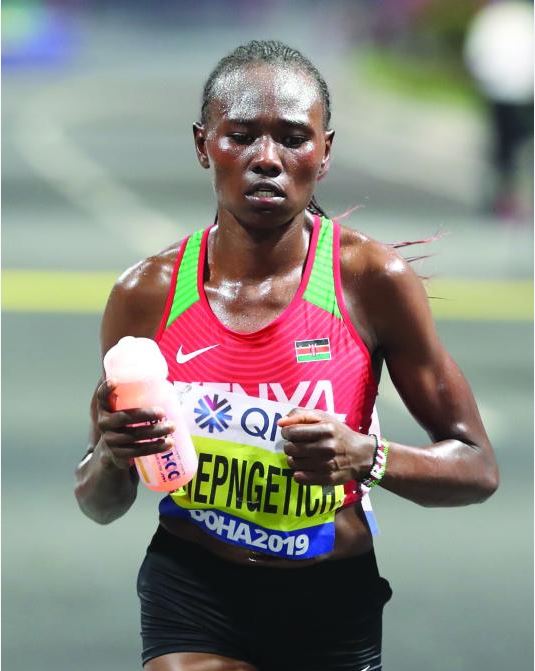 However, whenever Chepngetich has doubled the distance and gone the full 26.2 her track record has done little to disappoint; which in turn clearly led to those people labelling her the heir apparent for the world record. At her 2017 marathon debut in Istanbul she finished 1st (2:22:36), then in 2018 she ran 2:22:59 in Paris to claim 2nd place (a massive 3 seconds behind Betsy Saina in 1st) before returning to Istanbul to win again by running 2:18:35. She then started 2019 with a bang by running the aforementioned 2:17:08 to win in Dubai and she closed out the year at the World Championships in Doha, again in 2st place with a time of 2:32:43.
This is Chepngetich's first time out in London and, in fact, it's her first attempt in a World Major Marathon but I think the change in circumstances around the build up to the race and a change of route is a real leveller for the field that could potentially play into Chepngetich's hands nicely.
Next up tomorrow: Mule Wasihun and Degitu Azimeraw