There are many different forms of training. There's interval training, there are tempo sessions, we put in the long, easy runs, we do those hills. All of these types of training work on different elements of our performance, whether that's our speed, strength or endurance. However, we want to make the case for another type of training to beef up our running toolbox, and that's misery training.
What is misery training? Let us paint you a picture. You set off, it's a bit windy and drizzly, but it's ok. You start to get out into exposed countryside, the rain's getting a bit heavier, the ground is very boggy, each step is becoming hard work. You climb up a bit, it's getting windier and colder now. You've got your jacket on and your hood up but now the howling wind and rain is plastering it to your face and the noise of rustly waterproof on ear is deafening. You keep going but the wind is making progress difficult and the clag is coming down so you can't see much. You reach the point which is furthest from your car. It starts to hail and it feels like somebody is throwing rocks at your face. You put your hand into your pack to cheer yourself up with that flapjack. You realise that you've left it in the car. You fall over a rock and land in a bog. That's misery training.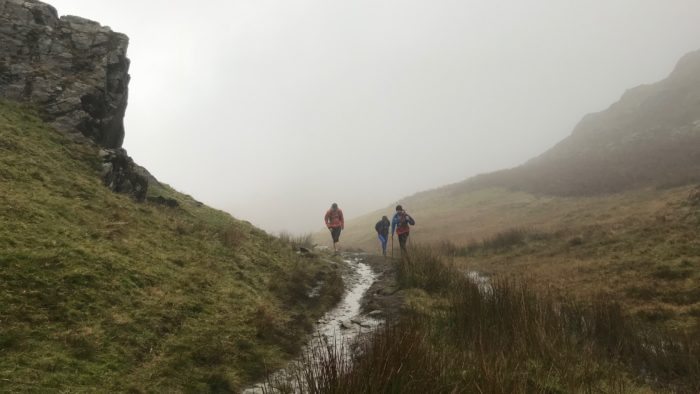 I first heard the term 'misery training' from my friend Kate Fogelberg, probably when we were leaning into a wall of wind and rain somewhere in the Lake District. I'm not sure that Kate invented it, but her philosophy is that if you're training for a long and arduous race which will inevitably involve some misery, you need to train for it accordingly. Put some misery in your training plan and it'll be easier to deal with when you experience it in the race. I like this logic.
But misery training is by definition a miserable experience, so why would we put ourselves through it? Why don't we look at the weather forecast, realise that no fun will be had today and stay at home? We're going to argue that there are three very good reasons why we should all make misery training part of our regime.
As they say 'you've got to have the lows to appreciate the highs'. It's only through being utterly wet and miserable, unable to feel our feet, that we can truly appreciate the car heater, the hot shower, the dry socks. In this world where we can get anything we want at the touch of a button (takeaways, films, Ubers) surely it's good to experience some level of discomfort to actually get something nice at the end of it. Like the world used to be when you had to queue up for three days in the rain to buy Take That tickets, or wait a week to watch the next episode of a series, rather than bingeing on the whole lot in one unrestrained evening of boxset debauchery.
Just like a quad or a hamstring, misery is a muscle that you can train. The more you exercise it, the stronger it will become. Your misery tolerance will go up, you'll think nothing of a bit of horizontal rain. Human beings are resilient (and resilience in running is a whole other article) but we don't know how resilient we are until we're faced with a bit of adversity. Research shows that resilience is a set of skills that can be learned and developed.
Annoyingly, some of those runs which are the most miserable actually end up being the most rewarding and memorable. We might not have enjoyed every step, but when we finish we feel such a sense of achievement. We're proud of ourselves for not turning back, for not skulking into the nearest pub to buy crisps and making the phone call of shame to our partner to pick us up.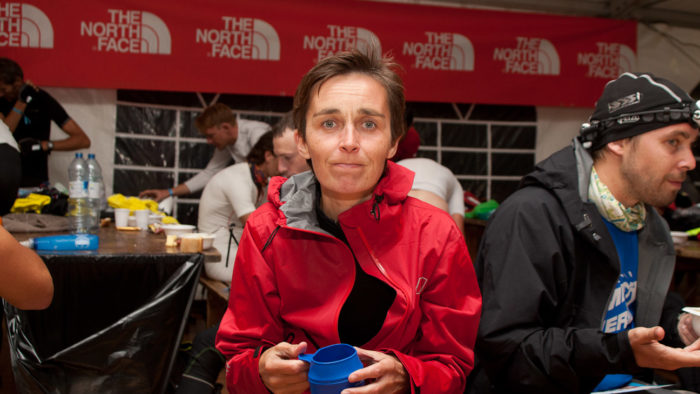 So we'd like to urge you to embrace that misery training. Yes, your feet and hands will be cold, yes, the outer layer of skin on your face will be stripped off and yes, your tears may freeze on your cheek. But as you put your dry-socked feet up on the sofa, post hot shower, and feel that hot cup of tea start to defrost your internal organs, you can feel smug as you tick off another session of life-affirming misery training and know that next time it will feel slightly less miserable.