Most of us are very aware of our impact on the environment these days. Whether we're driving our cars, taking planes, buying groceries or choosing a new fridge, it's usually a consideration in the choices we make. But could we as runners be doing more to minimise our impact on the environment?
Firstly, and most obviously, we could drop way less litter. Depressingly, if you do a run on any route often frequented by runners and cyclists you're likely to find wrappers from gels or bars, or even energy drink bottles. It's always the tiny minority who do this, but the effect on wildlife can be huge. People who drop litter deliberately are never going to be persuaded not to do it because they are gigantic as*holes, but if we pick up a bit of litter on each run (and let's face it, some of it may have been dropped accidentally) then we can help minimise the impact on the environment.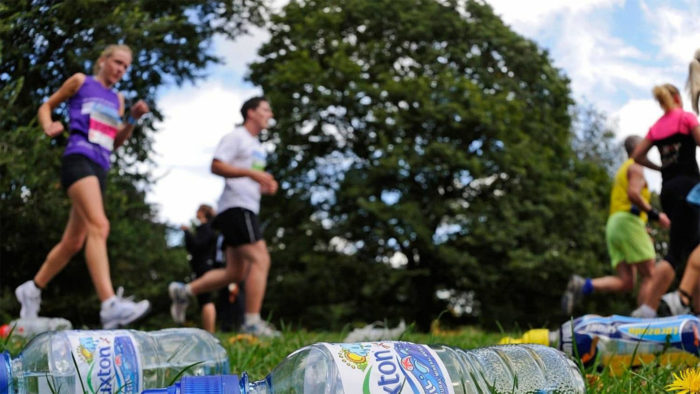 On a similar theme, how many single use plastic bottles do you get through a month? With a bit more forward planning we could all use far fewer. A decent water bottle or softflask will last you a long time and it takes half a minute to prepare a post-run drink to stick in the car, saving you time and money (and saving the environment in the process) by not stopping at a service station for a plastic single use one.
We can also think about the kit we wear as this can have a massive effect. Did you know that an estimated two thirds of the environmental impact of your running kit takes place not in the manufacturing of it but after you buy it in the form of washing and drying? If you buy good quality kit, made of something such as merino or fabric treated with Polygiene, you can wear it several times between washes without it stinking. As Polygiene puts it 'wear more, wash less', saving water and electricity. And good quality kit will last longer, which is good for the environment and your pocket. We know that the 'fast fashion' approach, buying cheap, lower quality clothing which won't last long is damaging, so why do we do it with running kit?
And how many unworn race t-shirts do you have at the back of the wardrobe, destined for the recycling bin? You could think about giving unworn or unwanted kit a new lease of life with Rerun, a community project aimed at extending the life of running kit. You can donate your unwanted kit and it will be resold or upcycled, with profits going to projects in the running community.
Another approach is to help make our running environment sustainable. Have you seen the BMC's 'Mend Our Mountains' campaign? If you love the UK's mountains and hills you can donate to help to repair paths, bridleways and bridges. The BMC aims to raise £1 million for projects within the UK's 15 National Parks. We erode them by running and walking on them, so it seems fair we should help maintain them.
Lastly, and this is a contentious one, we could just spend less time posting about our runs on social media. Quite apart from the environmental cost of the production and disposal of our smart phones, not to mention the human cost of them, comes the news that 'our digital consumption is set to have a bigger impact on global warming than the entire aviation industry'. Could you stand to just post just the 3 selfies from that 5 mile run, instead of the full 10? Or here's a thought – maybe you could leave the phone in your pocket and just enjoy the beautiful environment we run in.